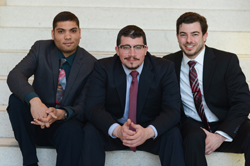 Carter, Smyth and Bisogno. (Photo: Nancy J. Parisi)
Biotechnology venture wins entrepreneurship competition
$62K in cash and services awarded
By Jacqueline Molik Ghosen
Three UB graduate students took first at the University at Buffalo's Henry A. Panasci Jr. Technology Entrepreneurship Competition (Panasci TEC) for a biotechnology venture that offers a revolutionary new way to deliver cancer drugs.
Michael Bisogno, MD/MBA student, Kevin Carter, a master's student in biomedical engineering, and Jonathan Smyth, JD '15, received $25,000 in startup capital, as well as in-kind services valued at more than $27,000 for their company, PhotoZyne.
The dosage and effectiveness of typical cancer drug treatments are limited because of their severe toxicity. Enter PhotoZyne, which offers an effective and minimally invasive solution. A "smart" nanoballoon safely delivers cancer treatments directly to solid tumors. Administered intravenously, the drug is then activated by exposure to a special laser light probe.
The creators say the focused delivery helps to decrease recurrence, resistance and side effects. And survival rates are higher because the cancer can be effectively treated in one concentrated dose.
Carter co-invented the technology with Jonathan Lovell, assistant professor of biomedical engineering at UB, and joined forces with Smyth and Bisogno to help bring it to market.
"Developing this business is tremendously hard work, but we all are dedicated to its future and life-saving potential," said Smyth, team leader. "The startup community in Buffalo is really supportive of innovative developments, and the input we have received through the Panasci competition has really helped us focus and hone our venture."
In addition to the startup funding, the winning team received in-kind awards for legal services from Jaeckle Fleischmann & Mugel LLP; accounting services from Kopin & Co. P.C.; human resource startup services from the People Plan by HR Foundations Inc.; business development services from the UB Office of Science, Technology Transfer and Economic Outreach (STOR); and office space from North Forest Office Space.
Following their Panasci win, Bisogno, Carter and Smyth went on to take second place, and an additional $5,000, in the New York Business Plan competition in May. PhotoZyne competed in Syracuse against more than 500 student-led teams from 65 colleges and universities across the state.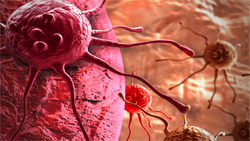 Light-activated smart drug technology targets and delivers cancer treatments directly to solid tumors.
In the Panasci TEC, the second-place award of $10,000 went to Mark Branden, EMBA '15, Joel Colombo, CEL '10, Nicholas Barone, and Jonathan Gorczyca for their business, Pawraiser, an animal welfare fundraising platform.
After watching a record 33 first-round pitches, preliminary judges pared down the number of teams to 11, representing a wide range of business plans. Each of the semifinalist teams was matched with a coach from the business community to prepare for the next round, where they submitted written materials along with a video pitch.
Five teams were selected from that group to give a public, 10-minute presentation at the finals on April 15 at UB's Center for the Arts. Judges evaluated how well they described the feasibility and marketability of their venture, proved the need for their product or service and presented potential sources of capital.
Other new venture ideas included a robotics startup that develops self-navigating technology for boats and ships; deployable, precast concrete walls used to protect buildings or entire neighborhoods against water-related hazards; and an app that connects college students with a wide variety of social information.
Serving as judges for the final event were John Gavigan, executive director of 43North; Anthony Johnson, president and CEO of Empire Genomics; Marnie LaVigne, president and CEO of Launch NY; Michael Ulbrich, president of Buffalo Manufacturing Works; and Alan Zdon, PMBA '05, CEL '09, president of Midnightbox.com and 2005 Panasci TEC winner.
All the finalists were encouraged to enter Buffalo's 43North competition, which offers $5 million in cash prizes each year to some of the best and brightest entrepreneurs and startups from around the globe.
Now in its 15th year, Panasci TEC was created by the UB School of Management and STOR, and is funded with a $1 million endowment from the late Henry A. Panasci Jr. to facilitate and promote the commercialization of UB-generated technologies.
Hosted by the School of Management's Center for Entrepreneurial Leadership, the event brings together UB students from science, technology, business and other disciplines to maximize their potential and create viable businesses in Western New York.
Fourteen local ventures have been launched with first-place prize money since the UB competition began, and most are still in business.