Alumni Close-Up: James Bednarek
A Breakaway Career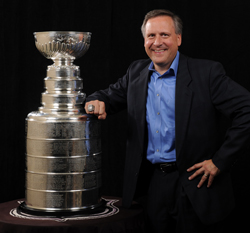 James Bednarek with the Stanley Cup and his Stanley Cup ring. (Photo: Steve Babineau)
For James Bednarek '80, a career in accounting led to the Stanley Cup.
After graduating from the School of Management, he began a career in public accounting at Lumsden and McCormick LLP. Over the next six years, he became a CPA and gained practical work experience, especially on engagements with several family-owned businesses.
In 1986, Bednarek and his wife, Susan, relocated to New England. There, he took an internal auditing position at the Danbury, Connecticut, headquarters of Union Carbide Corp., a Fortune 100 company.
He says the new position was a significant change from his role at Lumsden and McCormick.
"Union Carbide gave me the opportunity to see the world through the audits of their domestic and international operations and to work with multiple levels of management," says Bednarek. "It was the same accounting theories and practices, just with a lot more zeros involved."
After two years, Bednarek took a position in internal auditing at Delaware North Cos., and the couple moved back to Buffalo. After a few years in that role, Bednarek was promoted to director of internal audit and gained even more experience working with all levels of management.
Then, in 1995, Delaware North built and opened the FleetCenter (now known as TD Garden), a multipurpose arena in Boston that is home to the NHL's Boston Bruins and NBA's Boston Celtics. Bednarek was tapped to move to Boston and oversee the arena's finances.
His responsibilities expanded in 2007 to include oversight of the finances for the Bruins. Combining these two functions gave him a more seamless, strategic view of the total enterprise, he says. And the timing was good-the Bruins on-ice performance was greatly improving, ultimately leading up to a Stanley Cup victory in 2011.
"It was a magical year, beginning with two international games in Prague to open the season and ending with a game seven Cup victory in Vancouver," Bednarek recalls. "I truly thought there could be no experience better than being on the ice and then in the locker room after the winning game."
And there wasn't, until the Bednareks had the honor of hosting the Stanley Cup for an entire day.
"It was truly a moving experience," says Bednarek. "It was the best day for me and my wife, as the Cup emotionally impacted so many people in our community—to be able to see and touch the world's most iconic symbol of team success."
Today, Bednarek serves as vice president - finance for both the Bruins and Delaware North Cos - Boston. He says his education from the School of Management gave him the tools he needed to build a successful career.
"UB played an integral role in preparing me for this fulfilling career," he says. "The school provided me with a vast foundation of knowledge to build upon. Several professors advised me to pursue public accounting, which proved to be quite valuable as it provided a great launching pad for my career."
Outside the office, Bednarek enjoys building things, and spending time outdoors with his wife and their dogs, and with friends and family at deer camp.
- Kevin Manne