Stepping Up

Celebrating those who make a difference to the School of Management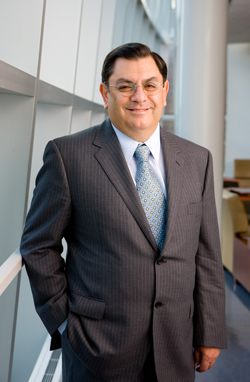 School of Management bids fond farewell to Assad
After nearly seven years as dean of the School of Management, Arjang Assad stepped down in June to accept a position as dean of the University of Pittsburgh's Katz Graduate School of Business and College of Business Administration.
And while faculty, staff, alumni and students were sorry to see him leave, he accomplished much during his tenure and has left the school well positioned to continue its ascent in today's competitive business school environment.
In 2008, Assad came to UB from the Smith College of Business at the University of Maryland. During his tenure, the School of Management's national reputation burgeoned, making significant gains in the rankings of the best business schools by Bloomberg Businessweek, Forbes and other major news media.
Assad led School of Management initiatives in three strategic areas—leadership, entrepreneurship and health care management—and devoted considerable resources to growth in these areas. He increased the size of the school's research faculty, led a revision of the MBA curriculum and secured funding to construct the Undergraduate Learning and Community Center that just opened in Jacobs Management Center.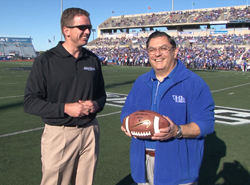 Danny White, UB director of athletics, names Assad honorary UB football Coach of the Game, Sept. 14, 2013.
"Arjang has left his mark on the School of Management and our university in so many ways," said UB President Satish K. Tripathi. "He elevated the school's reputation worldwide, reinvigorated the undergraduate and graduate curriculum, built faculty strength in strategic areas of research, enhanced the school's business partnerships and expanded its impact on entrepreneurship across our region.
"He will be greatly missed, but I know I speak for his colleagues across the university in saying that we wish him every happiness and much continued success as he takes up this new leadership opportunity."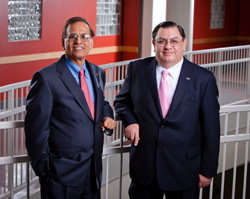 Assad with UB President Satish Tripathi in the Alfiero Center.
UB Provost Charles F. Zukoski said Assad has been "an exemplary dean whose strong and positive leadership has advanced the missions of the School of Management and our university."
Under Assad, the School of Management's Center for Entrepreneurial Leadership grew and expanded its focus on supporting the development of entrepreneurship in the region. He partnered the school with UB's undergraduate Entrepreneurship Academy to help students develop their own business ideas or compete in UB's Henry A. Panasci Jr. Technology Entrepreneurship Competition, which has become the region's premier student entrepreneurship event.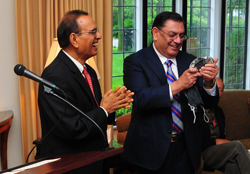 Tripathi presents Assad with a plaque of appreciation for his years of distinguished service to the university.
The school also launched the Center for Leadership and Organizational Effectiveness in 2013 to advance research, teaching and outreach in leadership and its impact on organizational effectiveness. In addition, Assad championed and secured sponsorship for LeaderCORET, an award-winning leadership certification program for MBA students.
A strong advocate of UB's mission to increase interdisciplinary collaboration in health care fields, Assad initiated several health care-focused educational programs, including an accelerated MBA for medical residents and fellows, dual and collaborative programs with the UB School of Medicine and Biomedical Sciences and School of Dental Medicine, an MBA concentration in health care management and non-credit-bearing programs in health care management.
"It has been such a pleasure working with Arjang," said Sharon D. Randaccio '76, MBA '81, president and CEO of Performance Management Partners Inc., and immediate past chair of the Dean's Advisory Council. "Thanks to his focus on strategic priorities, the school's reputation continues to flourish and is clearly on a path to continue its ascent."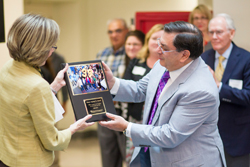 Cynthia Shore, senior assistant dean and director of alumni engagement and external relations, presents Assad with a plaque of gratitude and appreciation from the School of Management.
Assad promoted excellence in research while recognizing and valuing outstanding teaching, and created the Dean's Research Fellowship to recognize faculty who excel in research and the Dean's Distinguished Teaching Fellowship to recognize exceptional teaching. He also established the Arjang A. Assad Excellence in Teaching Award through a personal endowment in 2013 to recognize, biennially, the contributions of outstanding faculty members in the School of Management.
He oversaw the introduction of a Master of Science program in accounting and significantly enhanced the Master of Science programs in finance and information systems. He also was instrumental in launching the student-run Terese Kelly Investment Group to give students practical experience in global capital markets.
"Speaking personally, I'm very grateful for Arjang's contributions, perspective and always valuable counsel over the years," Tripathi said. "He has left the School of Management very strongly positioned to continue its steady upward trajectory as a nationally ranked and globally prominent center for excellence in management education, scholarship and entrepreneurial leadership."
- Jacqueline Molik Ghosen