Startups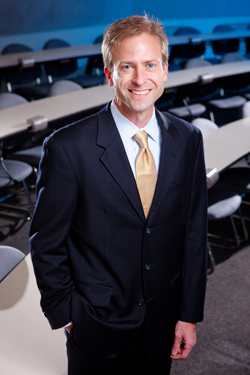 Tesluk (Photo: Douglas Levere)
Tesluk named interim dean of UB School of Management
In July, Paul E. Tesluk, the Donald S. Carmichael Professor of Organizational Behavior, took the reins as interim dean of the School of Management, succeeding Arjang Assad, who accepted a position as dean of the University of Pittsburgh's Katz Graduate School of Business.
A faculty member since 2011, Tesluk served as chair of the school's Department of Organization and Human Resources and is academic director of the Center for Leadership and Organizational Effectiveness (CLOE).
"I am grateful to Professor Tesluk for his willingness to serve as interim dean while we conduct an international search for the next dean of the School of Management," said Charles F. Zukoski, UB's provost and executive vice president for academic affairs.
A prominent expert in leadership development, team design and effectiveness, and organizational climate and performance, Tesluk is a prolific scholar who has published more than 25 articles in the most selective journals in his field.
His research in the areas of virtual team effectiveness and organizational innovation and change has been supported by the National Science Foundation, National Institutes of Health and several other funding agencies, and he has secured more than $2.5 million dollars in grant funding.
Tesluk has extensive experience in designing, leading and teaching in numerous executive and corporate development programs on topics involving teams, leadership development, organizational change and innovation. He also has worked with numerous private and public sector organizations in both research and consulting capacities.
He led the creation of CLOE at UB, which advances research, education and outreach in leadership and organizational effectiveness. In 2014, he received a UB Exceptional Scholar Sustained Achievement Award.
While earning doctoral and master's degrees from The Pennsylvania State University, Tesluk majored in industrial/organizational psychology and minored in management and organization. He earned a bachelor's degree in industrial and labor relations from Cornell University.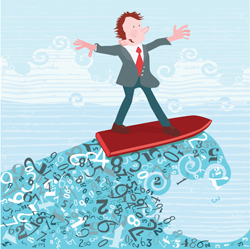 School of Management grads crush CPA exam
Once again, accounting graduates from the School of Management are No. 1 in CPA exam performance among the ten largest accounting programs in New York State.
According to the 2014 National Association of State Boards of Accountancy Uniform CPA Examination Candidate Performance publication, released in early 2015, UB graduates had a pass rate of over 68.3 percent, significantly higher than the average of 55 percent for all jurisdictions and 55.5 percent statewide.
UB's pass rate increased for the third consecutive year and is over 9 percent higher than the next contender in the largest school category, the University at Albany.
In addition, among the state's ten largest programs, School of Management graduates scored highest on each of the three sections that focus on topics taught in accounting classes, and second, just behind Fordham, in the Business Environment and Concepts section, covering economics, finance and technology.
Across Western New York schools, regardless of size, UB was a close second to Geneseo.
Among large national universities, the UB School of Management ranked 12th, ahead of such schools as the University of Illinois, Ohio State University and The Pennsylvania State University, and up from 24th just three years ago.
The high success rate comes at a great value as well. The Accounting Degree Review ranked the School of Management No. 13 nationwide on the "30 Most Affordable Residential Master's Programs in Accounting for 2015." UB was the only school in the state to make the list.
Ghosen honored with Chancellor's Award

Ghosen
Jacqueline Molik Ghosen was one of eight staff members at UB to receive the prestigious SUNY Chancellor's Award for Excellence in Professional Service in May.
Ghosen has served the School of Management for nearly 20 years. As assistant dean and director of communications, she works to enhance and expand the school's reputation as a world-class business school through the strategic implementation of public and media relations, communications and marketing to a diverse audience of students, faculty, alumni, university friends and employers. Her projects have earned her more than 40 awards of excellence from a variety of professional groups.
In her previous role as assistant director of the Career Resource Center, she was part of the leadership team that earned the office the Wall Street Journal's designation as "No. 1 Business School Career Office in the U.S."
"Jackie's sustained commitment to excellence and superlative quality makes her especially deserving of this award," said Dean Arjang Assad.
Ferranti named DAC chair

Ferranti
Richard M. Ferranti, EMBA '97, has been named chair of the School of Management Dean's Advisory Council (DAC), a group of exceptional alumni and leaders who assist the dean and the school by providing external perspective, advocacy and financial support for the school's programs and strategic priorities.
Ferranti is executive vice president and COO of Rich Products Corp. and has served on the DAC since 2007, most recently as vice chair. He succeeds Sharon Randaccio '76, MBA '81, president and CEO of Performance Management Partners Inc., who was chair from 2012 to 2014.
UB MBAs victorious in prestigious Whitman Competition
A team of four first-year MBA students from the School of Management won the annual Whitman Case Competition in March at Syracuse University.
Rohit Sallagundla, Erin Dings, Ryan Fogle and Seong Hee (Luke) Kim were awarded $2,000 for taking first place.
This is the fifth consecutive year a School of Management team has finished in the top two at the prestigious case competition. In earning first place, the UB squad bested teams from Case Western Reserve University, Syracuse University and Binghamton University.
Another School of Management team nabbed third place and collected $750. Ashith Shetty, MBA '15; Frank Koelbel, MBA '15; Alison Lee Williams, JD/MBA '16; and Aditya Yellapantula, MBA '15, made up the third-place squad.
Several MBA programs from across the country were invited to enter the competition, sponsored by the Whitman Graduate Student Organization, and eight teams made the final round.
Competitors analyzed a business case about Spencer's Retail, a chain of stores in India that changed brand positions from a high-quality retailer to a high-value, low-price outlet. The winning UB team devised a new merchandising mix and promotional strategy that would improve store traffic and profit margins without tarnishing the chain's well-established reputation.
Registration and travel expenses for the UB teams were funded through a donation by Steven C. Verney '80, MBA '81, executive vice president and chief risk officer at Allstate Insurance Co., and a matching grant from Allstate.
CLOE helps to transform health and wellness in Buffalo schools
Salad bars, garden-grown produce and healthy snacks are now available in Buffalo Public Schools (BPS) due to a district-wide initiative that has been boosted through a partnership between the district and the School of Management's Center for Leadership and Organizational Effectiveness (CLOE).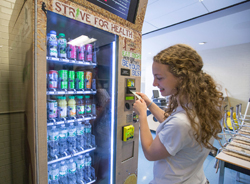 Student Allie Banas selects a healthy drink from a new vending machine at City Honors School in Buffalo. (Photo: Tom Wolf)
The initiative aims to improve health and wellness for students, faculty, staff and administrators by establishing leadership teams in each school to assess wellness needs and create programs focused on nutrition, exercise, mental health, sexually transmitted diseases and pregnancy.
Following the 2013-14 school year when BPS established health and wellness teams in some middle and high schools, administrators turned to Paul Tesluk, the Donald S. Carmichael Professor of Organizational Behavior and CLOE academic director, to accelerate the process. He worked to make the current teams more effective and help the district expand the program.
"We helped in the design of the teams and the structure to make them successful and sustainable," said Tesluk. "Once the teams were formed, we designed and provided a team leader training program using tools like team charters to help ensure that the teams have effective leadership, and a team development program so that the teams could develop a vision for health and wellness for their schools and implement their agenda."
The teams, now in 55 of 58 district schools, are made up of teachers, parent facilitators, food service managers, engineers, a counselor, social worker or psychologist, students and administrators. In addition to improved nutrition options, they've held a health and wellness fair and are planning a condom availability program for district high schools to help curb teen pregnancy.
"We now know what teams need to do to improve health and wellness and enhance academic achievement in their buildings," said Sue Baldwin, BPS district wellness coordinator. "And all the schools will see what other schools are doing by sharing best practices via school wellness blogs."
"Research shows that healthier students are better learners," said Assunta Ventresca, BPS director of health related services. "If we can teach our students the skills to be healthier now, they'll be healthier adults."
Moreover, Tesluk said the movement provides valuable leadership experience.
"By working together to identify creative ways to improve health and wellness at their schools, students, teachers, parents and administrators are now functioning as change agents to foster a culture of health and wellness in their schools," he said.
What's Trending?
School of Management conversations in social media
Connect with the School of Management: mgt.buffalo.edu/social