Close-Up: The Bieleckis
Homebrewed Entrepreneurs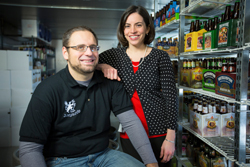 Photos: Tom Wolf
Ten years, two children and two businesses later, Alex Bielecki, MBA '05, and Julie Carvotta Bielecki, JD/MBA '06, say they're "tired, but extremely happy."
The two first met during MBA Advantage, the School of Management's innovative orientation and professional development sessions. They became friends on a team in Leadership PACE (the precursor to the school's LeaderCORE program) and married in 2007.
Alex spent the first eight years of his career in the corporate world, serving as an auditor with Kodak and Ernst & Young, where he was able to travel the world and apply the teamwork skills he learned as an MBA student.
From there, he shifted to the financial reporting field, first as an assistant financial director for a business unit at Kodak, and then as senior internal auditor/financial reporting analyst at Manning & Napier, where he contributed to its IPO.
In 2009, he opened J. Ryan's LLC, a craft beer bar and restaurant located in Syracuse, N.Y. For more than three years he ran the business while continuing to work full time at Manning & Napier. In 2013, with employee and family resources stretched thin, he made the jump to run J. Ryan's full time. His duties there include accounting, marketing, human resources and operations and supply chain management.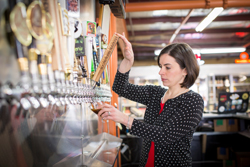 Alex says that being an entrepreneur is challenging, but worth it.
"If you want to be your own boss, you need to commit more than a 40-hour workweek," says Alex. "Entrepreneurship is 24/7, but it's a different kind of work and, in my opinion, more rewarding."
Julie began her legal career as an associate in the corporate practice group at Harris Beach. For the past three years, she has focused her practice on trust and estate work.
However, Julie says she's always wanted to start her own business.
"My parents are serial entrepreneurs and instilled that spirit in me," says Julie. "My dad has been involved in the craft beer industry for 25 years, and I was fortunate to work alongside him and share his passion."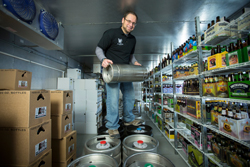 The result is AJ's Beer Warehouse LLC, a retail beer and cider store and craft beer and cider distribution company located in Henrietta, N.Y. The business opened its doors to customers in November 2013 and will be distributing in the Rochester and Buffalo areas. Julie continues to practice law at Harris Beach in addition to running the business.
The Bieleckis were both active in groups during their time at the School of Management-Alex as vice president of the Graduate Management Association and Julie as an English mentor and practice interviewer.
They've continued that commitment to service in their lives after graduation. Alex coached high school lacrosse for three years and currently serves on their son's parent advisory committee at school. Julie served two terms as secretary and one term as president of a childhood cancer support organization. She was a director of the Women's Bar Association of the State of New York and is currently in her second term as secretary of the Greater Rochester Association for Women Attorneys, as well as a member of the planned giving council for the Greater Rochester YMCA.
When they're not managing their businesses, volunteering or parenting, Alex and Julie do find time to relax. Alex enjoys playing hockey and Julie loves running and hiking.
- Kevin Manne