Food Truckin' Up To Buffalo
By Matthew Biddle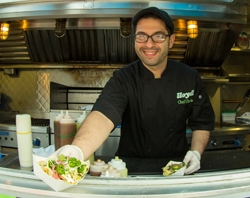 Photos: Tom Wolf
Every Tuesday evening from May through October, more than two dozen food trucks descend upon Larkin Square, a colorful public space in one of Buffalo's fastest growing neighborhoods. Hungry revelers, clutching glasses of wine and craft brews, meander through the square, reading menus and weighing their options: Will they try the fajita mac and cheese with roasted chicken, jalapenos and sharp cheddar? What about a lentil-berry sandwich, or lamb and sweet pea arancini? Or perhaps a lobster slider with a side of handcrafted pierogi and baklava for dessert—purchased from three different businesses.
It's a scene that wouldn't have been possible in Buffalo before 2010, when childhood friends Chris Dorsaneo '03 and Peter Cimino opened the city's first food truck, Lloyd Taco Truck. Since then, Lloyd has expanded into a fleet of three.
"In 2005, during culinary school in Hawaii, I would take trips to the North Shore to eat at Giovanni's Shrimp Truck. The unique social atmosphere, the one that only occurs outside of a food truck, coupled with the smell of fresh scampi, told me this was something special," Dorsaneo recalls. "It made me feel connected to food in a way I'd never experienced, and I knew this new way of food service was going to change the culinary scene."
His instincts were correct, and over the past several years, cities nationwide have watched their food truck scenes explode. In 2007, there were about 2,000 mobile food vendors scattered across the country, according to IBISWorld, a global market research firm. Six years later, that number has more than doubled, and the industry rakes in more than $750 million in revenue per year.
And the trend shows no signs of slowing down: The National Restaurant Association estimates that by 2017, food trucks will generate $2.7 billion in annual revenue, representing 3 to 4 percent of the entire restaurant industry.
These roaming eateries offer entrepreneurs a low-cost way to enter the market and tap into consumers' desire for gourmet, eclectic fare at an affordable price. Despite pushback from many municipalities with strict, outdated regulations, School of Management experts say food trucks offer many benefits for consumers and cities—and even their brick-and-mortar competitors.
A gap in the market
In many ways, the concept of a mobile food vendor is nothing new. Hot dog carts, ice cream trucks and other street food options have been neighborhood staples for decades. But the hallmark of the modern food truck industry is high quality, gourmet products, often made from local ingredients. Instead of a simple hot dog with ketchup and relish, customers order franks with toppings like sriracha and guacamole or bacon and wasabi mayo.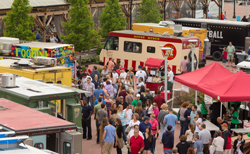 "Food truck owners have to deliver amazing quality and be willing to experiment," says Arun Jain, the Samuel P. Capen Professor of Marketing Research. "Consumers come to these trucks because they are affordable and offer something they cannot find anywhere else. To remain relevant, the chef must understand why the customer is coming and continually try out different items or sauces."
Los Angeles-based chef Roy Choi is credited with igniting the modern food truck revolution in late 2008 with the launch of Kogi BBQ. The truck quickly built a reputation for delicious Korean-Mexican fusion and used Twitter to reach customers, now standard procedure for most trucks. Today, Kogi has four trucks and two sit-down locations.
With the economy then in recession and chefs being laid off, would-be entrepreneurs sought to enter the restaurant industry without the expensive overhead costs of a fixed location. Forbes estimates the cost of launching a food truck at $60,000 to $70,000, but puts the cost of a permanent space at $100,000 to $300,000—on the low end.
"Food trucks require a relatively small investment, making it an excellent model for building entrepreneurship," says Jain. "Young chefs with creative ideas can enter the market, test what they've learned and compete."
For Dana Szczepaniak, BS/MBA '11, her grandmother's recipes served as the inspiration for Betty Crockski, Buffalo's first Polish food truck, which she opened with her cousin Kate Hey this year. Hey did extensive research into Polish customs and cuisine, and the pair reinvented the recipes to develop a menu that includes four types of pierogi, handmade kielbasa and daily specials.
"We've both worked in the restaurant industry, and it's very difficult to open a brick-and-mortar restaurant. You're limited to one fixed location, so it doesn't allow as much flexibility," says Szczepaniak, a CPA who left a career in public accounting for this venture. "With a truck, you can go where the people are. I like that strategic aspect of the business."
Changing consumer preferences also paved the way for food trucks, which can adapt their menus to meet demand more easily than sit-down establishments. Over the past decade, with the rise of the local food and farm-to-table movements, consumers have become more health-conscious, so many trucks have debuted organic, vegan and gluten-free options. In addition, pop culture and the increased rate of international travel have introduced many consumers to an array of ethnic cuisines.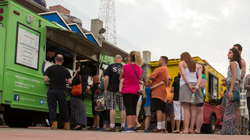 "The growing popularity of food shows on television has made people look at food as an experience—not just a meal," says Tom Ulbrich, executive director of the School of Management's Center for Entrepreneurial Leadership. "With food trucks, you can interact with the owner and chef. It's more personal."
Mobile food vendors offer customers that unique experience and the opportunity to try a variety of cuisines at an affordable price. According to research firm Datassential, the average food truck entrée costs just $6.33. Convenience is key too, as trucks can serve office parks, construction sites and beaches with precious few options for food.
"Food trucks create a fun atmosphere, make city living much more interesting and expose people to different foods," Jain says. "You can get one item from each truck, and the risk is relatively small. If I don't like it, I've lost a few dollars, whereas if I go to a restaurant and don't like it, I wasted $30 and my entire night."
Challenges and competition
Like any new venture, launching and running a food truck has its speed bumps.
"We have struggled with blown engines and transmissions, kitchen fires, leaking propane tanks and frozen pipes that burst in the winter," Dorsaneo says. "Funding our first truck was not easy either. When you approach a bank with a project no one in the area has seen, they get a little freaked out. Luckily, we had a good business plan and found a bank willing to take a shot on us."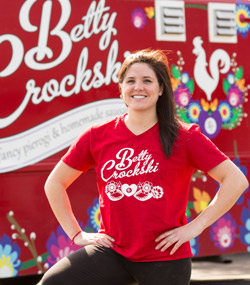 Without a set location, effective marketing is crucial for trucks to develop a following. Branding is especially important, says Ram Bezawada, associate professor of marketing, as the vehicle itself acts as a roving billboard of sorts. Like product packaging on store shelves, the exterior design and logo need to make a strong first impression with customers.
Bezawada also underscores the importance of having a user-friendly website and a strong social media presence. Through Facebook, Twitter and Instagram, trucks can interact with customers and broadcast menus, schedules and last-minute location changes. Other mobile technologies, including mobile payment systems like Square and smartphone apps like Roaming Hunger, have also enabled the food truck craze.
"Social media becomes very important for these businesses, even more than for big companies," says Bezawada. "Once you have enough of a following on Twitter, momentum builds and you get an entire network going. Clearly, food trucks are more successful because of social media."
Experts agree the biggest challenge for food trucks is municipal regulations. Despite industry growth, laws in many areas inhibit mobile businesses by banning sales on public property or imposing strict time restrictions. A study by the National League of Cities found that permit fees vary widely, ranging from $110 to $1,500, and that most cities require three to five permits, each from different departments, thereby increasing the workload for business owners and city officials. On the other hand, the study also showed that most cities have straightforward sanitation and food safety guidelines, including requiring trucks to have a commissary, a fixed-location kitchen where food is prepped.
City leaders must grapple with concerns from restaurant owners who fear food trucks will infringe on their sales. But in a 2012 study by the National Restaurant Association, nearly half of food truck patrons said they would have eaten at home if they hadn't visited a food truck, suggesting the outing was spontaneous. Moreover, only 7 percent of lunch customers—when trucks generate the most revenue—said they would have otherwise eaten at a full-service restaurant.
"I don't look at a brick-and-mortar as direct competition. If you want to have a nice sit-down meal, you won't eat at a food truck," says Szczepaniak. Likewise, because most trucks specialize in one type of food or drink, she doesn't stress about competing with other trucks. "In Buffalo, everyone is friendly and wants each other to do well," she assures. "Food trucks are still a relatively new concept, so the more there are, the better people understand them and the better the industry will perform. And when the industry does better, your business does better."
The presence of food trucks can have positive effects for cities, particularly areas underserved by grocery stores or traditional restaurants. In Tampa, Mayor Bob Buckhorn hosts a monthly Food Truck Fiesta to bring people downtown for lunch. In Los Angeles, the annual LA Street Food Fest welcomes more than 100 vendors and sells out admission to 5,000 guests. And many cities, like Austin and San Francisco, have opened food truck parks, taking vacant lots and transforming them into vibrant food courts, often with a few trucks as permanent vendors.
"Cities should look at food trucks as a strategic resource to help revitalize neighborhoods. The trucks can serve as additional eyes in that area, so the neighborhood becomes safer and more alive," says Jain.
Here to stay
While many brick-and-mortar establishments worry about losing business to food trucks, experts say that mobile vendors offer potential benefits for them, too. By promoting their location on social media, trucks attract clients who wouldn't otherwise visit an area, thereby introducing them to other nearby businesses and attractions. For savvy restaurateurs looking to expand their operation, mobile businesses represent a way to reach customers across town, promote their main location and experiment with new concepts.
In fact, several major restaurant chains have done just that in recent years. Taco Bell, California Pizza Kitchen, White Castle and Dunkin Donuts, among others, have opened food trucks as a marketing platform and a low-cost way to test out new menu items before offering them nationwide. Even unrelated companies have taken advantage of the food truck craze; for example, to promote "Cloudy with a Chance of Meatballs 2," Sony Pictures dispatched two food trucks for a monthlong tour, giving away free snacks inspired by the film.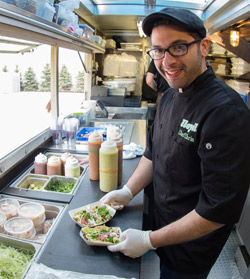 "A big question now becomes: Will the entry of major brands into the food truck industry hurt it?" asks Ulbrich. "Seeing big-name brands take advantage of this space may actually take away the hip and trendy factors that make food trucks attractive to potential customers."
In future years, mobile businesses (see sidebar for others) will only become more mainstream thanks to increased press and word of mouth, TV shows like Food Network's "The Great Food Truck Race," and films like this summer's "Chef." In 2009, a survey by Datassential found that 40 percent of people had never heard of food trucks. Five years later, not only have most people heard of them, but 75 percent said food trucks have influenced their behaviors at restaurants and grocery stores.
And those businesses have noticed. Fusion entrées, for instance, have appeared on stadium and ballpark menus coast to coast after dishes classified as "mixed ethnicity" became the second most popular items on food truck menus, according to MenuTrends. Globe Life Park, home of the Texas Rangers, offers a two-foot-long Korean BBQ sandwich, while the Minnesota Twins' stadium melds Italian and Asian flavors in a porketta slugger, an egg roll served with red sauce and filled with porchetta and cream cheese.
Experts, business owners and fans agree that food trucks aren't going away.
"Food trucks have created a new, niche dining experience that people have come to love and crave," says Dorsaneo of Lloyd Taco Truck. "Maybe it's the thrill of the hunt and following your favorite truck on social media, or just standing in line chatting with people who share the same love of food, but one thing is for sure: I'm truly humbled every time I pass a new truck in Buffalo. I just think to myself, 'I started this here.'"
Heels on Wheels

As the food truck industry soars, other businesses have begun capitalizing on the benefits of mobile operation. In San Diego, a full-service barbershop and salon operates out of a classic Airstream vehicle. In Chicago, a truck serves gourmet cookies and ice cream-for dogs. And in Santa Fe, New Mexico, a 1970 aluminum step van has been transformed into a roaming art gallery.

Aside from food service, perhaps no industry has embraced the trend more than fashion, as mobile boutiques have popped up in major cities like Portland, Dallas and San Francisco.

In 2009, Buffalo resident Melissa Fayson noticed a gap in the market as she recovered from a car accident and was unable to go out shopping. By 2012, she had developed and launched Mobile Soles, a traveling boutique that parks at local festivals, visits housebound clients and hosts private fashion parties. Outside of Buffalo, Mobile Soles has booked parties in Ohio and Georgia and sold to customers in states along the way.

"I love the ability to just jump in my truck and sell shoes wherever I go," says Fayson, who completed the Center for Entrepreneurial Leadership's Allstate Minority and Women Emerging Entrepreneurs program in 2012. "When I'm in traffic, women automatically identify the pink truck with eyelashes and flag me down. It's convenient and it's fun."

The truck is outfitted with pink interior walls, comfortable seating and attractive merchandise and displays. Knowing her sales would be mostly impulse buys, Fayson opted to specialize in shoes and accessories, while also offering other clothing online. Though she found insurance companies and footwear vendors were initially hesitant to gamble on a new, relatively untested concept, Fayson has developed a following through word of mouth and secured access to many brands.

"The mobile industry is definitely growing around the country because people don't have to pay overhead," she says. "This business is more about relationship-building. The best part is the customers. When I drive down the street and little kids are outside playing, they will stop, wave and say, 'It's the shoe lady!' That makes me feel really good."

- Matthew Biddle