Close-Up: Amanda Knapp
Pushing Past Obstacles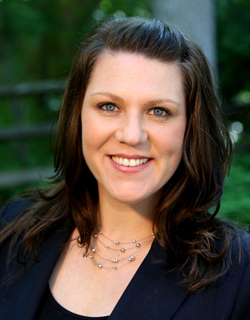 Photos: Ryan Knapp
As a first-generation college student, Amanda Knapp '00 looks back on her time at the School of Management with immense pride. Higher education changed her life, so she has devoted her career to helping others like her succeed.
"I joke that I had so much fun in college that I wanted to stay there forever, but the truth is that working in higher education is a public service," says Knapp, assistant vice provost for academic standards and policy administration at the University of Maryland Baltimore County (UMBC). "Serving others is the greatest reward, and I am honored to work with thousands of students from across the globe and cheer for them the way those at UB cheered for me."
Knapp grew up with her father in rural West Virginia. But after tenth grade, she made a bold move to Long Island to live with her mother in pursuit of a better education.
She enrolled at UB as a business administration major with a concentration in human resources management. As an undergraduate, Knapp applied her coursework as the first female business manager of Schussmeisters Ski Club, charged with overseeing daily operations, managing a $600,000 annual budget and negotiating contracts with ski resorts and bus companies.
"In the School of Management, I learned the value of teamwork and relationship-building, two of the most important foundations for success," she says. "We were encouraged to think critically, seek answers from our diverse peers and be competitive while maintaining collegiality, values that continue to guide my work today."
Following commencement, Knapp worked as an admissions officer at D'Youville College and later returned to UB as an academic advisor. After earning a master's degree in higher education administration from UB, she took a position at the University of Maryland University College and was quickly promoted to the Provost's Office while also serving as an adjunct assistant professor.
In 2011, Knapp transitioned to UMBC, where she is responsible for the administration of undergraduate academic standards and policy and works collaboratively across campus to ensure student success. Her favorite part of the job is commencement, the time of year she is reminded that her efforts are making a difference.
Last year, she completed a doctorate in education policy and was honored with the Sloan Consortium Effective Practice Award for her research on the relationship between online instructional practices and undergraduate perceptions of instructor credibility.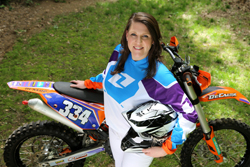 "I believe you must lead by example, and by completing a PhD, I hope to show that anything is possible and inspire others to take risks," she says.
Outside of work, Knapp and her husband, Ryan, volunteer as Scout leaders in their community and keep busy with their three children: Priscilla, 11; Riley, 8; and Mason, 5.
Last year, she fulfilled a lifelong dream when she began racing motocross competitively in the East Coast Enduro Association Hare Scramble Series. One of just six women in a field of 300, Knapp remembers her first race as a terrifying and exhilarating experience.
"My father and I would spend all of our time riding motorcycles and getting lost in the woods. He always challenged me to do things girls were told they couldn't and to face fear head on," Knapp says. "In my personal and professional life, the opportunities I value most are the ones I went into scared out of my mind. Those are the moments that made me who I am today."
- Matthew Biddle