Cultivating Entrepreneurs
By Jacqueline Molik Ghosen
The School of Management and its Center for Entrepreneurial Leadership (CEL) are key partners in a growing effort at UB to promote entrepreneurship. In collaboration with the Office of Science, Technology Transfer and Economic Outreach (STOR) and the Undergraduate Entrepreneurship Academy, the school and CEL are engaged in a number of initiatives that will help create an entrepreneurial ecosystem in Western New York, starting with students at UB.
Ready, set, pitch!
The winners of the second annual Elevator Pitch competition. (Photos: Nancy J. Parisi)
Imagine the following nerve-wracking scenario: You're standing in a room full of aspiring entrepreneurs and you have just 90 seconds to present a business idea to a panel of judges—without the use of notes, slides or other visual aids. That's the type of drama UB's Elevator Pitch competition delivered at its second annual event on April 16.
Open to students across UB, it was like ABC's "Shark Tank"—only faster. The atmosphere was collegial but tense, with competitors practicing rapid-fire talks outside the room before taking the stage. There were meltdowns and mistakes, as well as moments of perfection.
In the end, nearly 60 students pitched business ideas with novel solutions to real-world challenges and the first-place winners received $1,000 for presenting the most compelling ideas clearly—and quickly.
Undergraduate accounting student Brittany Popovski was one of the first-place winners for ULock, an app that would lock students out of their cellphones so they can focus on studying. Undergraduate computer science students Joel Little and Robert Barber took the other first-place prize for Ethos Studios, which would produce customized mobile video games for business marketing.
The eLab
For those who wish to go beyond the 90-second pitch, there is the Entrepreneurship Lab, or eLab. Forget homework and tests; this is not a traditional course. Students spend three weeks during UB's winter session fine-tuning their business pitches, engaging potential customers and sizing up target markets.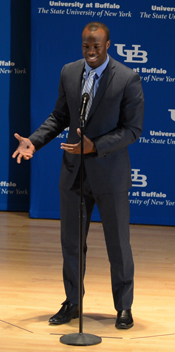 Fred Lee, who took second place with his pitch for Living Life Enhanced, a motivational speaking and life coaching firm.
Open to both undergraduate and graduate students, eLab accelerates the startup process for students with entrepreneurial ideas. They hear from guest speakers from the local business community and make a trip to a Western New York Venture Association forum, where they can watch a pitch for capital in action.
At the end, participants present their startup ideas to a panel of local business leaders and investors. The students with the most promising projects win the university's new Student Entrepreneur Fellowship, including $5,000 to $8,000 in startup funds, mentorship and shared space in the UB Technology Incubator.
The course was developed and is taught by Yong Li, associate professor of operations management and strategy in the School of Management.
"We called the course a lab because we wanted our students to learn concepts and tools, and then use them to test whether their ideas are technically and commercially feasible," says Li, who also serves as academic director of the Entrepreneurship Academy. "If their ideas work, we help students accelerate the startup process with the Student Entrepreneur Fellowship program. If their ideas don't work out, they will learn how to fail quickly and use what they have learned to start up again in the future."
A dozen UB classmates joined the ranks of the first eLab in January, and six received fellowships upon completion of the course, including two School of Management students. Michael Sparks, BS/MBA '14, won $5,000 for his startup, Stickerlight, a customizable and sound-activated light-up sticker for laptops. April LoTempio, a student in the Professional MBA program, was awarded $5,000 for her B2Y Education proposal. Her services include everything from planning field trips and curriculums to providing web content. "This was exactly the kind of hands-on work and practical knowledge I needed to move my business forward," she says.
Students who win the fellowship are encouraged to enter the Henry A. Panasci Jr. Technology Entrepreneurship Competition.
Living and learning community
Budding student entrepreneurs can do more than take classes together. In 2012, the UB Entrepreneurship Academy was launched as one of five Undergraduate Academies that give students the chance to live and learn with peers who have similar interests. Members participate in activities such as the pitch competition, networking events with local business leaders and more.
"These initiatives are outstanding examples of the School of Management's strategic commitment to entrepreneurship," says Arjang Assad, dean of the School of Management. "Making this our priority challenges our most enterprising students and brings us closer to the promise of UB 2020."
Charlotte Hsu, Kevin Manne and Marcene Robinson contributed to this story.
Panasci TEC Winners Feeling Good Vibrations

More than $60K in startup funding and services awarded

Clockwise from top, Panasci TEC winners Kerdar, Fraczek, West and Flynn.

Four UB students took first place in UB's Henry A. Panasci Jr. Technology Entrepreneurship Competition (Panasci TEC) in April for their plan to manufacture an invention that removes problematic vibrations in high-precision devices.

Conor Flynn, JD '15; John Fraczek, JD/MBA '16; Hosein Kerdar, PhD '14; and Travis West '14; received $25,000 in startup funding and $27,000 in business services for their company, EMVISS.

"Creating a successful business requires far more than a great idea," says Flynn, who served as team lead for the competition. "It requires a solid plan, a great team and an ability to adapt to fill a market need. The Panasci Competition helped us take an innovative, game-changing concept and mold it to fit a business reality. It was instrumental in crystalizing the business concept that will make EMVISS successful in the Buffalo Niagara region."

The second-place award of $10,000 went to Emmanuel Oche, MBA '14, and Jeffrey Beacham, MBA '14, for Laundry Box, a drop-off box providing a convenient alternative to doing laundry.

Now in its 14th year, Panasci TEC awards seed money and business services to the team that presents the best plan for launch of a viable new business. Thirteen local ventures have been launched with first-place prize money since the competition began, and most are still in business.

Created by the School of Management and the Office of Science, Technology Transfer and Economic Outreach (STOR), and funded with a $1 million endowment from the late Henry A. Panasci Jr., the competition brings together UB students from science, technology, business and other disciplines to maximize their potential and create viable businesses in Western New York.

—Jacqueline Molik Ghosen