Startups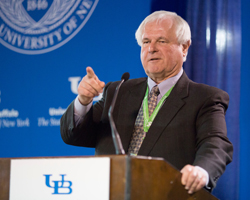 Jim Parker, former CEO of Southwest Airlines, was a keynote speaker at the "Leadership 2.0" conference hosted by the Center for Leadership and Organizational Effectiveness (Photo: Tom Wolf)
Former Southwest CEO, Morning Star exec headline leadership conference
National and regional executives shared their expertise with more than 170 area leaders from business, health care, higher education and nonprofit sectors at the inaugural conference hosted by the School of Management's Center for Leadership and Organizational Effectiveness (CLOE).
The sold-out event, "Leadership 2.0: New Frontiers in Leadership and Organizational Effectiveness," was held on May 19 at the Buffalo Transportation Pierce-Arrow Museum.
Jim Parker, former CEO of Southwest Airlines and author of Do the Right Thing: How Dedicated Employees Create Loyal Customers and Large Profits, and Paul Green Jr., director of the Morning Star Self-Management Institute at the Morning Star Company, which was identified by the Harvard Business Review as "the most creatively managed organization in the world," served as keynote speakers.
Parker, who steered Southwest through the airline industry's most turbulent times following 9/11, shared leadership insights that have made the Southwest formula so successful, while Green, one of the primary architects of the Morning Star approach, offered a glimpse into the organization's remarkable leadership system, giving attendees examples of how self-management and shared leadership can produce remarkable innovation and results.
A panel discussion on leadership and organizational effectiveness featured Joe Green, executive vice president and chief administrative officer at Moog; John Koelmel, president, HarborCenter; and Virginia Oehler, program advisor on leadership and director of the health leadership fellows program, Health Foundation for Western and Central New York.
Breakout sessions highlighting faculty research focused on how leaders could apply findings to their teams and organizations. The event concluded with networking at a cocktail reception.
Visit mgt.buffalo.edu/cloe for more information on CLOE.
U.S. News and Bloomberg Businessweek again rank School of Management

In two new rankings, U.S. News and World Report and Bloomberg Businessweek have again ranked the School of Management as a best business school.
In March, the School of Management was ranked No. 74 out of 453 MBA programs surveyed, up another spot from last year's 14-place jump. The MBA ranking is part of U.S. News and World Report's ranking of "America's Best Graduate Schools."

The ranking is based on three major areas: quality assessment, placement success and student selectivity.
In addition, Bloomberg Businessweek ranked the School of Management in April as one of the nation's "Best Undergraduate Business Programs of 2014."
Five sources contributed to the undergraduate ranking: a student survey (30 percent), a recruiter survey (20 percent), median starting salaries for graduates (10 percent), the number of graduates admitted to 35 top MBA programs (10 percent), and an academic quality measure (30 percent).
Accelerated MBA for medical residents/fellows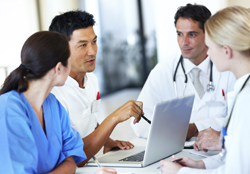 In collaboration with the School of Medicine and Biomedical Sciences, UB residents and fellows in any graduate medical education specialty can now earn an accelerated MBA. The program is a first in New York state and one of just a few in the nation.
The Accelerated MBA for Residents/Fellows program is designed to help physicians develop the leadership and business skills they need to measure the quality of care, negotiate with third-party payers, manage medical practices efficiently and help lead the health care system in the future.
"As the economics of medicine evolve with health care reform, physicians with MBA degrees will be ahead of the curve," says Dean Arjang Assad. "The program will provide future medical professionals with the critical management skills they'll need as they take their place as health care administrators, practice clinicians or managers, medical or health services managers and industry thought-leaders."
Participants must currently be in a residency program within the UB Office of Graduate Medical Education and separately apply to the School of Management. They can complete the program in approximately three semesters (instead of the typical four) and will receive an MBA degree at the end of their residence/fellowship training. Residents may begin their MBA coursework after the first year of residency and must complete the program before the end of their last year.
Shore honored with Chancellor's Award

Shore
Cynthia Shore was one of eight staff members at UB to receive the prestigious SUNY Chancellor's Award for Excellence in Professional Service in June.
As senior assistant dean and director of alumni and external relations, as well as in her previous roles in the Provost's Office and School of Management, Shore has provided extraordinary service through her leadership and innovative thinking.
She advised Wall Street Journal editors on the development of a new MBA program ranking, oversaw the creation of award-winning career services and launched exciting UBThisSummer programming. She also engaged alumni and corporate and community partners to facilitate real-world opportunities for business students through such programs as UB MBA Corporate Champions and LeaderCORETM.
In addition, Shore's leadership on key community projects includes partnering with M&T Bank to improve the financial literacy of thousands of area high school students, and providing advice and guidance to the Prentice Family Foundation in the creation of the Western New York Prosperity Scholarship program, which has already awarded more than $1 million in scholarships to undergraduate and graduate students.
"Through her extraordinary service and leadership, Cynthia has greatly broadened the impact of both UB and the School of Management on our students, our alumni and the larger communities served by the university," said Dean Arjang Assad. "I think all of us who know Cynthia and the many roles she plays at UB know how eminently she deserves this special recognition."
Programs get boost from anonymous donor
School of Management students will soon enjoy a new tutoring/mentor program and an enhanced entrepreneurship course and pitch competition, thanks to a donation of more than $300,000. The donor, who wishes to remain anonymous, agreed to fund two proposals.
One is for a tutoring/mentor program that will run in the school's Undergraduate Learning and Community Center , and the second proposal is to support the Entrepreneurship Lab (eLab) and Elevator Pitch competition.
"We are so pleased to receive this funding because of the impact it will have on our students," says Arjang Assad, dean of the School of Management. "The eLab and pitch competition will support our growing entrepreneurship focus, and the tutoring/mentor program will significantly enhance learning opportunities for our undergraduate business majors and help build a sense of community."
Military MBA recruits
The school held its first-ever Military MBA Preview Day event in April, where veterans and active duty or reserve members of the U.S. armed forces attended a full-time MBA class, heard from a panel of current students and alumni with military backgrounds and met employers interested in MBA candidates with military experience. They also participated in a discussion about how to leverage a military background in a career strategy and met with representatives from the UB Office of Veterans Services and the UB Student Veterans Association.
"Veterans and active-duty military personnel are a great fit for the UB MBA program," says Erin O'Brien, assistant dean and director of graduate programs. "They bring leadership, teamwork, dedication, motivation and focus, and a UB MBA can help hone and shape these skills for successful use in a commercial marketplace."
UB is ranked No. 21 among national universities in U.S. News and World Report's listing of "Best Colleges for Veterans." The ranking evaluates schools that participate in federal initiatives to help veterans and active services members apply, pay for and complete their degrees.
New courses enhance the EMBA experience
Graduates of the school's Executive MBA program will now be even better equipped for success, thanks to a revised program curriculum.
New half-credit classes in management communications and mergers and acquisitions have replaced a full-credit microeconomics course in the program. The changes were made based on a strategic review of top EMBA programs, industry trends and alumni surveys.
"We're responding to changes in the marketplace, just as we have done since the program began in 1994," says Courtney J. Walsh, assistant dean for executive education. "Since then our alumni have consistently told us that the program provides the knowledge and experiences they need to continue to be successful."
The EMBA program develops leaders who can initiate change and drive business strategy within their organizations. Participants receive one-on-one training through a leadership assessment center and executive coaching program.
Program cost includes tuition, fees, books and materials, tutoring for quantitative courses and an international residency. For more information, visit mgt.buffalo.edu/emba.
Sixteen is sweet for Buffalo Business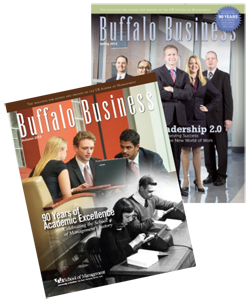 If Buffalo Business magazine had a magic number, it would have to be 16.
Now in its 16th year, Buffalo Business has earned its 16th award as a top publication in higher education and public relations.
The Buffalo Niagara chapter of the Public Relations Society of America (PRSA) awarded Buffalo Business a gold Excalibur at the chapter's 25th annual Excalibur Awards banquet in June. The Excalibur Awards recognize top public relations projects, programs and practitioners from across Western New York.
In addition, the magazine earned a Judges' Citation from the State University of New York Council for University Advancement (SUNYCUAD) 2014 Awards for Excellence Program in May.
The School of Management Communications Office also earned awards this year in writing and media relations for faculty research on 'Why bullies thrive at work' and, in partnership with the School of Management Alumni Association, for the series of 'Alumnicity' videos published online in 2013.
New space to build community among undergrads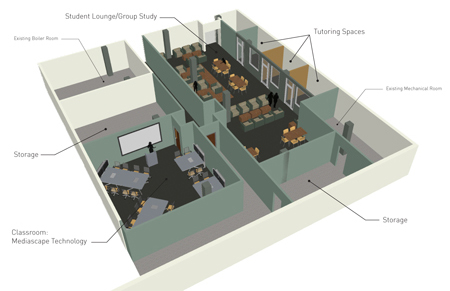 Plans are underway in the School of Management for a new space dedicated entirely to undergraduate students to enhance their learning experience as business majors. The project is made possible by a $500,000 lead gift from Frank '66 and Marilyn Clement with matching funding from the UB Provost's Office.
"This signature space will be the undergraduate academic home in Jacobs," says Dean Arjang Assad. "It will be a place that primes our students' sense of community, belonging and, through a high-quality student experience, their future loyalty to the school."
The Undergraduate Learning and Community Center will be located in the lower level of the Jacobs Management Center and will include a recitation classroom, a group study area, a student lounge and several tutoring rooms.
Renovation is expected to begin in fall 2014, with completion planned for fall 2015. Two additional classrooms are expected to follow as phase two of the project.
What's Trending?
School of Management conversations in social media
Connect with the School of Management: mgt.buffalo.edu/social