School of Management Alumni Association Sponsors | School of Management Alumni Association Board
Join the School of Management Alumni Association
Alumni Impact...

Your link to the School of Management Alumni Association
Connect. Network. Achieve.



From classroom learning to workplace consulting
In the School of Management's "Consulting Practices" course, second-year MBA students take the concepts they learned in previous classes and apply them to the business world, serving as consultants at organizations throughout Western New York. In small teams, under the guidance of their instructor Nick Everest, assistant professor of organization and human resources, the students work to solve a pressing issue, manage all aspects of their projects and deliver a formal set of recommendations to company leaders.
It's often through the school's expansive alumni network that professors are able to provide these real-world learning opportunities to their students. Everest says many of the consulting projects begin with references from alumni or current students, as was the case with Twin City Ambulance, a medical service provider for Niagara and Erie counties.
The connection with Twin City was made in 2012, when then-CEO Tom Maxian, EMBA '13, met A.J. Nicodemi, MBA '12, a student in Everest's class. Nicodemi's group created a contribution model for business expansion opportunities and, since then, Twin City has hosted four additional groups, with plans for more this spring.
"These are professional-level projects coming back to us that we're able to implement and use to great effect," says current CEO Bryan Brauner, EMBA '14. "I can't say enough good things about them. We will always have projects for as many students as Nick is willing to send us."
Initiating a change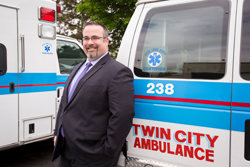 Bryan Brauner (Photo: Tom Wolf)
For one project last year, Brauner tasked a team of four students with creating a performance management system to monitor and encourage employee development and formally connect compensation to performance. The students were Tiehui Chen, MBA '13; Lindsey Kovel, MBA '13; Manish Kulkarni, MBA '14; and Henry Nailor, BS/MBA '13, who served as the liaison between his group and Twin City.
They started by interviewing every nonunion employee to determine what informal system might already exist and discover what the workers wanted in a formal program. The group also spoke with Brauner regularly and participated in several management meetings.
"Professor Everest taught us that a big part of implementing a major change is involving the people impacted by the change process," Nailor recalls.
The final product was a two-part system with behavior-based assessments to measure how an employee contributes to company culture and upholds its mission, and task-based assessments for which each employee sets three to five objectives tailored to his or her job function. Employees would meet with their supervisors at quarterly checkpoints and for a final review to discuss their performance and goals.
Nailor's team provided an implementation plan, and Twin City Ambulance quickly adopted all of their recommendations. Brauner says the program was created in a fraction of the time it would have taken internally and remains in use today with slight modifications.
"We started with very little, but with the education we obtained from the MBA program, we were able to build a valuable system that addressed the needs of our client," Nailor says. "It's empowering to produce a project that's actually operating within an organization. That's when I realized that human resources consulting was something I could do for a living."
A win for all
For Nailor, now a business operations professional at IBM in Vermont, the course opened his eyes to another facet of human resources—and a potential career path.
"The entire excitement of this class was tackling a real problem that's in need of a fast solution," Nailor says. "That's what I'm looking to do for a career—to solve problems and have a real impact on the organization."
Brauner learned the importance of students engaging in real-world experiences first-hand through the Executive MBA program. Now, as an alumnus, he says it's even more important to give back and provide those opportunities for other students.
"The course gives students diverse industry exposure and a chance to stretch themselves to learn something new," says Brauner. "Professional experience, regardless of the class, is very important because you get to know people in other environments and are exposed to all levels of working professionals."
In addition, Brauner says he even learned from and developed lasting connections with the students who worked with Twin City.
"These people are connected to current best practices and some of the best professors in the business world, and they're coming to us raw, energized and passionate," says Brauner. "As the host, it's been an incredible experience."
- Matthew Biddle
Partner Organizations

In addition to Twin City Ambulance, students in Nick Everest's "Consulting Practices" class have worked with a diverse list of companies and nonprofits throughout Western New York. The following organizations have participated over the past three years:

Avalon Document Services
Buffalo Niagara Partnership
Buffalo Promise Neighborhood
Columbus McKinnon
Community Missions of Niagara Frontier
Compass House
Envisions
GEMKO Information Group
Health Sciences Charter School
Healthcare Solutions WNY
Irish Cos.
Kaleida Health
Kraftwerks
Lake Shore Behavioral Health
Leadership Buffalo
MASH Urgent Care
Medically Oriented Gym
R.W. Miller Jr. & Associates
Roswell Park Cancer Institute
Spandco
The Bike Shop
Utech Basement Waterproofing
Village of Wilson
Western New York Immediate Care
Western New York Sustainable Business Roundtable