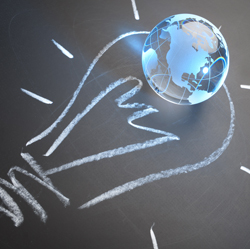 Leadership 2.0
Achieving Success in the New World of Work
By Cathy Wilde
Leadership in corporate America has many faces. There is the "power tie" and hard-nosed bombast associated with Donald Trump. There is the steely-eyed focus, softened by jeans and a black turtleneck, of the late, legendary Steve Jobs. There is the iron fist in a velvet glove approach of HP's brash Meg Whitman.
And there are many, many more-thousands upon thousands-of business owners, presidents and CEOs who guide their companies, both big and small, to success year after year, in their own individual ways.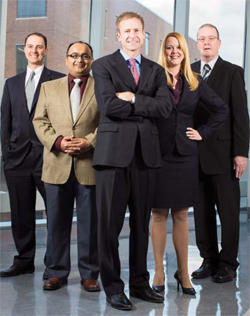 From left: Bradley Owens, Prasad Balkundi, Paul Tesluk, Robyn Brouer and Fred Dansereau of the Organization and Human Resources Department. (Photo: Tom Wolf)
As we move further into the second decade of the 21st century, and as our world grows ever flatter due to breathtaking advances in technology, you might ask: What does a modern-day leader look like?
Is it the all-work-but-lots-of-play attitude of Google co-founders Larry Page and Sergey Brin? The fresh face of Xerox's Ursula Burns, the first African-American woman to become CEO of a Fortune 500 company? Or, perhaps, is leadership not focused on one leader alone, but on teams of like-minded individuals?
Faculty members in the School of Management's Organization and Human Resources (OHR) Department study these questions every day. They are creating new knowledge that reflects the evolving role of leadership in today's dynamic work environment and are helping advance the understanding of how modern leaders can be most effective in various organizational settings.
Paul Tesluk, the Donald S. Carmichael Professor of Organizational Behavior, says a number of factors influence the role that corporate leaders play in the present economy.
"Firms are adapting new forms of organization, such as shifting to more decentralized structures, managing large segments of the work force in geographically distributed, virtual teams or placing increasing emphasis on innovation," Tesluk says.
Changing the Perception of Power
Traditional leadership is based on the hierarchy of position, says Robyn Brouer, assistant professor in the OHR Department, who teaches an undergraduate course on leadership, power and influence.
"People used to become leaders by moving up in an organization," she says, "and they wielded legitimate power that they earned through their position."
In such cases, the authority comes from the person's title, not from the actual person.
Brouer's research focuses on leader-follower relationships and social skills in the workplace. She has found that informal relationships (i.e., those that are not between leader and subordinate) and healthy communication are vastly important to an organization if it is to adapt and innovate.



"Building strong, positive leader/follower relationships leads to better outcomes for everyone."




Robyn Brouer
Assistant Professor
"This knowledge drives companies to pay more attention to informal leaders who are adaptive and can use their social skills to influence others," she says. "These people can create solutions in complex situations, leading to positive results for the entire organization."
Part of the reason for the shift from a hierarchical leadership model to a more informal one is because of changes in the population and structure of work over the last generation and the complex globalized environment in which leaders find themselves, Brouer says.
Even formal hierarchical leaders, should realize that they can no longer rely on legitimate power alone, she says. "To truly succeed, leaders should build positive relationships with their followers, based on leader and follower needs."
The Social Network
Prasad Balkundi, associate professor, has published research exploring how informal connections between and among leaders and followers can help leaders be successful.
"The traditional view of leadership was about what a leader does," Balkundi says. "But that ignores the social fabric that the leader is part of, with subordinates, supervisors and people outside the leader's own work group.
"There are people on work teams who have extraordinary influence who are not formal leaders," he says. "When a formal leader has informal strengths, the team thrives."
Through his research, Balkundi has found that even qualities considered innate in strong leaders, such as charisma, can be learned through the person's social abilities.



"When a formal leader has informal strengths, the team thrives."




Prasad Balkundi
Assistant Professor



"Charismatic leaders are typically depicted as extraordinary individuals capable of inspiring their subordinates," Balkundi says. "However, research has shown that it is often the team members themselves who attribute charisma to their leaders through their informal interactions with them."
Balkundi found that team leaders can develop socially relevant aspects of their personalities through frequent interaction with their subordinates, such as the giving and receiving of advice. The leader's willingness to have social interaction with team members leads to positive experiences for the team, which, in turn, leads team members to see the leader as charismatic.
So, in certain ways, leaders' charisma is linked to their willingness to humble themselves and interact with their followers, a view that is supported by the research of Bradley Owens, assistant professor.
The Importance of Humility
In a study of leaders across a variety of industries, Owens found that humility is a key factor in being successful, and that the essence of leader humility involves serving as a model for how followers can grow their own skills.
"Followers view leaders who show humility as having a unique type of courage-being willing to risk the potential social reprisal of admitting limitations to legitimize others' development. Leaders who can overcome their fears and broadcast their feelings as they work through the messy internal growth process will be viewed more favorably by their followers," Owens says.
Admitting mistakes, spotlighting follower strengths and modeling teachability are at the core of humble leadership," he says. "These three behaviors are powerful predictors of the leader's growth and the organization's growth."
Owens believes this new approach to leadership was bolstered as a response to the financial scandals of the early 2000s.



"Leaders who can overcome their fears and broadcast their feelings as they work through the messy internal growth process will be viewed more favorably by their followers."




Bradley Owens
Assistant Professor
"Major, well-publicized events sometimes shape the collective psyche of what it means to be a good leader," he says. "The Enron and WorldCom scandals created a perception that we had a 'crisis of leadership,' and that the leaders we were creating in business schools were not the kind of leaders the business world needed.
"In response, prominent business schools have designed courses that hold up characteristics like humility as legitimate and valuable approaches to leading, even in cutthroat corporate environments," Owens says.
He notes, however, that the humble leadership approach is not effective across all types of organizations. His study focused on six different types of organizations (military, industrial, financial, religious, retail and health care), and he found that in situations of extreme threat or time pressure, such as military combat, taking a humble approach appears to be less effective.
Owens' findings struck a chord. His research was cited in Forbes, The Atlantic and Men's Health magazine, in addition to dozens of psychology, business and human interest websites.
Political Skill
Leaders who understand informal relationships, their environment and the motivation of others within that environment are said to have "political skill."
Although the word "political" can sometimes have a negative connotation, in this instance it refers to a leader's ability to build strong, positive relationships with followers because the leader understands what the followers need.
Political skill is vital for today's leaders, according to Robyn Brouer.
"People need different things from their leaders," she says. "Some need a hands-on approach, while others prefer hands-off. Political skill helps leaders figure out what their subordinates need. Building strong, positive leader/follower relationships leads to better outcomes for everyone."
Brouer suggests that individuals seeking to rise in leadership should learn how to manage their relationships both upward and downward in their organization.
"A 1995 study showed that a major reason managers derail is because they are not aware of themselves and of their followers' needs," Brouer says. "That type of approach just isn't feasible anymore."
Teamwork to Manage a More Complex World
Paul Tesluk is an expert on team and organizational effectiveness in addition to leadership development, and has published research exploring the evolving nature of leadership and work in an increasingly globalized world.
"The nature of work is rapidly evolving and characterized more often as knowledge-based, globally distributed and accomplished by bringing together cross-functional expertise," he says. "Many organizations are shifting their approach to leadership from one that is more hierarchical to one that is more distributed."
He cites several reasons for this shift, including the increasing complexity and fluidity of work that requires integrating diverse expertise and knowledge across a team; higher reliance on technology to connect people with necessary knowledge and expertise; and generational shifts in values and attitudes about having influence and authority.
Tesluk has studied several companies that have successfully implemented a shared leadership structure.
"Shared leadership in teams occurs when there is mutual influence embedded in team member interactions in areas related to direction, motivation and support," he says. "When adequately developed, shared leadership in teams can lead to positive outcomes such as greater collaboration, higher trust, more effective teamwork and more effective application of distributed expertise, all of which in turn contributes to team adaptability."



"Shared leadership in teams can lead to positive outcomes such as greater collaboration, higher trust and more effective teamwork."




Paul Tesluk
Donald S. Carmichael Professor of Organizational Behavior
However, such a model does not necessarily negate the need for formal team leaders. "We found that when members of the team engaged in shared leadership, that in order for teams to be adaptive and successfully respond to unanticipated events, the formal team leader needed to provide strong influence," Tesluk says. "In other words, the role of formal team leader shifts from being the one making most or all of the decisions to the one that is helping the team focus and understand the situation at hand."
Tesluk says that three conditions can support shared leadership: shared purpose (common understanding of the team's goal and purpose), social support (team members' efforts to provide emotional and psychological strength to each other) and voice (team members' input into how the team carries out its purpose).
Fred Dansereau, professor, warns that the team-oriented approach to leadership doesn't always work. Dansereau has been with the School of Management for more than 40 years and has written 80 articles and 11 books on leadership and organizational dynamics.
"It can depend on the industry, the nature of the work flow, the organization's work processes and the workforce involved," he says.
The increasingly global nature of business, made possible through mobile and digital technologies, may point toward a model where shared leadership becomes more of the norm. If an organization has corporate offices on one continent and manufacturing operations on another, its leadership will need to learn how to work collaboratively across time zones and cultures.
A Bright Future for Leadership Studies at UB
As researchers in the School of Management continue to study, analyze and publish important research on the evolving nature of leadership, their findings help support the important leadership development programs at the school, such as the Executive MBA program and the recently launched LeaderCORE certification program for full-time MBA students (see sidebars).
Arjang Assad, dean of the School of Management, has identified leadership as one of three key initiatives (along with entrepreneurship and health care management) for the school as the university moves forward under the auspices of the NYSUNY 2020 funding plan.
"The landmark agreement between New York State and SUNY known as NYSUNY 2020 has led to a period of sustained and intensified thinking about the future of UB," Assad says. "This opportunity for significant growth and ascent has occupied much of our time and energy."
Plans are moving forward to position the UB School of Management as a major player in the fields of leadership research and education. The foundation is set, and our faculty is ready to take up the charge.
LeaderCORE™

Developing leaders for today's workplace

What is at the core of every great leader?

That's the question that drove Jerry Newman, SUNY Distinguished Teaching Professor and chair of the school's Organization and Human Resources Department, to work with School of Management colleagues and corporate leaders to identify the core competencies considered vital for effective performance and successful leadership in today's workplace. And that's what led to the development of a unique, comprehensive leadership certification program known as LeaderCORE, launched in fall 2010.

LeaderCORE spans the entire two years of the full-time MBA program and helps ensure that graduates are "management ready" and can create value for their organizations. With the help of Nick Everest and Muriel Anderson, LeaderCORE's faculty co-directors, participants undergo a rigorous assessment process to identify the competencies they wish to strengthen, and this forms the basis of a customized personal development plan.

Opportunities to explore and build on these leadership competencies are integrated throughout LeaderCORE through coursework and co-curricular activities like the Corporate Champions program, internships, case competitions and leadership initiatives. In their final semester, students are assessed, and those who are successful receive LeaderCORE certification.

The first class of LeaderCORE graduates was certified in spring 2012 and is now taking the business world by storm. To learn more about LeaderCORE, visit mgt.buffalo.edu/leadercore.
Coming Soon: New Leadership Center

The School of Management is developing a new initiative, the Center for Leadership and Organizational Effectiveness, or CLOE for short. CLOE will significantly advance research and teaching in the area of leadership and its impact on organizational effectiveness. It also will support UB 2020's goals of accelerating academic excellence, translating scholarship and developing leadership capabilities in UB students and business leaders. CLOE will be a means for building a world-class faculty of leadership scholars and will provide ways to work with the business community, as well as with other units across campus.
Enhancing Leadership Skills of Professionals

The School of Management's Executive MBA (EMBA) is designed to transform executives from high-potential managers into dynamic leaders. Learning how to lead is especially important in today's unpredictable business environment, according to Courtney Walsh, assistant dean for executive education.

"How do you prepare leaders to be successful in a disruptive business model?" she asks. "Our program helps them understand the big picture, become visionary and, most important, be agile in a constantly shifting world."

At the heart of the EMBA program is a focus on emotional intelligence, which includes self-awareness, self-management, social awareness and relationship management.

"We conduct a variety of assessments with each person in the EMBA program during the first semester," Walsh says. "From there, we work together to create individualized learning plans that focus on the one skill that each participant feels, if added to their skill set, would help that person go to the next level professionally."

This type of leadership development-training future leaders to recognize their own feelings, motivate others and manage their emotions in the workplace-is vitally important because of the "VUCA" (volatile, uncertain, complex, ambiguous) nature of the business world. VUCA is a term first coined by the military that has worked its way into leadership development due to the rapid change, much of it technological, in the workplace.

"Lifelong learning is no longer a choice," Walsh says. "It is essential for survival."