'Dropping In' Leads to $40 Million Payoff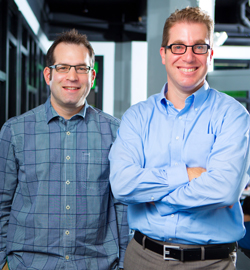 Eric Reich and Michael Weisman Photo: Douglas Levere
As graduate students in the UB School of Management a dozen years ago, Eric Reich and Michael Weisman weren't shy about soliciting advice on how to start a business. Just ask Joe Salamone, an associate professor of organization and human resources who specialized in entrepreneurship.
"They would stop by my office to talk. These weren't five-minute meetings; they were long. They usually ended because I had to teach a class or they had a class to go to," Salamone, who retired last year, recalled with a laugh.
It wasn't just Salamone. Reich and Weisman were routinely engaged with many other faculty and administrators, including late UB president William Greiner, to discuss their vision. Through their efforts, buoyed by winning a coveted entrepreneurship award from UB, they formed Campus Labs, a technology company based in downtown Buffalo.
Their success stems from years of hard work, persistence and ingenuity; a ripe market in Western New York for entrepreneurs; and, of course, their UB experience.
"We received a lot of support and assistance from the UB community that helped us build early confidence and momentum," Reich says.
Reich and Weisman, seated at a conference table at Campus Labs' offices, occasionally finish one another's sentences. They have, after all, known each other since they were toddlers in Buffalo's northern suburbs.
The bond kept them close as they went away to college as undergraduates, and eventually both returned to Buffalo. Reich enrolled in UB's JD/MBA program, while Weisman taught high school. Soon after, Reich persuaded Weisman to join him at UB to pursue an MBA, and they began to identify opportunities to realize their long-discussed goal of creating a successful business. This was in the late 1990s when dropping out of college to pursue an idea was in vogue, following the model set by Bill Gates, Steve Jobs and other tech luminaries in the headlines.
Reich and Weisman saw a different path to success, one they refer to as "dropping in." Instead of jumping to pitch venture capitalists, they spent countless hours inside and outside the classroom refining their business plan with UB professors and administrators. Among them was John Schneider, an experienced entrepreneur and adjunct assistant electrical engineering professor.
"At first, I politely told them that I wasn't sure I was the right person to talk to," Schneider says. "But then Eric and Michael, in a very polite and professional manner, came to my office and accosted me. Basically, they said they weren't leaving until I heard their idea and considered helping them."
Schneider, who was charmed by their audacity and ambition, agreed to help. He met with Reich and Weisman on weekends.
The idea for Campus Labs-a data-driven company to help colleges and universities measure and refine all of the important, necessary or recommended aspects of the higher education experience -was fairly simple. But Reich and Weisman needed to test it. That's where Salamone, Schneider, Greiner and others helped out. They encouraged the duo to use UB as a proving ground for their ideas.
"I think it's fair to say, in many ways, that UB was a test lab for Campus Labs," says Dennis Black, UB's vice president for university life and services, an early champion of Reich and Weisman.
Their idea was validated upon receiving the top prize-$25,000-from UB's inaugural Henry A. Panasci Jr. Technology Entrepreneurship Competition in 2001. When Reich and Weisman graduated, in 2002 and 2001, respectively, they were ready to take the business, then known as StudentVoice, into the marketplace.
"They worked really hard to leverage all the opportunities the school made available to them," says Katherine Ferguson, associate dean of academic programs in the School of Management.
The initial years at StudentVoice were humbling. Both Reich and Weisman routinely worked 14-hour days, six days a week. Weisman remembers worrying that his rusted Buick Century would break down while driving to appointments.
"It was stressful and time-consuming," he says. "There was a lot of sacrifice. It certainly wasn't a 9-to-5 job."
By the end of 2003, however, they had a small staff and roughly 15 clients. The long workdays continued, but so did the company's growth. By last summer, the client list reached 650, with annual sales topping $10 million. The company had 80 employees between its office in the Warehouse Lofts building on Ellicott Street and a smaller office in Atlanta.
The big payoff came last August.
Connecticut-based Higher One Holdings acquired Campus Labs for more than $40 million, making the student-founded company one of Western New York's most successful startups in recent memory.
One of their mentors at the School of Management, John Hannon, who now teaches at Niagara University, says Reich and Weisman's success is impressive because Buffalo, unlike San Francisco, Boston or New York City, isn't a recognized hub for high-risk entrepreneurship.
Buffalo has traditionally been a good place for long-term jobs and security, he says. Yet there are advantages. Because it is a smaller city, there is less competition, and it can be easier to gain the confidence of people who can help startups become successful companies, he says.
"I think going to UB and being from Buffalo worked to their advantage," Hannon says.
Reich and Weisman, who still keep in touch with many of the people at UB who helped them along the way, think so, too. The deal with Higher One, which enables them to keep Campus Labs in Buffalo, is expected to help them expand into new markets and add employees to their payroll.
"We plan to continue to grow in Buffalo and hire a lot more people here," Weisman says.
- Cory Nealon, University Communications