Start-Ups
New concentration prepares Wall Street 'rock stars'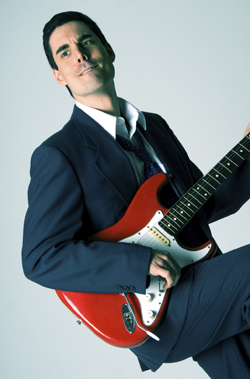 The School of Management is offering a new quantitative track in its MS in finance program that can help graduates land jobs as quantitative analysts-or "quants"-the latest variety of Wall Street rock stars.
Quants are specialists who use their expertise in mathematics, finance and statistics to identify and solve complex issues for financial institutions. They have been called "the rock stars on the Street" by Phil Albinus, editor-in-chief of Advanced Trading, because "the more volatile the markets, the more valuable quantitative analysts become."
The new track offers various techniques and mathematical methods in finance that will help students train for careers as quantitative analysts.
"There is a high demand for graduates in this field, which makes the concentration an attractive option," said David Frasier, assistant dean and director of graduate programs in the School of Management. "Starting salaries are also attractive-ranging in the upper five figures to low six figures."
"Financial markets have become more volatile and financial instruments more complex in recent decades," said Kee Chung, chair of the school's Finance and Managerial Economics Department. "The quantitative track in our MS Finance program provides students with training to effectively manage risks and accurately assess the value of complex securities."
Other career options for graduates of the quantitative finance concentration include investment banking, trading, portfolio management and investment advisement. For more information about master's degree programs at the School of Management, contact the Graduate Programs Office at som-apps@buffalo.edu or 716-645-3204.
New EMBA schedule meets market demand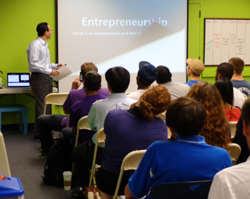 Matthew Epstein '12, MS '13, winner of the 2012 Panasci Technology Entrepreneurship Competition, presents to students in the academies about his business venture. Photo: Staff, Undergraduate Academies
Organizational leaders and senior managers will now find it more convenient to earn an Executive MBA at the School of Management, thanks to a new format launched in the fall. Classes are now held all day Friday and Saturday every third weekend (with some exceptions for holidays), and participants can complete the program in 20 months.
"Executives are working longer hours and have more demands on their personal time," said Courtney Walsh, assistant dean for executive education in the School of Management. "But they want a program that offers a reasonable schedule without sacrificing world-class content."
The new schedule retains all the content, but packages it in a way that reduces the amount of time away from the office during the regular workweek by 25 percent. Walsh said the new format also accommodates those with rigorous travel schedules, as well as the increasing number of executives from Toronto, the Southern Tier and Central New York.
In between class weeks, tutoring in quantitative courses will continue to be offered live at the school or over the Web. The UB EMBA program develops leaders who can initiate change and drive business strategy within their organizations. Participants receive one-on-one training through a leadership assessment center and executive coaching program. Program cost includes tuition, fees, books and materials, tutoring for quantitative courses and the international residency. For more information, send an email to mgt-emba@buffalo.edu.
Entrepreneurship Academy launched
Entrepreneurship is the focus of a new Undergraduate Academy launched this fall at UB. Forty students have enrolled in the Entrepreneurship Academy, a community where students interested in entrepreneurship can share meaningful experiences throughout their college years. Participants attend sponsored seminars, workshops, speaking engagements, special trips and community-building events. They may even choose to live in the Academies' residential community.
Yong Li, associate professor in the School of Management's Operations Management and Strategy Department, is the academy director. Li's research interests focus on investment strategies under uncertainty and financing entrepreneurship.
The Entrepreneurship Academy's first cohort includes students majoring not only in management, but also in arts, sciences, engineering and health sciences.
"That's exactly what we want," Li said. "Our academy serves as a catalyst to inspire and educate the next generation of entrepreneurs, and students from any background can be entrepreneurial."
The Entrepreneurship Academy joins three other academies-Civic Engagement, Global Perspectives and Research Exploration-that UB has launched since 2007. A fifth academy, Sustainability, will enroll its first class in fall 2013.
Streamlined technology enhances award-winning program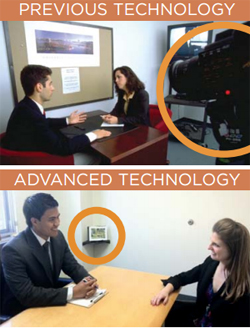 The Frank L. Ciminelli Family Career Resource Center (CRC) has incorporated the latest technology into its award-winning practice interview program by using iPads to record student interviews.
Each year, more than 800 students participate in the program to sharpen their interview skills and help them to stand out with prospective employers. Interviews are recorded from start to finish so students can receive helpful feedback on their performance.
Students previously shared the interview room with a practice interviewer and a large media cart housing a television, DVD recorder and video camera. The CRC upgraded its technology to iPads in response to student feedback suggesting that eliminating the media cart would make the interviews more realistic.
In addition to being less intrusive, the iPads are more cost effective in the long run, because the CRC doesn't need to replace worn-out DVD recorders each year. The iPads will also be used for other CRC programs and events such as Coffee Cup Conversations, Employer Expectation Series, the GEICO Etiquette Breakfast and more.
CEL finds new home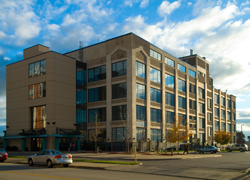 The School of Management's Center for Entrepreneurial Leadership (CEL), which promotes business growth through leadership development and experiential learning, has moved from its former location in the Jacobs Executive Development Center (also known as the Butler Mansion) to newly renovated space in the UB Downtown Gateway at 77 Goodell Street in Buffalo.
"This strategic move brings the CEL into the heart of a region where innovation is flourishing," said Arjang Assad, dean of the School of Management. "The Gateway's proximity to the Buffalo Niagara Medical Campus and UB's downtown research enterprises will allow easier collaboration between the CEL and the area's burgeoning life sciences companies."
The UB Downtown Gateway provides space for community outreach, service and research programs with a public orientation. These include the UB Office of Economic Engagement; the UB Regional Institute; UBMD, the physician practice plan of the School of Medicine and Biomedical Sciences; and UB's Millard Fillmore College, which offers continuing education for adults.
Acquired by UB in 2007, the building was home to local clothing manufacturer M. Wile & Co. from 1924 to 1964, and is on the National Register of Historic Places. The move is another step in CEL's plan to expand both the scope and reach of its activities, thanks in part to a $525,000 investment by UB and the School of Management.
"Both the new location and the additional funding are an outstanding opportunity to strengthen the center and take things to the next level for the benefit of the region's entrepreneurs," said Tom Ulbrich, executive director of the CEL.
Exports to Canada program a cross-border success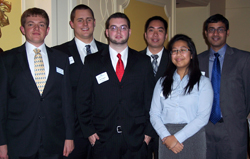 MBA students and ECIDA interns, from left, Colin Masterson, Andrew Wescott, Ian Trapper, Hung Duc Phan, Ruth Huoh and Mithra Pamaraju. Photo: Beth O'Keefe
The School of Management collaborated with the Erie County Industrial Development Agency (ECIDA) in the fall to launch a new program, Exports to Canada, that assists Western New York businesses in increasing their level of exports across the border.
Carrie Gardner, director of the school's Credit-Bearing Internship Program (CBIP), and Maryann Stein, director of international programs for ECIDA, initially conceived of the project, which provides training to local businesses seeking to expand their customer base into Canada and then matches them with School of Management interns to help achieve that goal.
Stein brought MBA students Mark Bortz and Chris Courtney on board as interns to help run the program. Their internships were partially funded through Western New York Prosperity Scholarships. Bortz and Courtney then matched MBA interns from the School of Management with participating companies: Ascension Industries, Buffalo Newspress, Life Safety Engineered Systems, RJR Engineering, Secura Technologies and ValueCentric.
MBA interns Ruth Huoh, Colin Masterson, Mithra Pamaraju, Hung Duc Phan, Ian Trapper and Andrew Wescott each assisted one of the companies and gained insights into the ECIDA's mission as well.
The Exports to Canada program will now be a recurring internship opportunity for UB MBA students, Gardner said. "It will be particularly valuable for those who wish to gain international business experience."
John Dunbar Jr., an adjunct instructor in the school, served as the faculty mentor to all the interns in the program. He is a principal of Strategic Investments & Holdings Inc., a private equity firm specializing in growth capital, recapitalization, acquisitions and management buyouts of middle market companies.
National Grid provided a grant to assist the program through an approved economic development plan from the New York State Public Service Commission.
For more information on the School of Management's Credit-Bearing Internship Program, visit mgt.buffalo.edu/internships or call 716-645-3233.
Rankings

Bloomberg Businessweek, Financial Times and U.S. News and World Report have again ranked the School of Management. See details in NewsBites.