Waves of Change
Spearheading Buffalo's Waterfront Transformation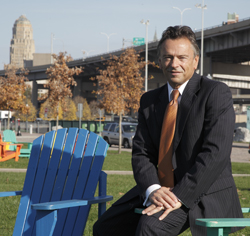 Tom Dee. Photo: KC Kratt
Have you visited Buffalo's waterfront recently? Perhaps you attended one of the concerts, a cultural event, a lighting demonstration at the historic grain elevators, or just a family picnic on the Central Wharf. Whatever took you there, you likely noticed that things are changing-dramatically.
The catalyst for much of that change is the Erie Canal Harbor Development Corporation (ECHDC), a subsidiary of Empire State Development created to spearhead Buffalo's waterfront redevelopment effort.
And the driving force and visionary behind the ECHDC is its president, Thomas P. Dee, EMBA '96. Since 2009, Dee has worked tirelessly to advance the four guiding principles of the organization: accessibility (public access, things to do), diverse use (neighborhood, mixed use, cultural), design (urban, green and sustainable, four seasons) and financial payback (economic growth, increased tax revenue and opportunity for local businesses and jobs).
Previously, Dee was a principal at Cannon Design, where he worked for 28 years. When he was approached about working for the ECHDC, he declined. "Actually, I said no the first five times they asked," he says. "I was happy at Cannon. I was working on a number of rewarding projects, from a $150 million cancer center in India to the new $130 million Federal Courthouse in Buffalo, and here was this new position focusing on a part of Buffalo that had been chaotic for 50 years."
But he was challenged to do something even more meaningful and more purposeful on the local front, and it struck a chord. "I walked to the Central Wharf-barren, blighted land at the time-and I did what I learned to do at Cannon: imagine what could be," he says. "A few people were wandering around the wharf that day and, as they made their way to the water's edge, they all did the same thing. They looked out over the water and smiled. It was a revelation. Water lightens the heart."
So Dee made the difficult decision to leave Cannon and is now focused on the future of the waterfront.
"Water is our greatest natural resource," he says. "We have an opportunity to make a real difference here."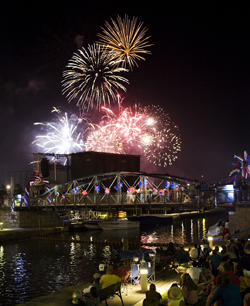 Photo courtesy of Erie Canal Harbor Development Corp.
At Buffalo's waterfront, progress is evident. The ECHDC has been instrumental in advancing the overall Canalside project, which focuses on developing 23 acres of Buffalo's inner harbor lands for public, commercial, residential and other mixed uses. In addition to Canalside, projects are under way in the Outer Harbor and the Buffalo River/Ohio Street Corridor.
"The most challenging part of my role is gaining the trust of the public," says Dee. "Historically, nothing gets done in Buffalo, but people are now recognizing that we are past the tipping point. That's transformational."
The advances are staggering on their own, but ECHDC's efforts have spurred the first private investment in Buffalo's waterfront in more than 50 years-$153 million and counting, including the $30 million renovation of the Donovan Building, the $123 million investment by the Buffalo Sabres to develop the Webster Block, as well as investment by many small and local businesses.
A graduate of the School of Management's inaugural Executive MBA class, Dee recalls sharpening his leadership and strategic thinking skills while in the program. He also says that going through the program as a cohort was critical. "Our team was going to get through it together," he says. "In the end, what we made was greater than the sum of the parts."
Given his own ambitious nature, Dee's advice for new graduates is not surprising:
"Work hard," he says. "There's no substitute for hard work. Be intrinsically motivated. Be persistent. Look for opportunities to work autonomously and do great work."
Those are words that Dee lives by, and his efforts are paying off. In summer 2012 alone, more than 425 events drew 500,000 people to Buffalo's waterfront. Every day of the week offered activities centering on families, health, community, cultural, water activities and major festivals.
But Dee doesn't rest on any laurels. A self-professed eternal optimist, he wants the city's transformation to be complete. "When people see what's happening on the waterfront, they get excited and say, 'This doesn't feel like Buffalo,'" he says. "But I want Buffalo to be the city that others look to. We can be the model for how to get it right."
- Jacqueline Ghosen