School of Management Alumni Association Sponsors | School of Management Alumni Association Board
Join the School of Management Alumni Association
Alumni Impact...

Your link to the School of Management Alumni Association
Connect. Network. Achieve.



Corporate Champions Plant the Seeds of Opportunity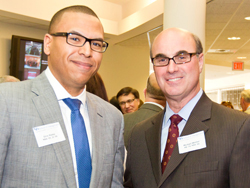 Ezra Staley, JD/MBA '09 with Michael Weiner, MBA '90, president of United Way of Buffalo & Erie County. Photo: Tom Wolf
It started with a challenge: find a way to bring School of Management MBA students and businesses closer together.
That idea, which began with a single person, has blossomed into Corporate Champions, a program that has had an exponential impact on the School of Management, our students and businesses they work with across Western New York.
Through the Corporate Champions, representatives from businesses in the Buffalo Niagara region meet with teams of first-semester MBAs from day one to participate in a series of activities, including MBA Advantage, a company site visit, a community service activity, a company analysis that brings textbook work to the real world and an end-of-semester reception. These distinctive interactions allow students to build relationships that enhance their careers for years.
The program was the brainchild of Ezra Staley, JD/MBA '09, who came up with the idea during MBA Advantage, the professional development program that runs throughout the MBA experience. He noticed that classmates were missing opportunities to make valuable connections with alumni at networking events and worked with School of Management staff to bring the program to life.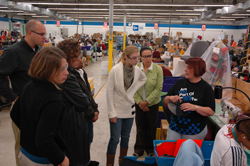 Team New Era 2009 visits the plant in Derby.
Through his work with Corporate Champions, Staley landed internships that led to multiple job offers and a full-time position at M&T Bank.
Today, as CFO of Buffalo Promise Neighborhood, M&T's nonprofit education foundation, he says it's been fascinating to see the growth of Corporate Champions and the impact the program has had on students and organizations.
"I'm impressed with how the Corporate Champions companies have responded," says Staley. "In just five years, more than 50 companies have been a part of it, with more lining up all the time. When I talk to current students, they say it's great real-world experience that they use to expand their networks."
About 20 companies serve as Corporate Champions each year, a mix of nonprofits and corporations from a variety of industries. Nearly all of the company connections are made through alumni.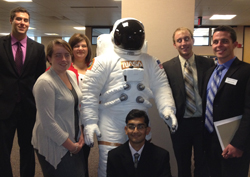 Team Delaware North 2012 at the global headquarters in Buffalo. The company has a contract to operate the NASA Kennedy Space Center Visitor Complex.
Based on feedback from MBAs who have completed the program, it's clear that Corporate Champions is achieving what Staley had envisioned.
"Corporate Champions has been one of the highlights of our MBA experience," says Emily Clark, MBA '14, on behalf of 2012 Team Cameron. "Working with an outside company on a real issue has given us a learning opportunity that no case study could have accomplished."
Vincent Shutt, MBA '14, says, "We met the entire United Way leadership team in a roundtable discussion and we were blown away at the level of skill and professionalism in the room. I took five pages of notes and was so impressed with the lean operations of their organization."
People Inc., a Western New York health and human services agency, has been a Corporate Champion for two years. MBAs on the 2012 People Inc. team worked to help solve transportation challenges the organization was facing.
Team Columbus McKinnon 2012 tours the facility in Amherst.
"By surveying our staff, the students gathered data to discover what challenges exist and any effects they may have on the quality of care we provide," says Kathryn Alterio, MBA '00, associate vice president of human resources and corporate compliance officer at People Inc.
The next step in the project was beyond the scope of the Corporate Champions, but thanks to the link made through the program, the School of Management was able to connect People Inc. with Natalie Simpson, associate professor of operations management and strategy. She and a small team of top undergraduate students will assess the client transportation network to improve efficiency and lower costs, allowing People Inc. to better serve more than 10,000 people each year.
"It's really incredible that one student's idea has blossomed into a program with an impact that has had such a ripple effect for students, organizations, alumni and the school," says Cynthia Shore, senior assistant dean of alumni and external relations.
To learn more about Corporate Champions, visit mgt.buffalo.edu/CorporateChampions or call 716-645-3204.
Corporate Champion Partners

BlueCross BlueShield of WNY
Buffalo Games
Buffalo Museum of Science
The Buffalo News
Buffalo Niagara Partnership
Cameron
Catholic Health System
Citi
Cognigen
Columbus McKinnon
Delaware North Cos.
Deloitte Services
Dopkins & Co.
Evans Bank
First Niagara Financial Group
Flynn & Friends
Goodyear Dunlop Tires
Graphic Controls
Greatbatch
Harmac Medical Products
Hodgson Russ
HSBC Bank
Hunt Real Estate
IBM
Independent Health
KABA Healthcare
Kaleida Health
KPMG
Lawley Benefits Group
Life Technologies
Lumsden & McCormick
M&T Bank
The Mentholatum Co.
Moog
Murak & Associates
National Fuel
New Era Cap Co.
North American Breweries
North Forest Office Providers
The PCA Group
People Inc.
Pepsi Bottling
Perry's Ice Cream
PricewaterhouseCoopers
Rich Products
Roswell Park Cancer Institute
TOPS Markets
Unifrax
United Way of Buffalo & Erie County
VA Hospital
VWR Education - Science Kit & Boreal Laboratories