Close-Up: Louis DiBerardino
A Lost "Buffalo kid" Finds his Way, Gives Back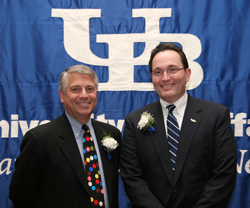 From left: Marc Adler, MBA '82, CEL '08, president of Why Not Marketing and then-president of the UB Alumni Association (UBAA), with Louis DiBerardino '80 at the 2009 UBAA Achievement Awards gala. DiBerardino received the Samuel P. Capen Award, UBAA's highest honor.
Today, Louis DiBerardino '80 is partner - tax services at Ernst & Young LLP in Boston, Mass. One of the Big Four accounting firms, Ernst & Young is a global leader in assurance, tax, transactions and advisory services.
But when DiBerardino came to UB back in the '70s, like many college freshmen, he wasn't quite sure what he wanted to do with the rest of his life.
"I had some friends who sort of directed me toward the accounting department," says DiBerardino. "So that's what I majored in and it's what I've been doing for 32 years now. I have to say I owe it all to UB-I wouldn't have known what accounting was had I not gone to the School of Management."
DiBerardino credits former accounting professor Larry Brown for helping to push him beyond his comfort zone and strive to achieve more.
"Larry had a way of always seeing something beyond where you were, and always making you feel like you weren't quite where you could be," he says. "I could've been discouraged by it, because to some extent he was telling me what I wasn't able to do, but instead I said, 'You know what? Let me show him what I can do.'
"I'll never forget that influence he had on me; it was pretty powerful."
With his more than three decades of experience, DiBerardino says that a career in accounting is dynamic-and that's a good thing.
"The clients are always changing and the demands are always changing, so you can really never get bored in this business. It's still very intellectually rewarding for me," says DiBerardino. "For new accountants, I think the hardest part is the long apprenticeship period. You really need to put your head in the work papers and get very good at your craft before you can get out and really mix it up with the clients at the level that some people would like to."
DiBerardino is a self-described "Buffalo kid." And while his career has taken him all over the world, in many ways, his heart has remained at UB. His influence has helped advance the School of Management-particularly the Accounting and Law Department.
In 1999 he made the initial commitment that resulted in the Ernst & Young Connected Classroom in the School of Management and secured an additional $50,000 gift from fellow alumni who work for Ernst & Young partners throughout the country to complete the $100,000 gift.
He also funded the DiBerardino Accounting Resource Center, which opened in the Jacobs Management Center in fall 2008 and provides space for tutoring, studying, meetings and conducting research. In 2009 he received the UB Alumni Association's highest award, the Samuel P. Capen Award.
DiBerardino also gives back by offering his time and talents. In addition to being a popular class speaker and recruiter, he has served on the UB School of Management Alumni Association board, the Buffalo and New York City-based Accounting Advisory Councils and the School of Management Dean's Advisory Council, including a term as chair.
His continued involvement hasn't just been a boon for the school; it's also been a benefit for him.
"When you come back after graduation, you get to learn in a different way from people like the dean or senior faculty," says DiBerardino. "When you come back with business experience, you have a different conversation with those people and you're learning all over again. But instead of it being the 'blocking and tackling' of your business, now it's more of an exchange of ideas that I've appreciated very much."
- Kevin Manne
Watch Lou DiBerardino share his School of Management experience: http://mgt.buffalo.edu/diberardino