Startups
MBA health care management concentration returns
MBA students who plan to seek careers as professional managers in health care organizations, including hospitals, long-term care facilities and insurance companies, can now take advantage of a newly resurrected concentration in health care management.
The concentration also will be valuable to students in the Professional MBA program who plan to transition to the health care sector or are clinicians who want to move into leadership roles, as well as those enrolled in dual degree programs that focus on health care and human services, including MD/MBA, Pharm.D/MBA, DDS/MBA, MPH/MBA and MSW/MBA.
In step with the School of Management's focus on key initiatives in leadership, entrepreneurship and health care, the new concentration will cover topics in clinical leadership, innovative approaches to industry challenges, health analytics, health informatics and the tie between quality and cost.
"The combination of an MBA education with specific training in health care management is a valuable asset to graduates seeking to enter an increasingly competitive, complex and demanding job sector," says Katherine Ferguson, associate director of academic programs in the School of Management.
The MBA concentration in health care management is also a key element in the School of Management's role in the university's Realizing UB 2020 initiative, which includes health as one of four key themes of the plan's academic strategy.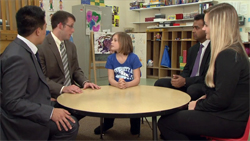 From left: Alain Nguyen, PharmD/MBA '13, Todd Carter, MBA '13, Holly Marriner, Vinay Agarwal, MBA '13, and Natasha Allard, MBA '14, in one of five School of Management Alumni Association videos that parody the popular AT&T "It's Not Complicated" ads.
Alumni Pride: 'It's not complicated'
Earlier this year, the School of Management Alumni Association launched a series of videos spoofing the popular AT&T "It's Not Complicated" ads. You know the ones-they feature a deadpan moderator asking kids to answer questions like, "What's better: bigger or smaller?"
But our videos have a twist. In a turn of the child-sized table, the School of Management videos feature UB MBAs answering questions from kids.
Starring in the videos are Vinay Agarwal, MBA '13, Natasha Allard, MBA '14, Todd Carter, MBA '13, Alain Nguyen, PharmD/MBA '13, and Sarah Tanbakchi, JD/MBA '14. The moderators were Holly, Norah and Reid Marriner, all children of Deidre Marriner, associate director for undergraduate advising. Special thanks to Mark Bortz, MBA '13, for his work with the team.
Watch the videos for yourself at http://mgt.buffalo.edu/alumnicity. Then, share the "alumnicity" with your friends!
Student work highlighted in multiple events
Several events this spring honored research and academic achievements by School of Management undergraduate and doctoral students.
The inaugural DEAL (Display of Efforts, Aptitudes and Leadership) Expo gave undergraduate students in the School of Management the opportunity to showcase their best research and class projects, internship experiences and leadership initiatives. Held in conjunction with the university's spring open house for accepted students, the event provided an excellent showcase for student achievement.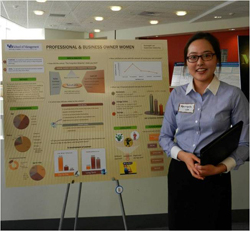 Kyoungah Lee presents her project on empowering professional women to be more active in their financial planning.
Joseph Ramia of West Seneca earned first place and a $1,000 prize for his project "Increasing the Work Effort and Performance of the Psychologically Entitled: The Role of Need for Achievement and Participative Leadership."
Eight projects from the DEAL Expo were showcased in UB's Celebration of Student Academic Excellence in April. For the first time, the School of Management had more than two entries at the event.
The School of Management presented several awards for outstanding doctoral work at its second annual PhD Showcase and Celebration.
Niam Yaraghi of Isfahan, Iran, received the Dean's Award and a prize of $2,500 as the top senior doctoral student demonstrating exceptional research performance and showing the highest potential as a scholar. Srikanth Venkatesan of Chennai, India, received the Rising Star Award and a prize of $1,000.
Renowned scholar E. Han Kim, the Everett E. Berg Professor of Business Administration at the Ross School of Business, University of Michigan, was the keynote speaker at the event. Kim received his doctorate from the UB School of Management in 1975.
New alumni role for MacDonald

MacDonald
Hailley MacDonald has been promoted to associate director of alumni and external relations in the School of Management. MacDonald has been with the school since 2009, previously serving as assistant director of alumni and external relations and in corporate and community relations roles.
MacDonald is responsible for planning and implementing programs and events to engage alumni with the School of Management; collaborating with the Development Office to encourage alumni philanthropy; and serving as a liaison between the School of Management Alumni Association board of directors and the school's academic and administrative leadership.
She holds a bachelor's degree in business communication from Brock University, Canada, and a post-graduate certificate in event management from Niagara College, Canada.
LeaderCORE earns national recognition
LeaderCORE is gaining prominence across the country. The School of Management's unique leadership certification program was honored in January with the 2012 MBA Roundtable Innovator Award.
The MBA Roundtable gives the Innovator Award to recognize and promote innovative initiatives in MBA education and acknowledge the institutions that are driving change in the field. The award was presented to the School of Management at the annual Graduate Management Admissions Council's MBA Roundtable Leadership Conference in San Francisco.
Launched in fall 2010, LeaderCORE is a comprehensive program that spans the entire two years of the full-time MBA program. It is the school's educational response to the question, "What is at the core of every great leader?"
Driving the program are the 10 core competencies considered vital by the business community for effective performance and successful leadership, including team leadership, problem-solving/decision-making, and self-management and adaptability. These competencies are organized into three key leadership dimensions-people, thinking and motivation-with integrity as the unifying value.
"The finalists for the MBA Innovator Award were an extremely impressive group," said Casey Rasata, a member of the selection committee and the global university relations director for Eaton Corp. "I was particularly impressed with the submission by the University at Buffalo and their LeaderCORE program. As an employer, it was exciting to see a program that was so focused on soft skills development. Teaching students how to assess and develop their individual competencies is a skill that will allow them to grow as leaders and be agile learners throughout their career."
"This is exactly what business schools need to be doing," said Rich Floersch, BS/MBA '80, executive vice president and chief human resources officer for McDonald's Corp., and one of the executives consulted during the development of the LeaderCORE program. "Students who can work effectively both within teams and in leading teams will always be in high demand. LeaderCORE will ensure this development occurs before they enter the workforce."
School helps celebrate GEICO's success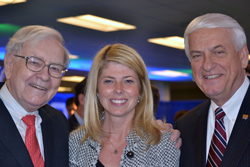 Buffett, Appelbaum and Nicely enjoy the GEICO celebration. Photo courtesy of GEICO
Representatives from the School of Management were invited to a special event in June celebrating the hiring of the 2,500th worker at the Western New York office of GEICO, the nation's third-largest insurance company.
Among the special guests were New York Lt. Gov. Robert Duffy and Warren E. Buffett, chair of Berkshire Hathaway, GEICO's parent company.
GEICO has been a major recruiter of School of Management graduates since the Buffalo center opened in 2004, says Gwen Appelbaum, assistant dean and director of the school's Frank L. Ciminelli Family Career Resource Center.
Appelbaum was thrilled to meet famed investor and philanthropist Buffett. She was also pleased to meet GEICO CEO Olza M. "Tony" Nicely. "He specifically requested that we keep sending our best and brightest GEICO's way," she says.
PricewaterhouseCoopers celebrates School of Management hires, makes gift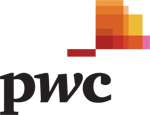 Worldwide accounting firm PricewaterhouseCoopers (PwC) celebrated a record number of new hires from the UB School of Management at an April congratulatory dinner for the students.
PwC has hired 45 School of Management students as summer interns or full-time associates this year. The new hires will join 10 PwC offices located in the U.S. and China.
PwC partner Keith Stolzenburg also took the opportunity to present a $10,000 PwC INQuires grant to Arjang A. Assad, dean of the School of Management. The grant will support the development of a new elective in corporate governance and sustainability to be offered in the Master of Science in Accounting program next spring.
This is the third year the School of Management has received a PwC INQuiries grant. Previous grants provided funds for student recruitment and a systems lab.
"We are extremely grateful that PwC has maintained such a strong and fruitful relationship with the School of Management," Assad said.
Finance students reap benefits of summer institute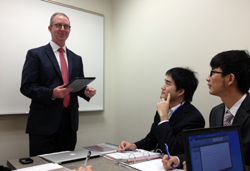 Tom Cogan, senior vice president at Citi, works with students at the Summer Finance Institute.
The expansion of the school's Master of Science in Finance from 30 credit hours to 36 credit hours has opened up a summer of opportunity for students in that program.
In June, the School of Management held its first-ever Summer Finance Institute, a four-week program where MS finance students worked alongside corporate executives on real-world finance projects.
"Based on the increase in applications, we're anticipating major growth in our MS programs," says Katherine Ferguson, associate dean of academic programs. "These programs are particularly attractive to international students, and we developed the Summer Finance Institute to give them a meaningful experience in the summer between their second and final semester."
Nearly 20 students participated in professional development workshops and had the opportunity to network with experienced finance professionals, tackle real-time finance projects, gain an understanding of U.S. business practices and engage with finance industry coaches.
Thomas Cogan '99, senior vice president, Citi; Scott D. Pearson, MBA '97, senior manager, commercial products group, TD Bank; James S. Randolph, senior vice president, data quality and governance, HSBC North America; and Mitesh Singhal, MBA '06, director, U.S. markets finance, MasterCard Worldwide, worked with students throughout the program.
Guest speakers included Gaurav Patankar, MBA '03, portfolio manager, Lockheed Martin Investment Management Co., and Kevin Quinn, MBA '95, senior vice president and head of corporate banking for Upstate New York, HSBC.
A case competition, complete with prizes, capped off the month-long program.
Graduate students establish inaugural class gift
School of Management graduate students raised money this year for the first-ever class gift to the school, establishing a new level of commitment, leadership and philanthropy.
Students in the school's full-time graduate (MBA, Master of Science and doctorate), Professional MBA and Executive MBA programs sought to raise $22,000 in support of initiatives within their programs. The students shattered their goal by raising more than $29,000 in gifts and pledges with a participation rate of nearly 40 percent.
As part of the class gift campaign, the School of Management Alumni Association provided a matching gift of $2,000 to the full-time graduate students' effort.