Insights...

News about faculty and their research
Social media pays off for businesses, study shows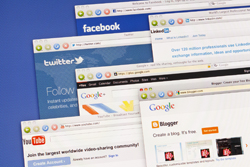 Customers who connect with a business through social media will go to the business more frequently and contribute more to its bottom line, according to a new study from the School of Management.
The study, published in Information Systems Research, found that customers who participate in a firm's social media visit the business about five percent more frequently than those who don't.
And those socially savvy customers mean more money for the company, says the study's co-author, Ram Bezawada, associate professor of marketing.
"There have been doubts about the effectiveness of social media for business because the link between a firm's efforts and the return on investment hasn't been established," explains Bezawada. "Our results show that when customers engage with a business through social media they contribute about 5.6 percent more to the firm's bottom line than customers who do not."

Bezawada
The study used data related to individual customers' participation on a Facebook page and combined it with their actual purchases at a large specialty firm in the northeast United States.
Bezawada says there are a number of ways businesses should engage customers to achieve the best results.
"Social media activities help strengthen the bond between the customer and the firm-and boost financial performance," says Bezawada. "When building communities, businesses should craft personalized messages, encourage member contributions, integrate knowledge about customers from both online and offline interactions, and create specialized subcommunities for customers looking for premium and unique products."
Bezawada collaborated on the study with Ashish Kumar, assistant professor in the department of marketing at Aalto University School of Business; and Rishika Rishika, assistant professor of marketing and Ramkumar Janakiraman, assistant professor of marketing, and Mays Teaching Fellow at Mays Business School at Texas A&M University. Arun Jain, Samuel P. Capen Professor of Marketing Research in the School of Management, and the school's Research Group in Integrated Marketing also contributed to the study.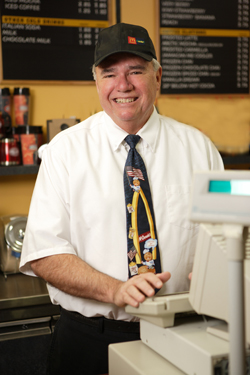 Newman
Newman honored for article
Jerry Newman, SUNY Distinguished Teaching Professor Emeritus in the Organization and Human Resources Department, was honored with an Author of the Year award from WorldatWork, a global nonprofit human resources association for professionals and organizations focused on compensation, benefits, work-life effectiveness and total rewards.
Newman was recognized for a cover story in workspan, the monthly magazine for WorldatWork members. The article, "Employment Branding at McDonald's: Leveraging Rewards for Positive Outcomes," outlined several worldwide initiatives McDonald's launched to improve its employment brand.
Sharing the award are Newman's co-authors, McDonald's executives Richard Floersch, executive vice president and chief human resources officer, and Mike Balaka, director of global human resources design. Floersch is a School of Management alumnus who received his bachelor's and master's degrees in 1980.
The article was one of two chosen as the best among more than 200 articles published in 2012 in the organization's two major publications, workspan and WorldatWork Journal, and was recognized for its technical integrity, uniqueness, effectiveness and value to the field of total rewards, among other criteria.
Why bullies thrive at work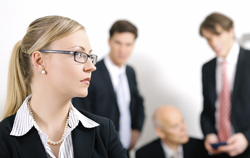 Despite resistance to bullying from both employers and employees, many workplace bullies achieve high levels of career success, according to a new study from the School of Management.
Published in the Journal of Managerial Psychology, the study found that some workplace bullies have high social skill that they use to strategically abuse their co-workers, yet still receive positive evaluations from their supervisors.
The study marks the first attempt to measure the relationship between being a bully and job performance. It offers an initial explanation of why bullies thrive in the workplace despite organizational attempts to sanction bullying behaviors.
"Many bullies can be seen as charming and friendly, but they are highly destructive and can manipulate others into providing them with the resources they need to get ahead," says the study's co-author, Darren Treadway, associate professor of organization and human resources.

Treadway
Workplace bullying is pervasive. The study noted that as many as half of all employees in the U.S. have witnessed bullying at work, and 35 percent have been the target of bullying.
The researchers collected behavioral and job performance data over two time periods from 54 employees at a mental health organization in the northwest U.S. to capture the individual differences and social perception of bullies in the workplace. Regression analyses were conducted on this sample size, consistent with previous studies.
The results showed a strong correlation between bullying, social competence and positive job evaluations.
Treadway says the findings are relevant beyond the health services industry and that companies should limit bullying behavior while rewarding high-performing employees.
"Employers can work to reduce the prevalence by finding organizationally appropriate ways for employees to achieve their goals, by incorporating measures of civility and camaraderie into performance evaluations, and by helping staff to develop the skills needed to manage bullies," says Treadway.
Future research, he says, should focus on how bullies select their victims.
Treadway collaborated on the study with Brooke Shaughnessy, postdoctoral researcher for the chair of Research and Science Management, Technical University of Munich School of Management, Germany; Jacob Breland, assistant professor of management, Youngstown State University; Jun Yang, assistant professor, Renmin University of China, China; and Maiyuwai Reeves, PhD student, UB School of Management Department of Organization and Human Resources.
Trivedi receives fulbright award

Trivedi
Minakshi Trivedi, professor of marketing and chair of the doctoral program in the School of Management, has received a Fulbright Scholar Award.
The Fulbright award will fund Trivedi's academic activities in India next year. She will spend the spring 2014 semester conducting research and offering a doctoral seminar on the subject of social media in emerging economies.
As a representative of the United States in India, Trivedi will help fulfill the principal purpose of the Fulbright Program: to increase mutual understanding between the people of the U.S. and the people of the more than 150 countries that currently participate in the program.
Trivedi has presented her research widely at several international conferences, such as the annual Marketing Science conference; the Institute for Operations Research and the Management Sciences conference; and the International Federation of Operational Research Societies conference.
She has been published in many leading marketing journals, including Marketing Science, Management Science, Journal of Retailing, Journal of the Academy of Marketing Science and Journal of Business and Economic Statistics.
Complacency, apathy lead people to ignore disaster warnings, researchers say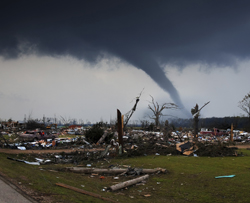 A number of factors, including complacency and apathy, can be blamed for citizens' failure to heed disaster warnings, according to recent research from the School of Management.
Raj Sharman, associate professor, and H. Raghav Rao, SUNY Distinguished Service Professor, in the school's Management Science and Systems Department, studied a number of post-disaster reports. They assessed why some people refused to evacuate in the face of warnings about imminent tornadoes, hurricanes and other emergency situations such as campus shootings and industrial accidents. The reports were conducted by organizations including the National Weather Service, National Oceanic and Atmospheric Administration and the Congressional Research Service.
The researchers found that past personal experience in "riding out" storms can lead people to feel complacent when receiving emergency warnings. On the other hand, previous warnings that proved to be false can result in apathetic responses when another warning occurs.
Sharman
Post-disaster surveys also showed that many people lacked awareness about how serious the situation was when warnings happened.
To combat the factors leading to nonresponse, the researchers made several recommendations. First, warnings should come from multiple sources, as a single source of information rarely prompts people to take appropriate action, according to Sharman.
In addition to a community's traditional emergency signal, such as a siren, warnings should be posted through traditional and/or social media. The professors' research shows that text messages, Facebook and Twitter can be trusted sources of information, especially if messages are sent from a trustworthy source, such as a close friend or local police.
"Text messaging is now clearly preferred among younger age groups than other modes of communication such as phone and email," Sharman says. "Younger people are in constant connection with social media, so these channels have more effective reach." Also, since text messages remain in a queue, they do not need to be retransmitted and are more likely to be seen.

Rao
Second, warnings should include more descriptive language, using words such as "unsurvivable" and "catastrophic" and urging citizens to take "immediate, life-saving action" to motivate the public in the event of imminent and extreme severe weather.
Finally, communities should take advantage of technological advances to make warnings more specific. GPS technology can allow for more tightly targeted geographic alerts, which may help motivate people to take action because they can see the threat to their particular area.
The research was published as a white paper for Federal Signal Corp. and was partially funded by the National Science Foundation. It included information from Federal Signal's 2012 public safety survey, conducted by Zogby International.
New center to create more effective leaders, organizations
A new center in the School of Management opening this fall will aim to create more effective leaders and organizations.
The Center for Leadership and Organizational Effectiveness (CLOE) will significantly advance research and teaching in the area of leadership and its impact on organizational effectiveness. It also will support UB 2020's goals of accelerating academic excellence, translating scholarship and developing leadership capabilities in UB students and business leaders.
"We plan to focus on three discrete areas: leadership development, education and research in organizational change and leadership effectiveness," says Paul Tesluk, the Donald S. Carmichael Professor of Organizational Behavior and chair of the Department of Organization and Human Resources. "We're planning programs and projects to help organizations in rapidly growing industries such as the life sciences and health care."
Among those plans is an initiative to share the school's expertise in leadership development with other units in the university, including the UB's Academic Health Center (School of Medicine and Biomedical Sciences and the schools of Dental Medicine, Nursing, Pharmacy and Pharmaceutical Sciences, and Public Health and Health Professions).
A new nondegree program, Leading Transformation and Change in Health Care, falls under the executive leadership programs of the center. The program gives participants a strategic understanding of the trends and transformations taking place in the health care industry through a series of presentations and discussions with noted health care leaders and experts.
Arjang A. Assad, dean of the School of Management, says CLOE will be a means for building a top-tier cadre of leadership scholars and will provide ways to work with the business community, as well as with other units across campus.
"Western New York is in a time of critical growth and transformation," says Assad. "CLOE will play a pivotal function in supporting UB's role as an anchor institution for economic engagement in the region, while producing world-class research and instruction."
New in Print

Compensation, 11th Edition
By Jerry Newman, George Milkovich and Barry Gerhart
(McGraw-Hill, January 2013)
The authors examine the strategic choices in managing total compensation. They also discuss major compensation issues in the context of current theory, research and real-business practices, and showcase practices that illustrate new developments in compensation practices as well as established approaches to compensation decisions.

Practical Operations Management
By Natalie Simpson and Philip Hancock
(Hercher Publishing, December 2012)
The book portrays operations management as a human endeavor, inviting students to examine a wide variety of operations through the eyes of an analyst. Each chapter is threaded with an evolving case study that features the analyst at work in a broad range of settings including manufacturing, services, health care and disaster relief. It includes all core topics in operations management and supply chain management as well as innovative coverage of risk and disruption.