Community Impact
Creating Personal Finance Maniacs in High School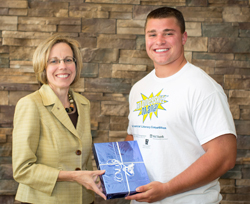 Cynthia Shore presents an iPad to MoneySkill Mania @ School winner Christopher Sanfilippo.
More than 400 students put their personal finance skills to the test in this year's "MoneySKILL® Mania @ School," a financial literacy competition for high school students sponsored by the School of Management and M&T Bank.
Now in its sixth year, MoneySKILL Mania was designed to increase awareness of MoneySKILL, a free, interactive Internet curriculum designed to educate students to make informed financial decisions on a variety of personal finance issues, including income, money management, spending, credit, saving and investing.
In past years, the School of Management hosted the MoneySKILL Mania competition at UB's North Campus. But with fewer resources available for schools to send students to UB, the MoneySKILL Mania competition took place in the high schools this year.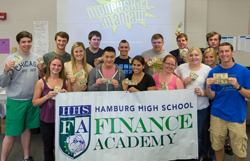 MoneySkill students from Hamburg High School's Finance Academy.
Cynthia Shore, senior assistant dean for alumni and external relations, says the move was a success.
"When we held the competition at UB we could host only 100 students," she says. "This year, we were able to get more than four times the number of students involved through MoneySKILL Mania @ School. We're thrilled that more students than ever before had the chance to hone their personal finance skills in a fun and challenging way."
Christopher Sanfilippo from Orchard Park High School was the highest scoring individual student and was awarded an Apple iPad.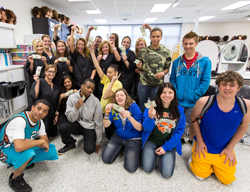 Harkness Career and Technical Center students celebrate the money they won for a class party.
In addition, two schools were chosen in a drawing from each class that submitted a photo of their students playing MoneySKILL Mania @ School. Hamburg High School and Harkness Career and Technical Center were the winning schools, and each received about $200 for a class party.
MoneySKILL was developed by Lewis Mandell, professor emeritus of finance and managerial economics in the UB School of Management, in collaboration with the American Financial Services Association Education Foundation.
M&T Bank and the UB School of Management have partnered since 2006 to provide outreach, teacher training and the MoneySKILL Mania competition in an effort to help Western New York high school students improve their financial literacy.
To learn more about MoneySKILL, visit http://mgt.buffalo.edu/moneyskill.
- Kevin Manne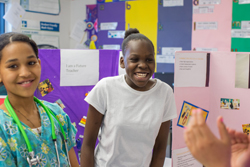 Umjuma Kashouwal (right) presents on her future career as a teacher. Future nurse Lidya Habtezion looks on.
Kids and Careers
Undergraduates provide career advice to Buffalo public school students
A group of undergraduate students in the school's Management Volunteer Program (MVP) spent part of the spring semester providing important business lessons to sixth-grade students at Buffalo Public School (BPS) 45.
BPS 45 is Buffalo's International School, serving a large refugee community. The 780 students come from more than 70 countries and speak more than 30 different languages.
Caitlin Rush, undergraduate program manager with the School of Management's Frank L. Ciminelli Family Career Resource Center, is MVP's coordinator and worked with BPS 45 and Junior Achievement (JA) of Western New York to develop a program that would appeal to the kids.
The 13 MVP volunteers used JA's Economics for Success curriculum that incorporates hands-on activities to teach lessons on personal finance and career exploration. Alycia Ivancie, senior education manager at JA's Buffalo office, was grateful to hear from the School of Management. "We were seeking to do more middle-school outreach, so Caitlin reached out at just the right time."
As part of the Economics for Success experience, more than a dozen professionals, including School of Management alumni, spoke at a Career Day for the students, encompassing occupations such as nurse, retail manager, firefighter, engineer, beautician and IT specialist.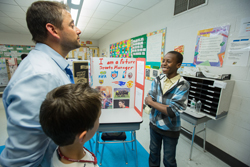 Abdi Salim tells his teacher Andrew Fletcher about his future career as a sports manager.
The sixth graders then researched their own potential careers and presented their future professions at a Reverse Career Day to BPS 45 students in kindergarten through third grade.
Anna Kleyman, one of the school's counselors, was thrilled with the program. "The sixth graders truly felt empowered and owned what they learned," she says. "What could be a better way to determine the success of this project than hearing a sixth grader say, 'I think I changed their lives today!' when describing his presentation to the younger kids."
The program also benefited the management students. "MVP provides undergraduate students with experiential learning through volunteerism," Rush says. "This experience helped them develop the skills we are promoting, such as social responsibility, time management, communication, leadership, diversity awareness, integrity and motivation."
Cynthia Shore, senior assistant dean for alumni and external relations, also sang the project's praises. "The collaboration between our undergraduates and Junior Achievement to help Buffalo public school students is an excellent example of how the School of Management is living out its commitment to making a meaningful impact on the greater Buffalo community."
- Cathy Wilde