School of Management Alumni Association Sponsors | School of Management Alumni Association Board
Join the School of Management Alumni Association
Alumni Impact...

Your link to the School of Management Alumni Association
Connect. Network. Achieve.



Matthew Cohn and Matt Wagner
Photos: Don Danneker
The Power of Connections
The School of Management is fortunate to have a significant number of alumni who help recruit our graduates for positions at their companies. While some of these alumni are official human resource personnel, others act more informally, by putting in a good word about a particular graduate or extolling the school's reputation as a whole.
But Matt Wagner '03 takes putting in a good word to a whole new level. His belief in our graduates is so strong that he has encouraged relationships beyond his own company.
A senior vice president of consumer finance at First Niagara in Buffalo, Wagner has helped the School of Management develop a fruitful relationship with Capco, a global business and technology consulting firm that provides strategic advisement to Wagner's division.
Wagner has worked closely with consultant Matthew Cohn, a partner in Capco's New York City-based banking practice, for nearly two years, and, during this same time, has gotten more involved as an alumni volunteer. After receiving his MBA from Cornell, he reconnected with the School of Management while working for Goldman Sachs in New York City.
"My career had taken off, and I realized that the root causes for my success were the tremendous foundation and core skills I learned at UB," Wagner says. "So I attended a Network New York event because I wanted to start giving back."
At the event, he met Gwen Appelbaum, assistant dean and director of the school's Frank L. Ciminelli Career Resource Center, and Cynthia Shore, senior assistant dean for alumni and external relations. Soon after, he joined the board of the School of Management Alumni Association (SOMAA), eventually becoming the organization's vice president for faculty relations.
In 2011, Wagner returned to his native Buffalo to join First Niagara, and his volunteer activity increased as he worked with the school's Center for Entrepreneurial Leadership, helping redesign the Henry A. Panasci Technology Entrepreneurship Competition.
While working with Capco's Matthew Cohn on projects at First Niagara, Wagner learned more about the consulting organization and their need to find quality people for careers at their firm. In Wagner's words, it was "a match made in heaven."
Cohn was on board with Wagner's ideas. "Capco is a mid-sized firm, and we were looking to establish some relationships and identify talented individuals for our programs," Cohn says. "We thought this could be an opportunity for a unique partnership with the School of Management."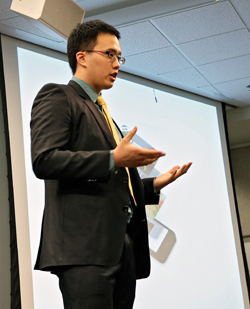 Khyle Kim presents at the Undergraduate Consulting Club's case competition sponsored by Capco.
After Cohn discussed ideas with Capco's human resources department, Wagner introduced him to Appelbaum and Dan Wolfe, the CRC's employer relations manager, in fall 2012. "We basically hashed out some plans on a bunch of napkins at Spot Coffee," Cohn recalls with a laugh.
After that, it was "full steam ahead," Appelbaum says, remarking how impressed she has been with the level of activity from Capco with the School of Management.
Those activities include not only interviewing School of Management students for positions at Capco, but also becoming involved in a hands-on way with the school. Capco sponsors the Undergraduate Consulting Club and played a key role in the club's first case competition, held this spring.
"The competition was a culmination of more than five months of dedication by the Buffalo-based Capco team in helping to develop future management consultants by teaching them consulting methodologies, introducing case studies and providing coaches to help prepare for the competition," Cohn says.
"I really credit our Capco folks in Buffalo," Cohn says. "There has been a ton of enthusiasm, and the people working with First Niagara are willing to dedicate their after-hours to helping. Our head of recruiting, Jennifer Stammen, established a recruiter-in-residence program to assist students with résumé writing and interview skills."
Cohn also offers praise to the students who are involved. "They take it very seriously," he says. "They come to events wearing suits-little things like that make a difference."
Wagner is thrilled that the relationship with Capco has resulted in a number of School of Management students receiving offers from the company. And both he and Cohn note that Capco's involvement and mentorship of the consulting club will help students find jobs at other firms, too.
In fact, the past year's activities have inspired Wagner to help ramp up recruitment efforts from First Niagara. "My number one focus for 2013 is to get First Niagara more involved with the School of Management," he says. Wagner began sowing the seeds when he invited a number of his company's HR people to the CRC's annual awards banquet in April, where he received the Alumnus of the Year award for having the greatest positive impact on students and student clubs in the School of Management.
If your company is interested in recruiting our top-notch students for internships or career positions, contact the Career Resource Center's Dan Wolfe at 716-645-3232 or danielwo@buffalo.edu.
Excited for a new opportunity

Patrick A. Dela Cruz

As an undergraduate, Patrick A. Dela Cruz worked as a teaching assistant for "Career Strategies and Planning," a course conducted by the Career Resource Center. "It opened a lot of doors and networking opportunities for me," he says-including getting in on the ground floor of Capco's involvement with the School of Management.

"I was very impressed when Capco held their first information session and flew in a number of employees from different corporate levels to talk about their experiences," Dela Cruz says. He attended many of the workshops they held and met with Jennifer Stammen, Capco's U.S. recruiting manager.

Dela Cruz joined Capco's Associate Talent Program (ATP) in July, working out of their New York City office. "ATP was exactly what I was looking for," he says. "The program focuses on acquiring talent at its earliest form and developing associates into consultants in due time."

As an associate, Dela Cruz works in a collaborative team alongside other Capco employees from all corporate levels to meet client demands. He also takes part in a wide range of specialized courses teaching industry-leading practices, based on the work of Capco colleagues.

"Every associate follows a training road map, specifically designed to help achieve individual developmental goals," he says. He also has been assigned a mentor from an earlier ATP class to help him along the way.

He is excited to see where the program takes him. "I think Capco has given our students a magnificent opportunity to kick off their careers in management consulting," he says.