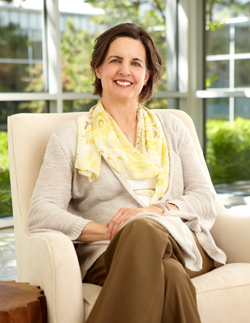 Nancy Greatix McGough
Close-Up: Nancy Greatix McGough
Loving What She Does
Finding a home in the home furnishings industry
Nancy Greatix McGough '84, MBA '85, knows the importance of loving your job, and she is happy to have a career where she helps other people discover this, too.
McGough is director of human resources for Room & Board, a retailer of classic contemporary home furnishings. She also serves on Room & Board's internal advisory board, along with the company's founder/chair, president and CFO. With sales of more than $270 million, the company has 10 flagship stores throughout the U.S. and a website serving both national and international customers. Room & Board partners with American craftsmen to produce living room, office, bedroom and outdoor furniture.
A native of East Aurora, McGough headed west upon graduation from UB for an internship at the Pillsbury/Green Giant Company in Montgomery, Minnesota, the literal Valley of the Jolly Green Giant.
Her job recruiting workers for the company's corn processing plant eventually led to an offer to join Pillsbury's world headquarters. Unfortunately, she was subject to a layoff not long after. She held a few other HR positions before, as she says, "I finally found my home at Room & Board."
Now with the company 19 years, McGough can't imagine being anywhere else.
"Our HR philosophy comes from the top down, from our owner and founder, John Gabbert," McGough says. Gabbert has given McGough a simple directive: he expects her to simply always do the right thing.
"He likes the people he works with to find satisfaction in their work, so we make sure we hire people who love what they do," McGough says. "We want people who feel like their jobs are what they were born to do, whether they are cleaners or administrators."
This philosophy fits McGough's perspective, too. "I grew up with parents who loved their jobs," she says. "My father was a banker for 30 years and his work made him whole. My mother owned her own realty business, back in the 1970s, when many women weren't working. It never occurred to me that there would be people who didn't love their jobs."
McGough says her boss makes it easy to enjoy her work. "I have an HR staff of 10, which is quite luxurious for a company that employs 600 people. I've always been given ample resources in order to make a difference."
She strongly believes that having the right job can be life-changing. "Loving your work is so important," she says. "I've had people tell me they are better fathers, mothers, etc., because they are doing what they love."
The positive feedback she receives from Room & Board's employees, as well as from the company's partners and vendors, is what McGough enjoys most. "We truly make a difference in people's lives," she says. "Whether it's to our customers, who are passionate about their homes, or to our vendors and partners, as we help their businesses thrive."
McGough continues to use the lessons taught at the UB School of Management as she works at Room & Board.
"Working collaboratively as a team was so much of what we did in the MBA program," she says. "Wonderful, practical professors like Jerry Newman and Frank Krzystofiak taught me how to learn and how to apply myself in solving problems."
A resident of St. Paul, Minnesota, McGough enjoys family time with her three "busy, busy" kids and spends her spare time indulging her passion for knitting.
- Cathy Wilde