Innovation and Engagement: Empowering Employees for Better Businesses
By Paul Tesluk
The rules of the workplace have been transformed over the past decade and they are continuously being redrawn. Today's organizations are increasingly global and experiencing environments that are highly competitive, dynamic and interlinked. Information technology unimagined only a short time ago pervades businesses today. As more jobs continue to shift from manufacturing to service and other kinds of knowledge work, the very nature of work itself is being transformed.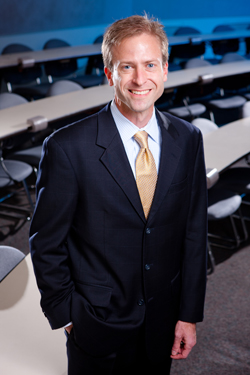 Paul Tesluk
Donald S. Carmichael Professor of Organizational Behavior
The organizations that will most succeed in this brave new world, whether they be private sector, governmental or not-for-profit, are those that innovate how they manage their workforce. To accomplish this, two factors are critical.
The first is cross-functional collaboration. In fast-moving, complex business environments, solutions and innovations are born out of integrating different types of knowledge and skills to create something new.
The second factor is employee engagement, the degree to which employees are psychologically invested in their work and enthusiastic about what they do. Engaged employees demonstrate high levels of effort to help the organization succeed, and employee engagement has been linked to performance and a willingness and ability to learn. Working through ambiguous problems to derive innovations, continuously learning new skills and exerting the effort and persistence needed to enable cross-functional teams to succeed all require an engaged workforce. Together, collaboration and engagement work as natural complements to each other to facilitate innovation.
In recent years there has been rapidly accumulating science showing strong linkages between employee collaboration, engagement and performance. Organizations that realize this and implement practices and leadership approaches that foster employee engagement and collaboration will be the ones that most effectively succeed in their missions.
In research I have conducted with colleagues over the past several years, we have had the opportunity to study organizations that are leading the way in terms of creating long-term, sustainable competitive advantage through employee collaboration and engagement. Here are some specific examples and the lessons that can be taken to harness this emerging science.
Virtual Teams and Cross-Functional Solutions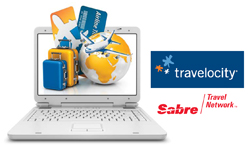 An organization that quickly recognized how these trends were affecting its ability to compete and took swift action to build a culture of employee engagement and cross-functional collaboration is Sabre Holdings, the world's leading provider of technology solutions to the travel industry. Sabre developed the first automated travel reservations system in the late 1950s as part of American Airlines. After creating Travelocity, the consumer-direct Web-based reservations system, Sabre was launched as an IPO in the mid-1990s and became an independent company in 2000. It now processes more than 42,000 transactions every second and 98 million trips at any given point in time through its technology.
Despite its early technology advantages, Sabre began to see its first-to-market technology advantage and market share erode as new marketplace entrants emerged. Sabre executives realized that although the functionally based structure was an efficient model for continuously innovating and implementing new technology, it was not responsive to the rapidly changing needs of its customers.
So the company reorganized into a customer-centric organization based on cross-functional teams that served a common set of customers. Cross-functional virtual teams provided a way to cut across areas such as sales, operations and account management to provide customers with greater responsiveness and individualized service, generating new work processes that benefited from cross-functional solutions. Another benefit was that because most of the members of the teams worked virtually from remote locations such as home offices or Sabre regional offices, the virtual team structure gave Sabre the flexibility to periodically reconfigure its teams to better match new customer segmentation models and to do so without having to physically uproot employees.
The challenge for Sabre, however, was that its workforce was not accustomed to working cross-functionally or in teams that were not in the same location. We found, during the company's early phases of implementation, that the more the team members relied on technology versus face-to-face interactions to collaborate, the more critical it was for team members to feel a collective sense of empowerment. Employees needed a shared sense of meaning and purpose in the work, a feeling of autonomy in how the team does its work, confidence in the team's ability to perform, and a sense of positive impact on others. Teams where members were more engaged and experienced more empowerment were significantly better at innovating and improving their processes.
Further, we found that engagement among team members was provided primarily by team leaders who helped build trust across team members, trained and coached team members on the unique challenges associated with working virtually and cross-functionally, and worked to keep team members engaged and focused on their team's purpose.
Armed with this understanding, Sabre was able to significantly move its implementation efforts ahead by recruiting, selecting and training team leaders who empowered their teams and developed their engagement. After Sabre fully introduced cross-functional virtual teams, customer satisfaction ratings, which had been previously declining, improved each year to nearly 20 percentage points over a three-year period. Sabre's market share also rebounded and the number of travel bookings increased significantly each year.
Employee Engagement Takes Flight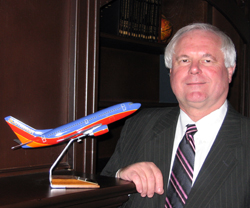 Jim Parker
Former CEO, Southwest Airlines
Engagement and collaboration are not just critical in high-technology organizations. These are concepts that have been instrumental in bringing much-needed innovation to stagnant industries. Warren Buffet once famously quipped, "If one tabulates all of the airline industry's finances since the day the Wright brothers bounced into the air at Kitty Hawk in 1903, one will discover that, cumulatively, there has not been a single penny of profit. In hindsight, shooting down the Wright brothers on that beach would have been a reasonable financial, if not moral, move." The notable exception to Buffet's comment is Southwest Airlines, which, now in its 40th year of operation and continuous profitability, is the most successful domestic airline in the United States, perhaps the world.
Because of its sustained long-term success, especially in an industry that has significantly under-performed financially, Southwest's business model has been extensively studied and applied in various forms by both new airlines as well as most of the existing legacy carriers. Those attempts have been nearly universally unsuccessful (remember the United Shuttle?).
I asked Jim Parker, who was Southwest's CEO during and in the years immediately following the 9/11 terrorist attacks (and maintained its record of continuous profitability while not instituting any layoffs or wage reductions during that crisis), how it was that despite many attempts to replicate Southwest's success, no other airline had been able to do so. His response was that if you think of the various features of Southwest's business model (e.g., its point-to-point model, use of a single type of plane in its fleet, no assigned seats, no first class or business class) as bricks in a wall, what holds the bricks together and provides Southwest with a unique, valuable and nonreplicable competitive advantage is the organization's commitment to cultivating employee engagement.
Nearly everything that Southwest does-from hiring employees for attitude first and then training for skills, to aligning employee and company goals through profit sharing, to providing extensive training and development opportunities, to empowering its employees-supports building an engaged and committed workforce. It is this engagement that enables its employees to work seamlessly across departments and functions in a highly coordinated fashion to turn around its aircraft much more efficiently. It also provides consistently higher levels of service, generating customer loyalty and allowing the company to respond to the challenges and dynamic environment inherent in air travel more effectively than other airlines. Here again, we see how employee collaboration and engagement are complementary.
Breaking the Management Mold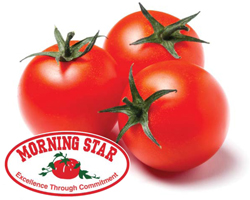 While the Southwest success story is better known, an organization that carries collaboration and engagement even further is Morning Star. Although you may not have heard of them, chances are if you have used ketchup, pasta or pizza sauce, or any other tomato product, you have consumed their product. Located in the heart of California's San Joaquin Valley, the 350-person Morning Star is the world's leading tomato processing company.
At Morning Star, there are no bosses and no formal hierarchy because there are no designated supervisors or managers. Employees (called colleagues) are empowered to spend resources without having to get formal approvals, and decisions on compensation are peer-based. Sound unique? It is. In fact, management futurist Gary Hamel, in a recent Harvard Business Review cover article, called Morning Star "the world's most creatively managed company."
Creatively managed, yes. But efficient? Innovative? Absolutely. My collaborators and I have studied Morning Star for the past year and a half to better understand how their organization system works, as well as how it can be improved and perhaps applied in other companies. What we have found is that Morning Star's success rests with its strong culture of collaboration and engagement. Morning Star has discovered that peer-to-peer commitments and accountability are much more critical for having high levels of cross-functional coordination, flexibility and innovation than the traditional top-down manager-to-employee model.
At Morning Star, all employees (colleagues) design their own roles and specify a set of commitments to their peers. These are formally captured in a simple mechanism called a "colleague letter of understanding" (CLOU) and can be thought of as each employee's commitment network. Because CLOUs are openly shared on the company's intranet, they clarify employees' obligations to their team members, how they will be evaluated and held accountable, and how they should work with colleagues. When commitments are not kept, colleagues work these out directly. If they can't, a panel of peers is convened to help mediate the differences. As a result, Morning Star employees have a high level of autonomy, discretion, self-management and empowerment, which directly contributes to initiative-taking and innovation.
Morning Star's experience directly mirrors what we call shared leadership in teams. For teams working in highly dynamic and unpredictable environments, relying on a single person in the organizational hierarchy for leadership is inhibiting and limits creativity. A more powerful approach, we have found, is for team members to share leadership responsibilities and for individual team members to step up and provide influence to their peers (as well as recognize when they need to serve in a follower-mode) based on their unique knowledge and skills and the demands of the situation. Morning Star has taken this concept of shared leadership as an organization-wide principle and created a company of leaders that both self- and collectively-manage.
A Healthy Approach to Collaboration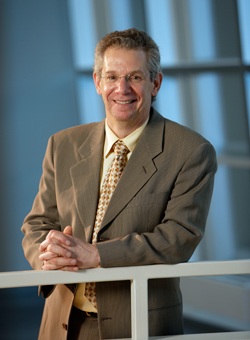 Michael Cropp, MD
CEO, Independent Health
Collaboration and engagement offer potential to enable transformation in some of our most pressing priorities, such as health care. A promising example is the Buffalo-based health care company, Independent Health. CEO Michael Cropp, MD, says the organization has been pushing new approaches to health care delivery that create "a culture of health" and transform the traditionally highly siloed, reactionary and fragmented mode of providing health care into one that is patient-focused, coordinated and preventative. It simultaneously achieves the aims of providing high quality care at lower cost with a better patient experience. They have done this by taking innovations in the delivery of health care that are consistent with these aims and, through a process rooted in collaboration and developing engagement, implemented these innovations in ways that have been more successful than what has been accomplished in most health care organizations.
One example is how Independent Health has been working with its primary care physical partners in implementing the concept of a "patient-centered medical home (PCMH)" model. PCMH is based on the patient serving at the center of a coordinated care delivery team that provides improved patient access to medical services and integrated care that focuses on providing long-term patient health and wellness.
The concept itself is based on a great deal of common sense, but what the health care field has struggled with is how to successfully implement it. This is where Independent Health has been pointing the way. Thomas Foels, MD, chief medical officer, and Judith Feld, MD, associate medical director of behavioral health, have led a team working to engage primary care physicians in redesigning their practices following the PCMH model. They found that the success in implementation comes from creating forums for practices to come together to share best practices and learn from each other. The result is that Independent Health has been leading the way in the redesign of primary care in Western New York, and this is reflected in members reporting greater engagement in their own health care.
What these examples demonstrate-Sabre, through its ability to regain competitive position in the marketplace; Southwest, through building a culture that has provided sustained long-term competitive advantage and has reinvented an industry; Morning Star, in designing an organizational model of the future; and Independent Health, in remaking the delivery of health care-is a common denominator. Each organization has enabled innovation by building a workplace and culture based on employee collaboration and engagement. Drawing on and applying the science of collaboration and engagement is a potentially powerful recipe for innovation and one that more organizations can draw upon.
Paul Tesluk is the Donald S. Carmichael Professor of Organizational Behavior in the University at Buffalo School of Management. This article is based on research he conducted with several other faculty and doctoral students and through working relationships with the organizations mentioned. You can write to him at ptesluk@buffalo.edu for details on this work.