Career support comes full circle for PharmD/MBA student
"Networking" is a word heard over and over again in the business world. The personal connections formed in various professions can be a great boost to anyone's career, especially to graduates who are just starting out.
Daly and Twist
Christopher Daly, PharmD/MBA '12, found himself the beneficiary of a circle of career support that began 60 years ago, when his grandfather, Milner Forster, received a pharmacy degree from UB.
Forster's first job was working for John Dunne at Dunne's Pharmacy in Blasdell, N.Y. He eventually bought the operation, renaming it Forster's Pharmacy.
Dunne's nephew, Joseph Twist, also went to UB for pharmacy, and in 1975 was a member of the first graduating class of the PharmD/MBA dual degree program. He worked as a pharmacist for Milner Forster, who he considers a great mentor, before becoming a sales representative for Eli Lilly.
After stints at Bristol-Myers and Novartis, Twist worked as a marketing consultant in the pharmaceutical industry, specializing in oncology, immunology and transplantation. In 1999, he launched The Collaborative Group, a pharmaceutical consulting, business intelligence and market research company in Baltimore.
And that's where Christopher Daly decided to serve a six-week rotation to learn more about the business side of pharmacy, as part of his PharmD/MBA studies. While at The Collaborative Group, Daly got hands-on experience working on the development and marketing of new products, including how to assess the marketplace, confirm regulatory timelines and perform due diligence.
Daly says the opportunity fit right in with his postgraduate plans.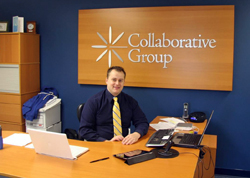 Daly
"My motivation in pursuing the PharmD/MBA was to complete elective clinical rotations that would open up nontraditional opportunities," Daly says. "The market for graduating pharmacy students is getting more crowded and complicated. We need to assume new, innovative roles in the health care industry, and Joseph Twist offered an insightful experience at the Collaborative Group that complemented the opportunities I was exposed to in my studies."
Twist could offer a wealth of pharmaceutical industry experience. While at Novartis (then Sandoz), he headed the commercial launch of cyclosporine, a product that would revolutionize the field of solid organ transplantation. "I was fortunate to be at the start of what became Novartis' first billion dollar product," Twist says. "Not only was this a very exciting business experience, but the launch of cyclosporine made a real difference in the lives of so many individuals."
By the way, not only did Christopher Daly follow in his grandfather's footsteps by coming to UB, he also followed the path set by his parents, Donald and Lynn (daughter of Milner Forster), who each received pharmacy degrees from UB in 1979 and are the present owners of Forster's Pharmacy.
Twist was thrilled to mentor Daly, just as Daly's grandfather had mentored him. As Twist likes to say, "Success comes to those who put themselves in the path of positive surprises."