Start-Ups
School achieves four new rankings
The School of Management continues to gain national and international acclaim, according to recent rankings by Forbes, U.S. News and World Report, the Financial Times and Bloomberg Businessweek.
Forbes magazine, in the August release of its biennial ranking, has once again named the UB School of Management as one of the best business schools in the world based on the return on investment it provides MBA graduates. The ranking of No. 48 places the school solidly in the top 10 percent of the more than 590 graduate business programs accredited by AACSB International.
The school's Executive MBA program was ranked in the fall by both the Financial Times (No. 29 in the U.S. and No. 62, worldwide, for its EMBA program, offered in Buffalo and Singapore) and Bloomberg Businessweek (one of only 26 schools in the ranking's second tier, which includes the likes of Boston University, Rutgers and the University of Pittsburgh).
U.S. News and World Report again ranked the School of Management as one of the country's best undergraduate business programs in the 2012 edition of "America's Best Colleges." The school tied for No. 81, higher than any other business school in the State University of New York system.
"These rankings demonstrate that our efforts to continuously recruit high-caliber faculty and students are paying off," says Arjang Assad, dean of the School of Management. "Our growing reputation is gaining worldwide attention."
Speakers address white collar crime, ethics

Hochul
U.S. Attorney William J. Hochul Jr. and Enron whistleblower Sherron Watkins spoke on white collar crime and ethics in accounting, respectively, during the Helen and Oscar Sufrin Lectureship in Accounting in October.
Hochul is the United States Attorney for the Western District of New York and responsible for overseeing the prosecution of any federal criminal case brought within the 17 counties of Western New York. He joined the Department of Justice in 1987 as an assistant U.S. attorney for the District of Columbia. While in Washington, Hochul prosecuted an extensive array of criminal cases and later specialized in the prosecution of first-degree and gang-related murder cases.

Watkins
Watkins, a former Enron Corp. vice president, is the whistleblower who alerted then-CEO Ken Lay in 2001 to accounting irregularities within the company, warning him that Enron "might implode in a wave of accounting scandals." She testified before Congressional committees from the U.S. House and Senate investigating Enron's demise. Time magazine named Watkins, along with two others, Coleen Rowley of the FBI and Cynthia Cooper of WorldCom, as their 2002 Persons of the Year, for being "people who did right just by doing their jobs rightly."
The Sufrin Lectureship brings distinguished business professionals to the School of Management to speak about accounting issues. Funding is provided through the generous support of Leslie Sufrin, CPA, and Gerald Sufrin, MD, a longtime UB professor, in honor of their late parents.
Inaugural LeaderCORE class approaches certification
MBA students in the pilot run of LeaderCORE are now in their fourth and final semester and will soon undergo the certification process, one of the most differentiating features of the program.
In the first semester of LeaderCORE, each student began the process of creating an individual development plan based on current competencies and career aspirations. Over the past year and a half, program participants have kept development logs to track how they have used extensive in-class and co-curricular experiences to learn and practice the competencies identified in their individual plans.
To become LeaderCORE certified, students will be assessed on the competencies they have been working on since entering the program in 2010. Each candidate will be interviewed by a pair of trained assessors, one from within the school and the other an experienced external executive.
Each pair of assessors will review a student's development log, which will serve as that individual's "body of LeaderCORE work." The assessors will then meet with the student to ascertain the extent to which the student possesses the competencies and is ready to deploy them after graduation. Much like in an employment interview, students will be asked to present their learning portfolios and provide specific examples of how they have put the competencies successfully into practice.
Students will specify the competency level-proficient, superior or role model-that they believe they have attained and for which they are therefore seeking certification. The levels require different combinations of breadth and depth across the competencies model and the assessors will adjust the interview accordingly.
Students who successfully demonstrate their competencies will receive LeaderCORE certification, a distinction that will set them apart from MBAs worldwide.
Global company gets training at UB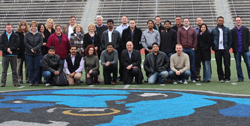 Firstsource managers visit the UB football field with instructor Frank Ciccia (kneeling, center).
Firstsource, a global company specializing in business process outsourcing, chose the UB School of Management to conduct a leadership development program.
More than two dozen middle managers from India, the Philippines, Northern Ireland and across the U.S. took part in the program in November. Firstsource was founded in India in 2001 and has since expanded to operations around the world.
For the first time, Firstsource held its Leaders Program outside its India home base. The program was coordinated by the school's Center for Executive Development.
The Leaders Program is aimed at the top 30 percent of Firstsource's middle managers and helps them advance to the next level of leadership in the company.
"Developing future leaders is one of Firstsource's top priorities," said Arjun Mitra, senior vice president, Firstsource. "The skills and perspective the UB School of Management provided will help our leaders run their departments more effectively and create a culture that fosters a collaborative and skillful approach to productivity."
Professors Harold Star, Nallan Suresh, Feng Gu, Charles Lindsey and Frank Ciccia taught sessions on strategy, service operations management, financial management, customer relationship management and change management, respectively.
"This is the first program where we've had active post-participation," said Jennifer Kiray, deputy general manager, learning and development. "People can't wait to share with me how they've successfully used the theories to strengthen their organizational culture or to make a difficult business decision."
CEL honored as Small Business Influencer
The University at Buffalo School of Management's Center for Entrepreneurial Leadership (CEL) was honored as one of the top 100 Small Business Influencers for 2011 by Small Business Trends.
The award, sponsored by BlackBerry, recognizes companies, organizations and people who have made a significant impact on the North American small business market.
Thomas Ulbrich, CEL executive director, accepted the award at the official awards gala in New York City.
The CEL was recognized for promoting business growth through leadership development and experiential learning, enhancing the management abilities of business leaders and building new business relationships through an expanded network of contacts.
"Our programs champion entrepreneurial gusto in the pursuit of sustainable opportunities, long-term successes, financial independence and genuine personal reward," Ulbrich says. "We are extremely honored that the CEL's success has been recognized with this prestigious honor."
Other notable 2011 Small Business Influencer honorees include Microsoft, The New York Times, UPS, the U.S. Chamber of Commerce and the National Federation of Independent Business.
Small Business Trends is an award-winning online publication for small business owners, entrepreneurs and the people who interact with them. It has a monthly readership of more than 300,000 through its main website and associated websites, as well as RSS and Twitter feeds, and its content is syndicated to other websites and newsletters.
School co-sponsors marketing conference in India

Jain
The UB School of Management reached around the globe to co-sponsor the International Conference in Marketing, held in January at the Indian Institute of Management/Lucknow (IIML) in Noida, India.
Arun Jain, Samuel P. Capen Professor of Marketing Research in the School of Management, was one of the primary organizers of the conference and served as co-chair.
Guided by the theme, "Shaping the Future of Research in Marketing in Emerging Economies: Looking Ahead," the conference focused on the emerging market economies (EMEs) of Brazil, Russia, India, China and South Africa.
"Because EMEs differ radically from mature economies, they raise new strategic questions that traditional marketing frameworks do not answer," Jain said. "The aim of the conference was to bring together a distinguished panel of academicians, marketing experts and thought leaders from across the world to debate and discuss the research issues of marketing in EMEs."
More than 900 authors submitted papers for the conference, with 174 papers from 21 countries accepted for presentation and 18 accepted for poster presentation. The three-day conference featured 14 tracks and nine inclusive sessions.
Proceedings of the conference were published in January by Prentice Hall, with Jain serving as co-editor. In addition, nine journals are slated to publish selected papers from the conference.
Minority and Women Emerging Entrepreneurs honored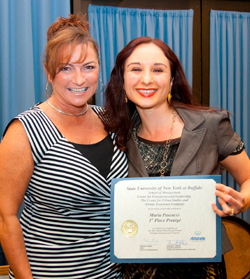 Protégé of the Year Maria Pascucci (left) with her mentor, Lori Miller.
Maria Pascucci, president and founder of Campus CalmT, received a $1,500 prize as Protégé of the Year by the Allstate Minority and Women Emerging Entrepreneurs (MWEE) program.
The program is a joint venture by the School of Management's Center for Entrepreneurial Leadership and the UB Center for Urban Studies, and is sponsored by the Allstate Foundation, a charitable organization funded by subsidiaries of Allstate Insurance Corporation.
Campus Calm provides training solutions to colleges and universities to help develop the next generation of young female leaders. Laura St. Pierre Smith of Blaine Realtors was awarded the second-place prize of $1,000. Melissa Neal, MD, of Twenty 20 Eye Care and Aesthetic Oculoplastic Medicine, was awarded the third-place prize, $500.
Each of this year's 15 participants was assigned a mentor who provided advice in strategic and tactical thinking, marketing, long-range financial planning and more. The Mentor of the Year award was given to Lori E. Miller, president of Developing Professionals.
Isse meets with Obamas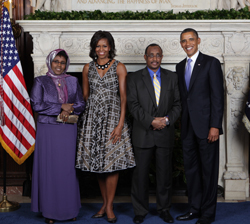 Hodan Isse, assistant professor of finance and managerial economics in the School of Management, joined President Obama and his wife, Michelle, for several events during the opening of the United Nations General Assembly's 66th session in September. Isse, an expert on economic issues in the Horn of Africa, joined Michelle Obama for tea, and later she and her husband met the Obamas for dinner. Isse's husband, Abdiweli Mohamed Ali, is the prime minister of Somalia.