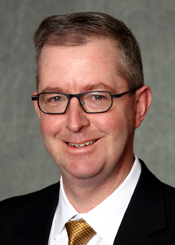 A Message from the School of Management Alumni Association President
Are you using the power of the School of Management's alumni network?
One of the greatest assets of the School of Management is its incredibly successful and diverse alumni population. With nearly 33,000 alumni in 71 countries, our alumni span the globe. Among them are leaders in nearly every field imaginable, with roles ranging from executives in major corporations to entrepreneurs launching exciting new ventures. Regardless of your location on the planet, if you look closely in your corner of the world (geographically or professionally), it is a good bet there are alumni who would enjoy connecting with you.
I continually see firsthand the bond that exists in the UB alumni community and witness the desire of alumni to connect, share and support each other in their personal and professional growth. In today's hypercompetitive business environment, the UB School of Management alumni network offers a unique opportunity to develop contacts and build relationships that can assist in building a competitive advantage. The network also offers the opportunity to reconnect with a classmate or colleague and perhaps take a moment away from the hustle and bustle to share time with a friend.
An area of major focus for the School of Management Alumni Association (SOMAA) is the continued development and promotion of our global alumni network. I encourage all alumni to consider leveraging the power of that network. You can join the virtual network by connecting with us on LinkedIn (University at Buffalo School of Management Alumni) or Facebook (UB School of Management Alumni).
The SOMAA recently held its first Global Alumni Networking Night where alumni gathered in seven cities around the globe. The event received fantastic reviews from participants. The alumni association will continue to hold events like this in the future, and we hope that you can join us. If you would be interested in hosting an alumni gathering in your city, contact Tom McArthur, associate director of alumni and external relations, at tm53@buffalo.edu. We would be thrilled to hear from you!
Sincerely,
Tom Cogan, MBA '99