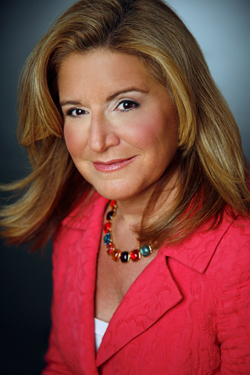 Susan Hirshman, '83
Close-Up: Susan Hirshman
By Cathy Wilde
After a career that spanned both public accounting and private wealth management, Susan L. Hirshman '83 decided to write an investment book for women using a subject that many know all too well: dieting.
Her book, Does This Make My Assets Look Fat? A Women's Guide to Financial Empowerment and Success, was published last fall by St. Martins Press.
"I was going for a lighthearted tone," Hirshman says. "Financial advice doesn't have to be painful or boring. You can have a little humor."
She received her inspiration to use dieting as a framework while speaking to a reporter. "I was talking about the need to determine your goals and follow a plan and I said, 'You know, it's a lot like dieting.' The reporter loved that!"
Hirshman took that idea and ran with it. "The more I thought about it, the more I kept drawing parallels," she says.
For example, the basic steps needed for success in both investing and dieting are the same: setting realistic and attainable goals, finding a plan that works for you, executing that plan and then monitoring your progress.
"The need for balance, moderation and variety are just the same," Hirshman says. "Also, the concept that it's hard work that requires focus and discipline.
"Even the missteps are similar," she says. "Such as fad diets-they'll work for awhile, but eventually fail. The same thing happens with 'too good to be true' investments. People who check their weight or their portfolios every day are more prone to emotional rather than rational decisions. And extreme events in a person's life can affect weight, just as extreme events in the market can affect investments."
Hirshman decided to target her advice to women based on her years as a managing director in wealth management at JPMorgan in New York City.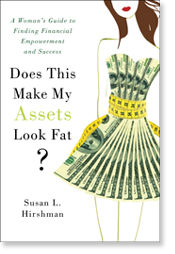 "Women have traditionally taken a back seat in financial planning, but because of changing demographics, they are starting to control more wealth in the country," Hirshman says.
"I felt that, as an industry, we spoke in a language most people don't understand," she says. "There is definitely a lack of financial literacy in this country. I wanted to explain personal finance in a way that people could relate to."
Hirshman left JPMorgan last summer to promote her book full time. She has appeared on CNN, ABC, Lifetime and Fox News, and has been interviewed on a number of business radio shows.
"The book has been getting incredibly positive feedback," she says. "People seem to enjoy the fact that it's funny and easy to read, but also gives sound advice. Plus, it's forgiving-it's not a book that yells at you for not being an expert or for making mistakes. It focuses on moving forward."
For more information on Hirshman's book, visit her website, www.myfatassets.com.