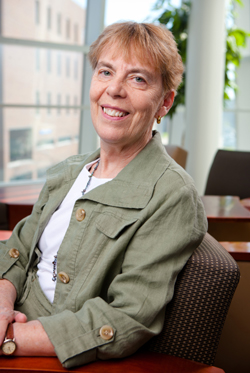 Terese E. Kelly
Real Money, Real Investing
Fall 2011 marks the premier of a new, student-run investment group in the School of Management, thanks to a generous lead gift from UB alumna Terese E. Kelly. As a school librarian, Kelly once fended off boredom for a small group of sixth-grade students by teaching them a stock market game.
"It was sort of an accident that I did it," she recalls of the group-all girls-who were assigned to the library for an hour each week. "I remember thinking, what can I do that will be interesting for them? So I introduced them to the financial pages of the newspaper."
Kelly devised a kind of stock market game, asking the girls to choose the stocks they would follow by thinking of their favorite foods, then finding companies that produced them.
"They picked out six or seven stocks that we followed every week. We didn't have computers, so we would mark the stocks' progress on a piece of graph paper. Fortunately, we had a bull market that year, so we could watch them go up," she says, laughing.
Now retired, Kelly is a living lesson in how to make the most of your finances and be generous at the same time. A longtime donor to the University at Buffalo, she began giving back to the university shortly after earning a bachelor's degree in 1968, then a master's in library science in 1973.
Kelly, who went on to earn an MBA, is giving again to UB, this time to establish an investment course for students in the School of Management, one that harkens back to the game she invented in 1995 for her sixth-grade girls. The idea formed when Arjang Assad, School of Management dean, told her about a group of students who wanted to start such a course and who were willing to invest their own money.
The student-run, real-money investment fund is designed to educate finance students on the practical aspects of global capital markets, while providing them with real-world learning experiences in investment management. The Terese Kelly Investment Group is an independent study course with a full academic year commitment. Students will serve in leadership and analyst roles and will earn 1.5 credits in both the fall and spring semesters. The leaders of the fund will gain valuable experience running an investment management company, while analysts will focus on conducting detailed valuations of companies in different sectors of the economy with the goal of finding undervalued companies.
Derek Mohr, assistant professor of finance and managerial economics in the School of Management, will serve as faculty advisor for the fund, and an advisory board made up of eight to 12 business professionals will provide leadership and direction to participating students. Investment decisions, however, will be up to the students. Twice a year, students will present reports to the board that include fund performance and rationale for fund decisions and management. Any profits will be reinvested into the fund.
"This is an exceptional learning opportunity and we are so grateful to Terese," says Dean Assad. "For years to come, our students will have a chance to demonstrate their initiative with a practical, hands-on experience."
- Mary Cochrane
- Jacqueline Ghosen