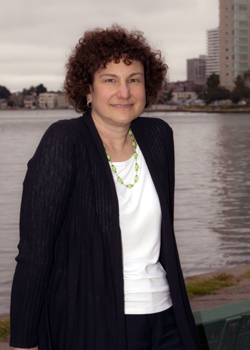 Elissa Giaimo (Photo: Bill Horton)
Close-Up: Elissa Giaimo
Ensuring Health Care Privacy
After 35 years in the health care industry, Elissa (Katowitz) Giaimo has witnessed the continual evolution of regulations and privacy rules. As a senior practice leader in Kaiser Permanente's National Compliance, Ethics and Integrity Office, she is responsible for ensuring that everyone in her organization is aware of these important regulations.
Giaimo earned both a Bachelor of Science in management and a Bachelor of Arts in economics from UB in 1974. "In my junior year, I enrolled in 'Economics of Health Care' at the same time as I was taking all the required business courses," she says. "And it all came together for me: the intellectual aspects of the business of health care and the emotional side as a consumer."
After earning an MBA in health and hospital administration at Cornell, Giaimo joined the New York State Department of Health in 1976. It was her first brush with the ups and downs of regulating health care.
"The state legislature kept things interesting, passing or rescinding laws constantly," she says. By the time she left 17 years later, she was head of the program responsible for licensing and surveying ambulatory health care facilities for regulatory compliance.
After she and her husband, Frank, relocated to Texas, she began working for VHA (formerly known as Voluntary Hospitals of America), a hospital group-purchasing organization.
"At that time, the Clinton administration's health plan proposal was encouraging hospitals and doctors to come together, and VHA created a consulting business to promote the integration of its hospitals with doctors," she says. "We hosted frequent educational conferences, and at one, I heard Kaiser Permanente physicians talk about how they felt Kaiser Permanente's integrated system already aligned with their focus on patient-centered care."
Eight years later, after moving to California, Giaimo pursued a position at Kaiser Permanente. Hired in 2002, she worked on implementation of the Health Insurance Portability and Accountability Act (HIPAA) privacy regulations for health care, personally training hundreds of doctors and managers.
Giaimo went on to become group leader of licensing and certification, supporting medical centers in accreditation, regulation and licensing.
In 2007, she joined Kaiser Permanente's National Compliance, Ethics and Integrity Office as a privacy/security practice leader; she was promoted to senior practice leader in 2010, and now serves as the training and awareness leader for privacy and information security.
"In my department, there is a philosophy that privacy and security touch everything we do, and I am responsible for integrating privacy and security compliance requirements into care delivery initiatives," she says. "That means I have to keep informed of everything that's going on, both in the company and in the industry, so I can make sure our workforce gets required training."
In her spare time, Giaimo serves as vice chair of the Northern California chapter of the American Institute of Wine and Food, a nonprofit organization and public charity that promotes appreciation of good food, drink and company.
"My passion for good food and wine, along with enjoying the interesting people who share that passion, led to my involvement with the organization," she says. "The money we raise from our events funds two programs: Days of Taste, which encourages children to appreciate the taste of good, fresh food; and a scholarship program for students in accredited programs in the culinary arts or enology."
- Cathy Wilde