PMBAs Hone Skills Across the Pond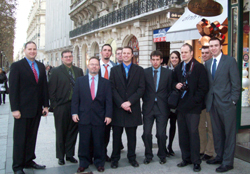 Fourteen students in the School of Management's Professional MBA (PMBA) program gained global experience firsthand through an international marketing practicum that included an eight-day trip to London and Paris.
Modeled after the school's very successful Executive MBA international residency, the course was designed to help PMBA students understand and appreciate the strategic marketing issues and tactical considerations needed when conducting business globally.
During the first of the practicum's three phases, students attended evening classes to identify a particular marketing problem or opportunity within their own firm. The second phase of the practicum provided real-world exposure through on-site visits to finance and high-tech manufacturing organizations in Paris and London.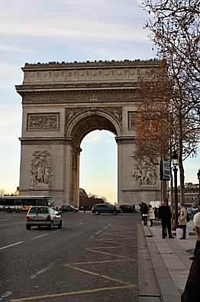 While in Paris, students visited Eli Lilly and Co. and spent time conducting research for their small group projects.
In London, they met with representatives from GE Capital, HSBC (including a tour of their offices), Infosys and Rich Products.
The itinerary was packed, but student response was very positive. Oliver Hays, PMBA '13, is already using what he learned to add value to his organization. "I have shared many of my findings with my company," said Hays. "A lot of the marketing practices used by these companies are relevant for our operations and strategy as well."
Similarly, Fredrick Sponholz, PMBA '12, was able to derive immediate benefits from his experience. "Going on this trip allowed me to connect with colleagues overseas that I would otherwise never have interacted with," he said. "I learned a great deal about several practices that make them successful, and I was able to offer my insights on how we operate that may benefit them as well."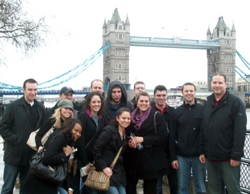 Europe is the main trading partner for the U.S., receiving nearly a quarter of all U.S. exports. London is one of three command centers for the world economy, with New York City and Tokyo. Currently, more than 100 of Europe's 500 largest companies are headquartered in Central London. The Paris urban agglomeration is Europe's biggest city economy and the sixth largest in the world. The region hosts 38 of the Fortune Global 500 companies and has recently been shifting towards high-value-added service industries.
Sarah Blankenship, PMBA '12, has traveled to Europe many times before, but gained a different perspective from this visit. "It was the first time I've seen the business side of things or had a chance to meet local professionals," she said.
Jason Lang, PMBA '11, derived value from his experience as well. "The PMBA trip gave me the unique chance to learn firsthand about the challenges that businesses face operating within the EU," he said. "It was the most enriching and rewarding aspect of the PMBA program."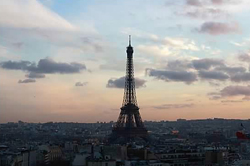 Upon their return, students attended two classes, one in February and one in March, submitting formal reports and making group presentations as the third and final phase of the practicum.
Charles Lindsey, assistant professor in the UB School of Management, taught the course and accompanied the group on the trip, along with Courtney Walsh, assistant dean of executive education.
"Students who elected to take this course learned how to implement global strategies despite varying regulations and cultures," said Walsh. "Gaining this type of experience early in their careers will enable them to add significant value in the workplace."