Stepping Up...

Celebrating those who make a difference to the School of Management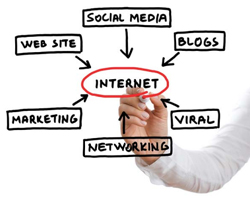 Ten Years Riding the E-Commerce Wave
An innovative e-commerce class for graduate students in the School of Management marked its 10-year anniversary in 2011.
The hallmark of the class, taught by H. Raghav Rao, SUNY Distinguished Service Professor in the Department of Management Science and Systems, is the real-world opportunity for teams of students to work with local companies in addressing their Internet-related issues.
Of course, 10 years ago, "e-commerce" was still a struggling concept. The dot-com bubble had just burst and many industry leaders were wary of this seemingly unstable way to do business. Amazon was only beginning to turn a profit after five years of selling books.
Accordingly, the topics the students addressed were much simpler in the course's early days.
"The first year, we worked with the Town of Amherst," Rao says. "They needed help with very basic things, such as online registration for their golf courses and streamlining purchasing so they weren't paying two different prices for the same type of pencils."
But, as technology has evolved and e-commerce has become more sophisticated, so have the types of issues the student teams tackle in their projects. Rao says the focus has shifted more toward customer relationship practices rather than, for example, the nuts-and-bolts of putting together a website.
Recent presentations have focused on using social media channels to increase business, with many of this year's projects concentrating strongly on mobile technologies.



"The goal of the class is to give students a hands-on opportunity to flex their technology skills and apply classroom theory while working as consultants."




H. Raghav Rao
SUNY Distinguished Service Professor
Management Science and Systems Department
(Photo: KC Kratt)



One aspect of the class that has not changed, however, is the partnership with HP Enterprise Services (formerly known as EDS), which provides mentors for the student teams.
Carl Skompinski, senior consultant - security (IT), has been involved with the class from nearly the beginning as a mentor and has served as HP's primary liaison for the past five years. He says that as technology has progressed, so has the class.
"The students have become a lot more technology-savvy because they have grown up with it; it's part of their culture," Skompinski says, and this is reflected in their project ideas. "Before, they didn't have the real-world business experience of issues such as supply chain problems. But now they are able to come up with solutions using the same type of things they use every day, like smartphone technology."
This year's company, Tops Friendly Markets, was seeking ways to incorporate mobile technologies and social networking into their sales strategies. They also were looking for ideas on how to better inform customers about their products' nutritional values.
Mike Metz, vice president of information technology for Tops, met with the class at the beginning of the semester to outline the company's challenges, and says he was impressed by the solutions the students presented in their final projects.
"We are trying to reach out to a younger demographic," Metz says. "The ideas the students brought to the table will serve as a strong baseline as we move forward."
Doctoral student Rohit Valecha estimates he spent nearly 60 hours on the Tops project, including conducting research, putting together the report and presenting it to Tops and HP executives.
"The real-life experience, including communication with our mentor, was very valuable," he says. "Learning to think like consultants, using the entire cycle of 'think-verify-revise-implement,' was the best value."



"The students have become a lot more technology-savvy because they have grown up with it; it's part of their culture."




Carl Skompinski
Senior Consultant - Security (IT)
HP Enterprise Services
(Photo: Tom Wolf)



Last year's company, fire-pit vendor Fire Science, sought both social media and website help, and it is implementing a number of the ideas the students presented.
"Our website suffered from some poor design and lacked integration with social networking," says Kent Keating, company president. "The students helped identify the networks we should be connected to and the marketing approach to these networks. The site is presently in a complete redesign to include the use of social networks and relevant content distribution."
Other companies the e-commerce class has worked with in the last decade include Rich Products, Delaware North Cos., Independent Health, HealthTransaction Network and Fisher-Price, resulting in projects ranging from managing and tracking product recalls to lower-cost alternatives for search engine marketing services to supply-management price matrices to security authentication.
Robert Hoover, then chief information officer at Independent Health, says, "We didn't know what to expect when we began our project, but we were very impressed at the students' ability to quickly understand our business and recommend credible e-commerce solutions to meet our needs."
"The class has ridden the wave from working on websites to B2B transactions to social media interactions," Skompinski says. He has also seen the students become more focused on their careers. "As a mentor, I am getting a lot more questions about the real world of business," he says.
"We are very appreciative of the support we have received from HP, Carl and his predecessor as class liaison, Dennis Shumaker," Rao says.
"The goal of the class is to give students a hands-on opportunity to flex their technology skills and apply classroom theory while working as consultants," Rao says. "It has been an enriching experience for the students as well as for the firms."