Start-Ups
Assad, staff lauded by PRSA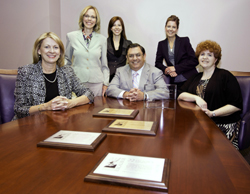 From left: Ghosen, Shore, MacDonald, Assad, Illenz and Wilde. (Photo: Tom Wolf)
The Buffalo Niagara Chapter of the Public Relations Society of America (PRSA) named Dean Arjang Assad its 2011 Outstanding Executive for his recognition and support of the role of public relations within UB and throughout the community, and for advancing the use of strategic communications as part of an overall operating philosophy.
Assad was honored at the chapter's 22nd annual Excalibur Awards banquet in June. He was cited for establishing a culture of transparency and promoting open, two-way communication with the school's stakeholders. He also was lauded for supporting a number of initiatives that have significantly enhanced the reputation of the School of Management, including the student-run volunteer income tax program, MoneySKILL, the Career Opportunities in the Accounting Profession program, the Panasci Technology Entrepreneurship Competition and the launch of LeaderCORE, the MBA certification program that guides students through the development of key leadership and communications competencies.
Recent past recipients of PRSA's Outstanding Executive award include Michael Cropp, MD, CEO of Independent Health, John Koelmel, president of First Niagara Bank, and John B. Simpson, former president of the University at Buffalo.
In addition to the Outstanding Executive award, the Excalibur event recognizes top public relations projects, programs and practitioners. Other School of Management award recipients included Jacqueline Ghosen, APR, and Cathy Wilde, who received gold Excalibur awards in two categories: magazines (Buffalo Business) and creative tactics (newsletter templates); Jacqueline Ghosen and Jill Illenz, who received a silver Excalibur award in the brochure category (LeaderCORE brochure); and Jacqueline Ghosen, Cynthia Shore and Hailley MacDonald, who received a silver Excalibur in partnership with M&T Bank in the community relations category for MoneySKILL financial literacy outreach.

School accredited for five more years
The School of Management and all of its undergraduate, master's and doctoral business programs have maintained their accreditation by AACSB International-The Association to Advance Collegiate Schools of Business.
To maintain accreditation, a business program must undergo a rigorous internal review every five years, during which the program must demonstrate its continued commitment to the 21 quality standards relating to faculty qualification, strategic management of resources, interactions of faculty and students, as well as a commitment to continuous improvement and achievement of learning goals in degree programs.
The School of Management has been continuously accredited by the association since 1930.
"We are very pleased with the outcome of the rigorous reaccreditation review and process," said Arjang A. Assad, dean of the School of Management. "AACSB accreditation is the hallmark of management education and international recognition of our outstanding graduate and undergraduate programs."
Only about 600 business schools, less than 5 percent of B-schools worldwide, have earned the distinction of accreditation by AACSB International, the longest-serving global accrediting body for business schools.
"It takes a great deal of self-evaluation and determination to earn and maintain AACSB accreditation," said Jerry Trapnell, vice president and chief accreditation officer of AACSB International. "Schools not only must meet specific standards of excellence, but their deans, faculty and staff must make a commitment to ongoing improvement to ensure continued delivery of high-quality education to students."
U.S. News and Bloomberg Businessweek again rank School of Management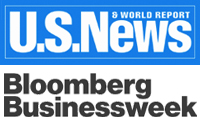 In two new rankings, U.S. News and World Report and Bloomberg Businessweek have again ranked the School of Management as a "best business school."
U.S. News, in March, ranked the school No. 75 out of 437 MBA programs surveyed. The MBA ranking is part of U.S. News and World Report's ranking of "America's Best Graduate Schools."
The ranking is based on three major areas: quality assessment, placement success and student selectivity. U.S. News also ranked the school's Professional MBA program No. 73 in a specialty ranking of part-time MBA programs.
In addition, Bloomberg Businessweek ranked the School of Management as one of the nation's "Best Undergraduate Business Programs of 2011."
The school was ranked No. 82, up 15 places from last year. It was ranked No. 8 among public institutions, No. 17 among schools in the Northeast and No. 11 in the recruiter component of the survey.
Five sources contributed to the undergraduate ranking: a student survey (30 percent), a recruiter survey (20 percent), median starting salaries for graduates (10 percent), the number of graduates admitted to 35 top MBA programs (10 percent), and an academic quality measure (30 percent).
The ranking was culled from a list of more than 600 schools accredited by AACSB International, positioning the school in the top 15 percent of accredited undergraduate business programs.
The UB School of Management was the 18th lowest-cost school in the entire ranking and the only school in the Buffalo Niagara region to appear on the list.
Amrita students visit Buffalo
A group of 62 students from the School of Management's master's degree program in India visited Buffalo in March to take a class and learn more about U.S. business practices.
The students are enrolled in a dual-degree program at Amrita University in Bangalore, India, in which they earn two master's degrees: a Master of Science in Management of Information Technology Services (MITS) from the UB School of Management and an MBA from Amrita. The program, jointly sponsored by UB and Amrita, is designed to provide aspiring professionals with the knowledge and skills to become leaders in the IT industry.
During their visit, the students took a required course on business intelligence from Ajay Shah, an informatics specialist who has taught at Amrita. They also toured HSBC's corporate offices, attended guest lectures by School of Management faculty and enjoyed several social events.
"Many of the Amrita students have been hired by multinational corporations but had never been out of India, so it was valuable for them to get a taste of how business is done in another major world economy," said Katherine Ferguson, associate dean of academic programs in the School of Management.
Case competitions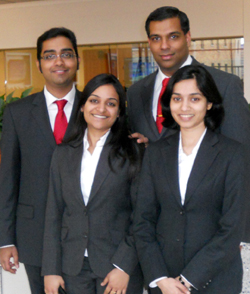 Whitman competition winners (from left): Ramakrishnan, Bansal, Sundararaman and Pandit.
A team of four UB MBA students, Vibhuti Bansal, Kanishka Pandit, Sairam Ramakrishnan and Vikram Sundararaman, took the top prize of $2,000 in the prestigious Whitman Case Competition at Syracuse University's Whitman School of Management.
Nineteen teams from MBA programs across New York State, including Cornell University, Syracuse University and the Rochester Institute of Technology, entered the annual competition, which involved marketing and strategy issues for the initial product launch of a GPS tracking device suitable for implantation into shoes.
A number of other case competitions were held at the School of Management in the spring.
Matthew Prok, Jaclyn Rusello, Christian Nole and Arica Ruppenthal Park, representing the American Marketing Association student club, won the annual On Target Undergraduate Club Case Competition, sponsored by Target Corp. The team and club shared a $3,000 prize.
The case focused on how Target can better use technology to innovate their food strategy.
A team of six MBA students shared a $3,000 prize as winners of the school's fifth annual Steven C. Verney MBA Case Competition. Turner Gutmann, Petsy Lim, Ryan Plante, Sairam Ramakrishnan, Olivia Tylutki and David Zimmer comprised the winning team. The competition, which focused on turning around a distressed company, was made possible through a donation from Steven C. Verney '80, MBA '81, a vice president of Allstate Insurance Company in Chicago.
Second-year MBA students Patrick Fleming, Farzad Jalil, Sameer Yadav, Caitlyn Howe and Ingmar Haffke shared a $2,000 prize as winners of the 15th annual UB MBA Case Competition. Columbus McKinnon Corp., Ernst & Young LLP and Moog Inc. sponsored the competition, which focused on mobile banking strategies.
Seniors Bethany Doohaluk, Mark Edinger, Daniel Eisenberg and Marcelino Hernandez comprised the first-place team in the fifth annual Becker Professional Education Case Competition. They each received a $1,500 tuition certificate for the Becker CPA Review course, in addition to other prizes. The case involved Extensible Business Reporting Language for electronic communication of business and financial data.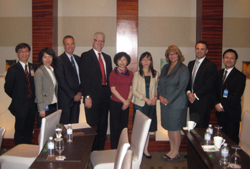 While in China, EMBA students and faculty met with leaders from WMGS Consulting Co. Ltd., Wal-Mart's global sourcing organization.
EMBAs at China's Wal-Mart offices
During the Executive MBA program's weeklong international residency in China this year, Buffalo EMBAs had the rare opportunity to meet with executives from Wal-Mart's global sourcing organization.
The meeting was arranged by Kenneth Ng, EMBA '11, sourcing manager for Wal-Mart Canada Corp.
"The Wal-Mart executives shared their expertise in managing cost of goods sold, logistics, ethical sourcing and supplier development," said Courtney Walsh, assistant dean of executive education in the School of Management. "Our executives now have a good understanding of how these specialties can come together to create a world-class organization like Wal-Mart."
Free Tax Service at UB Brings More than $1 Million Back to WNY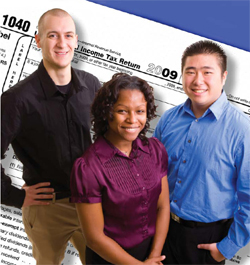 During the 2011 tax season, 155 IRS-certified accounting students from the School of Management brought $1,030,353 back into the Buffalo community through the Volunteer Income Tax Assistance (VITA) program.
UB's chapter of Beta Alpha Psi, the international honors organization for accounting and finance students and professionals, led the initiative that provided more than 2,200 hours of tax service, preparing more than 800 tax returns for individuals and families with annual incomes below $49,000.
Cumulatively, School of Management student volunteers have brought nearly $2.7 million in tax refunds back into the Buffalo community over the past three years by preparing more than 2,100 tax returns for low-income families. Approximately $463,000 was from the Earned Income Credit, which targets low-income families in need of additional financial support.