Community Impact
MBAs Learn the Beauty of Skin Care Marketing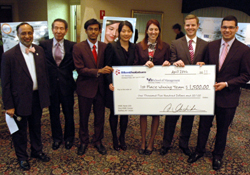 From left: Professor Arun Jain and Mentholatum CEO Akiyoshi Yoshida with winning team members Velayutham Gomathinayagam, Tsai Chin-Feng, Terri Zelasko, Thomas Willetts and James Macri.
Cosmetics and beauty products are a $52 billion industry in the U.S. Nearly a quarter of this revenue is from skin care alone, with seemingly thousands of different products available at drug stores, salons, major retailers and specialty boutiques.
So, how does a company based in Buffalo launch a new skin care product and make a dent in such a vast market? Especially when that product is vastly different from almost everything else on the shelves?
That was the challenge last spring for first-year MBA students in Professor Arun Jain's "Marketing Management" course.
John Ende, vice president of marketing and sales for The Mentholatum Co., based in the Buffalo suburb of Orchard Park, approached Jain last fall, after seeing local media coverage of Jain's previous class projects for GM's fuel cell and Smart cars.
Ende asked if School of Management marketing students could provide ideas on how to launch Hada Labo, a unique skin care lotion, in the U.S. Hada Labo is one of the best-selling items for Mentholatum's parent company, Japan's Rohto Pharmaceuticals.
Students were given a lot of latitude when planning their strategies. Issues of price, packaging, advertising, manufacturing-even the product's name-were all on the table.
Throughout the semester, the MBAs took part in a number of activities to assist with the project, including corporate site visits and executive guest speakers. They also conducted an in-depth analysis of the skin care market and met with Rohto executives from Japan.
"Working on a real-world project such as this, including contact with high-profile executives, gives our students a competitive edge when they enter the corporate world," Jain said. "This type of hands-on experience transcends the traditional classroom."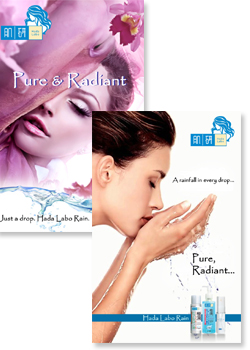 Hada Labo sample ads by first-year MBAs Vibhuti Bansal, Colin Conner, Lindsey Cooke, Yoshiki Kano, Joshua Randle and David Saunders.
Five teams of finalists presented their creative marketing proposals to a panel of local, national and international executives at the end of the semester.
The winning team's campaign focused on the marketing theme of "The Mystery, The Secret, The Moment, The Moisture." They previewed sample advertisements that showed women contemplating the "mystery" of why Asian skin is so beautiful, discovering the "secret" application process of the unique lotion, enjoying the "moment" of using a product they can trust and learning about the "moisture," which is from the super hyaluronic acid used in Hada Labo.
The team also proposed rolling out Hada Labo during the driest seasons in the West and Northeast U.S., focusing on specialty stores such as Ulta and Sephora and using the QVC home shopping network to increase awareness and educate consumers on how to use the product.
Tsai Chin-Feng, Velayutham Gomathinayagam, James Macri, Thomas Willetts and Terri Zelasko comprised the winning team and shared a $1,500 prize. They also received a $250 prize from Gelia Inc. for the best marketing communication strategy.
In addition to Ende, judges for the competition were Akiyoshi (Aki) Yoshida, president and CEO, Mentholatum, and managing director, Rohto Pharmaceuticals Co. Ltd.; Glenn Busby, managing director, Mentholatum Co. of Canada Ltd.; Dan Penberthy, executive vice president and chief financial officer, Rand Capital Corp.; Jamey Phipps, CEO, Gelia Inc.; Joost Vles, process manager, Moog Inc.; Jen VanDewater, director of marketing, desserts, Rich Products; and Bill Gallo, director of GM/HBC, fuel and supply chain, Tops Markets.
The proposals were well-received by the audience, getting favorable reviews from Mentholatum executives.
"I was absolutely blown away by the student presentations," Ende said. "The level of detail in their presentations and pride in their work was extremely impressive."
Mentholatum CEO Yoshida agreed, telling the students, "Your hard work was incredible, and your ideas were very refreshing and very interesting."
Other Community Initiatives

Panasci Competition

More than $10,000 in seed funding was awarded to the winning team in the Henry A. Panasci Jr. Technology Entrepreneurship Competition (Panasci TEC) for its business proposal for a social network-based information discovery product.

Smruthi Mukund, UB doctoral student and team captain; Anurag Bharadwaj; Venugopal Govindaraju, UB Professor of Computer Science and Engineering; Vedanth Satyanarayana; and Achint Oommen Thomas won first place for their proposed business, Lectio Labs, a Web-based interface designed to help users discover new information through shared interests in their network of intellectual peers.

In addition to the $10,000 in start-up funding, the winning team received in-kind awards for legal services from Jaeckle Fleischmann & Mugel LLP, accounting services from Kopin & Co. P.C., human resource start-up services from the People Plan by HR Foundations Inc. and office space from North Forest Office Space.

Created by the University at Buffalo School of Management and the UB Office of Science, Technology Transfer and Economic Outreach, the competition is funded with a $1 million endowment from the late Henry A. Panasci Jr.

MoneySKILL® Mania

More than 80 students from 18 private, public and charter high schools participated in MoneySKILL Mania, a financial literacy competition sponsored by the School of Management and M&T Bank.

Now in its fourth year, the event was designed to increase awareness of MoneySKILL, a free, interactive Internet curriculum designed to educate students to make informed financial decisions on a variety of personal finance issues, including income, money management, spending, credit, saving and investing.

Teams from Springville-Griffith Institute, Bolivar-Richburg Central School and Clarence High School placed first, second and third, respectively.

Ed Shi from Harkness Career & Technical Center was the highest-scoring individual student and was awarded an Apple iPad. Members of the first-place team, Robert Stoddard, Matthew Reynolds and Mark Tellgren of Springville-Griffith Institute, each received a $250 college savings fund.

Entrepreneurship Training Program

High school students also participated in the Entrepreneurship Training Program (ETP) conducted by the School of Management and the Meszaros International Center of Entrepreneurship (MICE).

Funded by a grant from the John R. Oishei Foundation, the program focuses on ethical entrepreneurship training and features class exercises that encourage team skills and critical thinking, presentations by a number of area entrepreneurs and a business-plan workshop.

"The entrepreneurship skills that students learned in this program all transfer well into everyday life," said Joseph Salamone, associate professor of organization and human resources, co-founder of MICE and author of the ETP.

Forty-six students from 21 area high schools attended the 20-week program, with eight teams presenting business plans to a panel of judges at the capstone competition. The winning team's proposal was for an online gaming lounge.

Jordan Commodore of Bennett High School, Robert Greene of Hutchinson Central Technical High School, Don Jordan of Lancaster High School, Joshua Prible of Depew High School, Luis Rodriguez of Hutchinson Central Technical High School and Alissa Smithers of Williamsville South High School comprised the winning team.