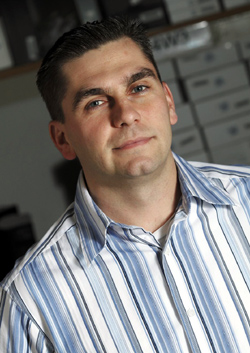 Alan Zdon MBA '06 (Photo: Tom Wolf)
Dreams Come True
Close-Up: Alan Zdon
By Cathy Wilde
After several years in public and private accounting, Alan Zdon had a dream. He wanted to start his own business, and with the help of the School of Management, he has made that dream come true.
Zdon, MBA '06, CEL '09, is president of two online businesses, iCraveit.com, a discount retailer of consumer electronics, and MidnightBox.com, "a daily deal site on steroids" that offers three special, deep-discount deals each day.
Zdon began his journey from accountant to entrepreneur by enrolling in the School of Management's Professional MBA program. "Going through the PMBA program opened the door to me starting my current business," he says. "The program introduced me to a group of great people. While completing the program I gained the confidence in my business plan/strategy that allowed me to quit my full-time job and begin my adventure as an entrepreneur."
The roots of his online business began when Zdon took part in the Henry A. Panasci Jr. Technology Entrepreneurship Competition (Panasci TEC), which awards seed money and business services to the teams that present the best plan for the launch of a viable new business. ICraveit.com is a spin-off of AuctionCruncher, Zdon's plans for an eBay software company that won the top prize in the 2005 competition.
"The Panasci competition is amazing because it introduces you to professionals and resources that provide valuable feedback to help prepare and execute a business plan," Zdon says.
Panasci TEC was created by the School of Management and the UB Office of Science, Technology Transfer and Economic Outreach, and is funded with a $1 million endowment from the late Henry A. Panasci Jr., UB alumnus and former CEO of Fay's Inc.
"Winning the competition has added to my credibility as an entrepreneur and also helped initiate some very important business relationships within the Western New York community. If I had not competed in the Panasci TEC, I probably would still be working for someone else today."
But, he says, "Winning the Panasci was not as important as actually competing in the event. Having to go through the process of writing a formal business plan was an eye-opening experience."
Zdon has come full circle, serving as a coach for the 2009 Panasci TEC winner, Welanguage, an online service in which native Chinese speakers can learn spoken English.
"I look at the experience as a chance to give back some of the knowledge I gained while competing and from being in business myself," Zdon says. "It is very rewarding to see young entrepreneurs being so excited about their own business idea."
Zdon has continued his relationship with the School of Management, recently graduating from the school's Center for Entrepreneurial Leadership (CEL) Core program, which is designed to help Western New York businesses and entrepreneurs improve their bottom line and be successful.
"I had heard many wonderful things about the CEL from past students, so I enrolled to see what else I could learn from other local business owners and apply to my business," Zdon says.
"It was surprising to see that no matter what type of business someone owned, we all shared very similar challenges," he says. "The program again introduced me to a super group of people, most of whom I hope to be friends with for a long time. All business owners can learn something from the CEL program, if nothing else than they are not alone."