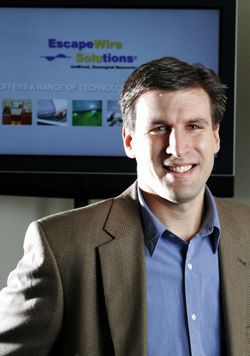 Christopher Hart-Nova, MBA '02 (Photo: Tom Wolf)
Wireless, yet connected
Close-Up: Christopher Hart-Nova
By Jacqueline Ghosen
EscapeWire Solutions, a full-service technology provider specializing in bundled IT and audiovisual systems for the hospitality industry, was ranked in August by Inc. magazine as No. 315 in the annual Inc. 500, an exclusive ranking of the nation's fastest-growing private companies.
Christopher Hart-Nova, EscapeWire's president, graduated from the School of Management with an MBA in 2002 and launched the company later that year. "I always felt that at some point in my life I would start a business," he says. "Upon graduation, the timing was right and the opportunity presented itself for me to take that chance."
He originally envisioned EscapeWire as a high-speed Internet provider for the hospitality industry, but it has evolved into a full-service technology provider offering a wealth of services, including wired and wireless high-speed Internet networks, digital signage, IP surveillance, managed IT services, conference/meeting room audiovisual technologies, Web design, e-mail hosting and more.
Today, EscapeWire services hospitality clients across the U.S., including Holiday Inn, Marriott, Hilton, Starwood, Intercontinental Hotels Group and many others. "We work closely with our clients to manage projects and ensure that installations are completed on-time and within budget," says Hart-Nova. "Customer service and satisfaction is our number one priority and we pride ourselves on removing the complexity from technology projects so that our clients can focus on their core business."
Though an entrepreneur, Hart-Nova is no stranger to corporate America. Prior to entering the MBA program, he held positions with IBM, Ford Motor Company and Enterprise. Now, Hart-Nova not only runs the day-to-day operations of EscapeWire, but defines and executes company strategies for growth as well. "My MBA has helped me to work through the difficult business issues that come with starting a company," he says. "It also gave me the foundation and confidence to make the decision to start a business that has seen steady growth over the past six years."
"Steady growth" may be a modest understatement in light of EscapeWire's appearance on the Inc. 500 list. Other companies that gained early exposure as members of the Inc. 500 include Microsoft, Zappos, Under Armour and Oracle. Hart-Nova projects that EscapeWire will have annual sales of $10 million within five years.
As for what he's learned outside of school, Hart-Nova is thoughtful. He says that the importance of networking was a recurring theme in the MBA program, but it wasn't until he started his business that he had a sense of how critical it was. "I didn't know nearly as many people as I thought I did," he says. Over the years, he's expanded his base and it's a big part of how he conducts business now, choosing the right trade shows and professional groups locally and nationally, and making the best use of his time with them. "It's more likely that I'll get a chance to talk to a key contact at the hotel bar than at the actual trade show," he says. Hart-Nova encourages current students to take advantage of the many networking opportunities they have while in school. "It's very important to spend time making connections," he says. "Whether it's faculty, staff, other students, business professionals, student groups or professional organizations, it's never too soon to establish your network."
When he's not working, Hart-Nova enjoys spending time with his wife and three young sons. He also makes time for mountain biking, golf and snowboarding. For more information on EscapeWire Solutions, visit www.escapewire.com.