In Memoriam
In 2009, we marked with sadness the passing of two individuals who were key figures in the growth of the University at Buffalo and the School of Management.
William R. Greiner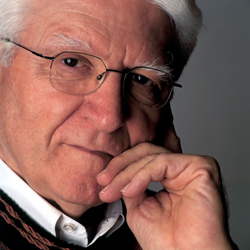 William R. Greiner, UB's 13th president, passed away on December 19. He was 75. Greiner began his 42-year career at UB when he joined the Law School faculty in 1967. He was named provost in 1984 and appointed president in 1991. He served as president until 2003, and was named president emeritus in November 2009 by the SUNY Board of Trustees. Greiner's administrative leadership resulted in a period of unprecedented growth at UB. His extensive list of major accomplishments includes the expansion of the university's research enterprise, including the creation of major research institutes and recruitment of world-class faculty, solidifying UB's place as a top-flight research university. He transformed student life, including the development and construction of five state-of-the-art student apartment complexes. He established the university as a leading international educational institution, and under his leadership, UB became the first American university to establish a branch in China, when it opened a center in Beijing. A public memorial service for Greiner was held at UB in February.
Greiner's son Terrence is a School of Management alumnus, having earned his JD/MBA in 1987. The school extends its condolences to Carol Greiner and the entire Greiner family. Look for more information about Greiner's life and career in the forthcoming issue of our sister publication, UB Today.
J. Grant Hauber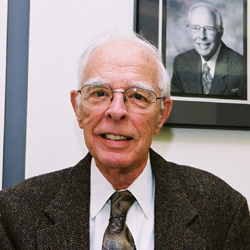 School of Management alumnus and benefactor J. Grant Hauber, died December 29 in his Kenmore home at the age of 85. A World War II veteran of what was then known as the Army Air Forces, Hauber attended UB on the GI Bill and earned his bachelor's degree in business in 1948. He was a retired vice president of Harold C. Brown Co.
Faculty and staff fondly recalled when Hauber was asked to support a proposal to renovate some space in the Jacobs Management Center. He suggested that it was too small a project and asked school representatives to come to him with something more ambitious-something that would make a difference to the school and to those who attend it. That's when plans for the Alfiero Center were conceived, and Hauber enthusiastically supported them. He and his wife, Marcia, opened the campaign with a gift of $500,000.
"This building will stand as a beacon of opportunity," said Hauber at the Alfiero Center groundbreaking ceremony in April 2002. "All the students, faculty and friends who walk the corridors of this new addition will have the feeling that this is their 'home' on campus." The stately convening area in the center's atrium was named the J. Grant and Marcia S. Hauber Commons in their honor.
For his work at UB, Hauber received the UB Alumni Association's Samuel P. Capen Award, the association's highest honor and an award recognizing an individual's notable contributions to the university.