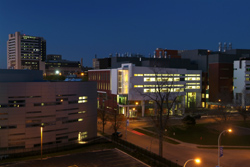 New High-Tech Entrepreneurship Program Launched for Life Sciences
The School of Management's Center for Entrepreneurial Leadership (CEL) and UB's New York State Center of Excellence in Bioinformatics and Life Sciences launched a new workforce development program last fall, the High-Tech Center for Entrepreneurial Leadership.
The program offers leaders of early-stage life sciences companies the opportunity to learn from established life sciences entrepreneurs as well as from others who are important to participants' long-term success, such as venture capitalists. Participants attended weekly classes from September to December. The curriculum was based on a wide range of topics, including entrepreneurship challenges, intellectual property, licensing and regulatory issues, finance, sales and marketing. Content was delivered through a mixture of interactive lectures, panel discussions, case studies and guest speakers who shared their industry experience.
"The goal of the High-Tech CEL is to help life sciences organizations build strong management teams and to provide them with the information they need to develop their pathways to commercialization," says Thomas Ulbrich, executive director of the CEL.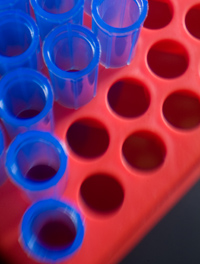 Representatives from 12 life sciences companies enrolled in the inaugural class: John Aletta of CH3 BioSystems, Sarah Ambrus of BOSS Translational Medicine, Jeffrey Dann of Sleep Insights Management Services, Brian Egan of Advantage Home Telehealth, Michael Green of TheraSyn DM, Jeff Harvey of Rose Pharmaceuticals, John Lordi of Buffalo BioBlower Technologies, Mary McCourt of MMC Lipid Bioservices, Michael Pyszczek of Balan Biomedical, Thomas Sass of NanoAxis, Mark Wagner of Sensorcon and Michael Zwick of AndroBioSys.
"This program is a natural collaboration for building the new economy in our region, where high-tech businesses in sectors like the life sciences really benefit from the expertise of both the Center of Excellence and the UB School of Management," says Marnie LaVigne, director of business development for the Center of Excellence and the UB Center for Advanced Biomedical and Bioengineering Technology (UB CAT).
Funded in part with a grant from the New York State Department of Labor through the Buffalo and Erie County Workforce Investment Board, the High-Tech CEL program was well received by participants.
According to Michael Pyszczek, vice president of technology for Balan Biomedical, the High-Tech CEL program provided critical information that is very difficult for technology-based entrepreneurs to find. "Many leaders of biotech start-up companies have difficulty communicating with those in the financial world. Being able to express the foundation and potential of your technology is essential in securing funding," he says. "Through this program, we were given access to those who control venture capital and we learned the key elements they look for when making investment decisions. The program truly lives up to its name in helping entrepreneurs become effective business leaders." Balan Biomedical provides medical device and consumer health companies with a method for gathering essential information to make better decisions regarding new product development.
Thomas Sass, vice president of business development for NanoAxis, agrees. "In addition to learning from top-notch speakers about everything from financing to strategic planning, the program helped me to meet and form relationships with other local high-tech start-ups," he says. "This has led to dialogue on prospective collaborative projects, and I am already working with one of my classmates in submitting a proposal for a federal small business grant. My contact list looks like I've been in the business for years." NanoAxis specializes in the generation of functionalized quantum dots, a type of semiconducting nanomaterial, for both biological and industrial applications. Sass and his partners launched the company after winning the Henry A. Panasci Jr. Technology Entrepreneurship Competition in 2008.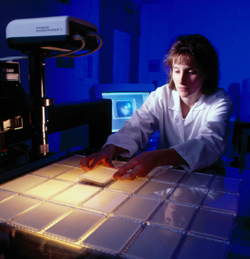 Another past Panasci winner, John Aletta, director of research for CH3 BioSystems, also participated in the program. His company manufactures molecular tools to help biomedical research better understand cancer and autoimmune, neurodevelopmental, viral and cardiovascular diseases. "The opportunities for networking, both in Western New York and nationally, have already produced some interesting inquiries regarding the CH3 BioSystems business model," he says. "This has been a great learning experience for someone with only a science background, and the camaraderie of being part of a group facing similar challenges is a source of welcome encouragement."
The Center of Excellence was created in Buffalo in 2002 as part of more than $200 million in investment from state, federal, industry and philanthropic sources to create a hub of life sciences expertise and innovation in Upstate New York. The UB CAT program is housed as one of the key resources at the center designed to translate cutting-edge research into commercial products and services that enhance health and well-being, while improving the region's economy. For more information, visit www.bioinformatics.buffalo.edu.
The UB School of Management's Center for Entrepreneurial Leadership has been assisting area entrepreneurs for more than 21 years. The CEL offers several programs to assist area entrepreneurs in various stages of their businesses, including its Core program, the Strategic Entrepreneurship program (Advanced Core), the Allstate Minority and Women Emerging Entrepreneurs program and the Henry A. Panasci Jr. Technology Entrepreneurship Competition. Nearly 700 CEL alumni employ more than 22,000 Western New Yorkers, and their businesses are worth more than $2 billion to the local economy. To learn more about the CEL, visit mgt.buffalo.edu/cel.