Insights...

News about faculty and their research
New faculty for 2009-10

Brouer
Two new faculty members are sharing their expertise in the School of Management this academic year.
Robyn L. Brouer joined the Department of Organization and Human Resources as an assistant professor. She has a doctorate in business administration from Florida State University, a master's in management from the University of Central Florida and bachelors' degrees in psychology and sociology from the University of Georgia. Brouer has research interests in the areas of leadership, leader-follower relationships, social influence and effectiveness, person-environment fit and work stress.

Huh
Sahn-Wook Huh is an assistant professor in the Department of Finance and Managerial Economics. He has a doctorate in management from the University of California at Los Angeles, an MBA specializing in finance and statistics from the University of Chicago and a bachelor's in economics from Seoul National University in Korea. Huh's research interests are in asset pricing, market microstructure, empirical corporate finance, foreign exchange economics and behavioral finance.
Aisle placement affects grocery sales of related items
Supermarkets could increase their sales of related items, such as chips and soft drinks, by moving the items closer to each other in their stores, according to recent research by Ram Bezawada, assistant professor of marketing in the School of Management.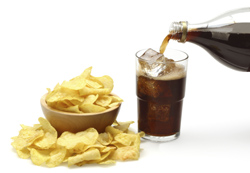 "Retailers can benefit substantially by having better placement of items in their aisles," Bezawada says. In fact, his research determined that aisle placements can have as much an influence on sales across categories as other marketing mix variables like price or how an item is displayed.
The research, published in the Journal of Marketing, attempted to determine the optimal placement of cross-category items to increase sales. The study was co-authored by S. Balachander, associate professor of management at Purdue University, P.K. Kannan, Harvey Sanders Associate Professor of Marketing at the University of Maryland and Venkatesh Shankar, professor of marketing and Coleman Chair in Marketing at Texas A&M University.
Using the cross-category items of chips and soda, the researchers found that stores placing the items facing each other in the same aisle increased weekly sales of those items by more than 9 percent. In contrast, moving the chips and soda one aisle away from each other resulted in a decrease in sales of nearly 1.5 percent.
Both retailers and consumers can benefit from better cross-category placements in stores, according to Bezawada. "The retailers benefit because their overall sales increase, and consumers benefit by having an easier shopping experience," he says. In addition, manufacturers who market items in multiple categories (such as Pepsi Co., which produces both soft drinks and chips) could also see their sales rise.
Past forecasting errors often underestimated when forecasting earnings

Xu
When managers issue a forecast of their firm's earnings, they do not always take into account prior forecasting errors, according to research recently published in the Journal of Business Finance & Accounting.
Weihong Xu, assistant professor of accounting, analyzed more than 11,000 firm-quarter observations. She found that managers often underestimate the implications of their past forecasting errors when forecasting earnings.
This underestimation of past errors can affect how the market responds to a new earnings forecast. Specifically, it can contribute to "post-earnings announcement drift"; that is, stock prices continue to drift in the direction of the initial price response to an earnings announcement.
"Managers underestimate the information in their prior forecast errors to a greater extent when they make earnings forecasts with a longer horizon," Xu says.
She notes that further study is needed to see if the underestimation is intentional on the part of management in order to provide biased forecasts.
Celebrity CEO secret weapon

Treadway
Some celebrity CEOs, such as Donald Trump and Steve Jobs, have a secret weapon to enhance their reputations and contribute to their personal success and that of their companies, according to a recent article in The Leadership Quarterly. When a CEO's celebrity status translates into improved company performance and a more positive personal and corporate reputation, it is less likely a function of media coverage than of a CEO's level of "political skill," explains researcher Darren C. Treadway, associate professor of organization and human resources in the School of Management. Treadway co-authored the paper with Garry L. Adams of Auburn University and Annette L. Ranft and Gerald R. Ferris, both of Florida State University.
Political skill is defined as "the ability to understand others at work, and to use such knowledge to influence others to act in ways that enhance one's personal and/or organizational objectives." Politically skilled CEOs are likely to be socially astute, able to easily influence others and appear sincere in their interactions. These abilities result in broader and stronger social networks, reduced stress and increased performance. In this article, political skill is portrayed as a key competency for leaders and often the difference between celebrity CEOs who fizzle out and those who capitalize on their celebrity status for personal and organization effectiveness, according to the researchers.
"The current paper is an extension of an ongoing research program that has provided evidence that political skill is a dominant predictor of a leader's success," says Treadway. "Whereas most executives are familiar with the concept of emotional intelligence, competitive tests suggest that political skill is a more dominant predictor of managerial and employee performance. It is also likely that political skill has a broader impact on employee health and well-being."
Moving forward, this research has strong implications for companies and executives. Because political skill is a key factor in performance and effectiveness, it should play a greater role in executive selection, training and development.
School of Management cited for research excellence
Numerous faculty members, doctoral students and graduates of the School of Management have been recognized recently for their contributions to research in their respective fields.
Kee H. Chung, Louis M. Jacobs Professor of Financial Planning and Control and chair of the Department of Finance and Managerial Economics, was cited as one of the most prolific authors in finance literature over the past 50 years in a study published in the Journal of Finance Literature.
Chung ranked No. 35 on a list of authors appearing most frequently in 26 "core" finance journals and No. 73 on the list of seven "leading" finance journals.
The School of Management's Department of Management Information Systems (MIS) was also cited in a study on research productivity. The study, published in Communications of the Association for Information Systems, noted the prolific contributions of the MIS department's faculty, students and alumni to leading information systems journals over a five-year period.
H. Raghav Rao, professor of management science and systems, ranked No. 11 on a list of researchers for the number of articles published in the top nine information systems journals.
In addition, the School of Management was ranked No. 6 on a list of schools that had the most doctoral students, graduates and faculty members who published in the top nine journals. In separate listings for each group, the School of Management's graduates were ranked No. 7, MIS doctoral students were ranked No. 20 and faculty was ranked No. 27 for most contributors to the top nine journals.
"The appearance of our faculty, students and alumni on these lists is a testament to the School of Management's commitment to displaying thought leadership in the field of business education," said Arjang Assad, dean of the School of Management.
Better governance is key to liquidity

Chung
An effective way for a firm to improve the liquidity of its shares (so that investors can buy and sell its shares quickly and cheaply) is to have strong corporate governance structure, according to research by Kee Chung, Louis M. Jacobs Professor of Financial Planning and Control and chair of the Department of Finance and Managerial Economics.
The study, co-authored by John Elder, associate professor of finance, Colorado State University, and Jang-Chul Kim, assistant professor of finance, Northern Kentucky University, researched the effect of corporate governance using an index of 24 governance attributes that are likely to affect a firm's financial and operational transparency. The study sample includes all stocks listed on the NYSE, AMEX and NASDAQ.
The researchers found that better corporate governance alleviates information-based trading and improves liquidity. For example, the stocks of companies with better governance exhibited narrower bid-ask spreads in their stock prices. The authors found that an increase in the governance index from the 25th to the 75th percentile translates into decreasing quoted spreads on NASDAQ by about 4.5 percent.
Finally, the researchers found that over time, changes in liquidity are significantly related to changes in the governance index.
Around the Globe
One of the key recurring themes of excellence in the School of Management is the global nature of our programs. Our graduates enjoy a competitive edge in the world marketplace thanks to the cultural diversity of our student body, the strength of our overseas programs and, as evidenced below, the global mindset of our faculty. Over the past year, many of our faculty shared their global perspectives in talks to international audiences.
Isaac Ehrlich, SUNY Distinguished Professor and Melvin H. Baker Professor of American Enterprise in the Department of Finance and Managerial Economics, gave several lectures in Asia. He spoke on "Why the U.S. Became the Economic Superpower of the 20th Century" at the Hong Kong Institute of Monetary Research; "The Future of Democratic Capitalism" at Lingnan University in Hong Kong; "Asset Management, Human Capital and the Market for Risky Assets" at Korea University; and gave the keynote address on "New Directions in the Economic Analysis of Crime and Law Enforcement" to the Asian Law and Economics Association meeting at Kyung Hee University in Seoul, South Korea.
Sahn-Wook Huh, assistant professor of finance and managerial economics, discussed "Illiquidity as a Priced Factor" at the Korea-America Finance Association/Korea Finance Association Joint Conference, in Dogo, Korea, and at the Financial Management Association's Asian Conference in Xiamen, China.
Arun Jain, Samuel P. Capen Professor of Marketing Research, gave presentations at two venues in Allahabad, India. He lectured on branding at Motilal Nehru National University of Technology and spoke on "Building Brand Equity: A Strategic Tool to Enhance Shareholder's Value in a Competitive Global Marketplace" at the Indian Institute of Information Technology.
Joseph Ogden, professor of finance and managerial economics, addressed a number of European audiences. He spoke on: "The Dark Side of Stock Repurchases" at the International Conference on Finance in Athens, Greece; "Momentum and Occam's Razor: Behavioral Delayed Overreaction or Arbitrage-Cost and Risk-Premium Dynamics?" at a conference in Milan, Italy; and "Do Asset Pricing Anomalies have a Common Link?" at a conference in Crete, Greece.
H. Raghav Rao, professor of management science and systems, was co-chair and spoke at the "U.S.-India Workshop: Security and Privacy in Global Information Systems" event in Kochi, India.
Nallan Suresh, UB Distinguished Professor and chair of the Department of Operations Management and Strategy, was the keynote speaker at an event in the Netherlands organized by the Lean Management Institute and the University of Groningen. He addressed more than 200 Dutch manufacturing and logistics management executives on the subject of "Manufacturing and Global Supply Chains: The Megatrends."
Debabrata Talukdar, associate professor of marketing, spoke to several international audiences in the U.S. He presented two papers at the American Statistical Association's annual conference in Washington, D.C., that included statistical associations from China, India and several other countries. He also presented papers at the 2009 Marketing Science Conference in Ann Arbor, Michigan, sponsored by the Institute for Operations Research and the Management Sciences, the most reputed international association of management science researchers, and he served as a group panel speaker on the topic of "Developing Markets and Poverty" at the biannual international conference of the Association of Consumer Researchers.
In addition, Yong Li, assistant professor of operations management and strategy, addressed global issues in his talk to the Buffalo World Trade Association about conducting international business in emerging markets.
New in Print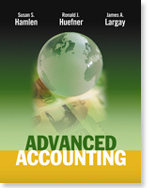 Advanced Accounting
By Susan S. Hamlen, Ronald J. Huefner and James A. Largay (Cambridge Business Publishers, 2010)
Advanced Accounting is designed to be used in accounting courses focusing on mergers and acquisitions. It incorporates discussions on the similarities and differences in the reporting requirements and methods under U.S. Generally Accepted Accounting Principles (GAAP) and International Financial Reporting Standards (IFRS) in order to prepare students for today's international business world.
Kross, Kim research cited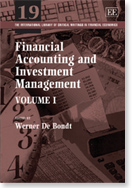 An article by William Kross, professor, and Myungsun Kim, assistant professor in the Department of Accounting and Law, appears in Financial Accounting and Investment Management, a reference book featuring key articles in the field of accounting and investment management over the past 50 years. The article, "The Ability of Earnings to Predict Future Operating Cash Flows Has Been Increasing-Not Decreasing," constitutes the twelfth chapter of the book, which was edited by Werner De Bondt, Richard H. Driehaus Professor of Finance and Director, Richard H. Driehaus Center for Behavioral Finance, DePaul University.