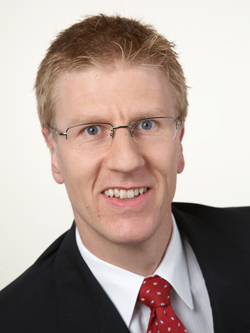 Michael Graubner, MBA '99
International Education Was Key
Close-Up: Michael Graubner, MBA '99
By Cindy Mantai
Michael Graubner, MBA '99, is an engagement manager in the field of energy and climate change for one of the world's most prestigious management consulting firms, McKinsey and Company. A German citizen, Graubner came to Buffalo in 1997 as part of the School of Management's exchange program with the Technical University of Darmstadt. In addition to completing his MBA here, he earned a Master of Science in mechanical engineering from Darmstadt. His German-American schooling, he says, made all the difference in his career.
"Having an MBA for a career in consulting is essential, and the fact that I was lucky enough to study abroad was wonderful," Graubner says. "The international experience and the degree from UB, especially with the focus on management skills, were what made me stand out from the rest of the crowd when I returned to Germany."
Graubner credits the MBA program's intense interaction with other students, many of whom are international students themselves, with being a key component that prepared him for the global business marketplace.
Graubner began his tenure with McKinsey in Frankfurt, Germany, in 2000. Three years later, he took a leave of absence to earn a doctoral degree in business from the European Business School-a common career step in central Europe.
"One of the things I really appreciate about my job is the flexibility," Graubner says. "I was able to take time off to pursue my doctorate and when each of my children was born as well." Graubner, his wife, Sylvia, and their two children currently live in Kleinmachnow near Berlin, in a house that his wife, an architect, designed.
At McKinsey, consultants specialize in one area of expertise as they gain increased tenure with the company. As an engagement manager, now in Berlin, Graubner works with high-level executives primarily from Europe who seek the company's counsel on topics ranging from energy efficiency to electric vehicles.
A regional utility company in Germany, for example, asked Graubner to assess its CO2 footprint and recommend a strategy to improve and optimize carbon emissions. Graubner advised another client, a large European utility, on the topic of biomass-how forest and agricultural products can be used at large scale to generate heat and power.
Graubner also has conducted "knowledge investment projects," often in cooperation with the McKinsey Global Institute, the economics-research arm of the consulting firm.
"We dig through and get a deep understanding of specific issues, then involve our clients in discussions about those issues and potential business implications," Graubner explains.
Frequently, the findings are summarized and published in reports and articles, such as in McKinsey Quarterly magazine. Graubner also has contributed to publications on European energy productivity and the potential impact of electric vehicles on the automotive and energy industry.