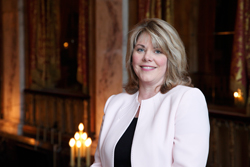 Dottie Gallagher-Cohen, EMBA '07 (Photo: KC Kratt)
Doing What Comes Naturally
Close-Up: Dottie Gallagher-Cohen
By Cindy Mantai
Dottie Gallagher-Cohen, EMBA '07, was born in Buffalo. Although she lived for a time in New York City and Baltimore, and had even planned at one point to move overseas, in 1985 she happily returned to her native city to become director of public relations at Erie Community College.
In the years since, she has marketed virtually all things Buffalo, from Thursday in the Square to Jim Kelly. For 13 years she served in various high-level marketing positions at The Buffalo News, where she established an events marketing/sponsorship division as well as the first integrated marketing department. She also spearheaded the newspaper's foray into digital space and managed other major marketing initiatives. Her efforts helped make The Buffalo News the third-ranked newspaper in the country for print and online readership.
In January 2010, Gallagher-Cohen received an offer she couldn't refuse: to market the city she loves as president and CEO of the Buffalo Niagara Convention and Visitors Bureau (BNCVB).
"There is so much here, natural assets like architecture, history, our Olmsted park system, wonderful individually owned restaurants," she says. "These 'authentic experiences' are highly valued in the tourism sector today. The challenge is how do we talk about all of this most effectively."
Gallagher-Cohen immediately set to work assembling a dream team to work with the BNCVB in developing a new, regional brand for Buffalo. The team consisted of members of the community, the alternative press, not-for-profits, the mayor's office and ad agencies, all of whom donated their services to collaborate on several brand-platform concepts. The chosen concept will be announced this fall.
Gallagher-Cohen says earning her Executive MBA-which was a "joyful experience" that dovetailed perfectly with her demanding schedule as a high-level executive-greatly enriched her leadership performance at The Buffalo News and now at the BNCVB.
"Getting an MBA was something I had always wanted to do," she explains. "But I got so much more out of it than I anticipated. It changed me in terms of how I approach problem solving and other issues, and it forced me to use parts of my mind that I hadn't before. The environment was incredibly stimulating."
Gallagher-Cohen believes the rebranding of Buffalo will stimulate the interest of tourists all over the world, as well as open the eyes of Buffalonians, many of whom are unaware or skeptical about the degree to which tourism drives the economy.
"Tourism brings $1.3 billion into Erie County each year," she explains. "And we have the opportunity to grow that number and become extremely competitive as a travel destination. We're just getting started."