Fueling New Ideas
MBAs Fuel Ideas for GM
By Jacqueline Ghosen
Imagine you are a marketing strategist for General Motors. GM is planning to launch its hydrogen fuel cell car by 2015, and you need to identify the opportunities the company can harness to market this extraordinary technology as well as the threats that may prevent success. What are the strengths that would encourage customers to embrace this alternative when compared to the competition in internal combustion, hybrid and electric engines? Are there weaknesses that could limit adoption?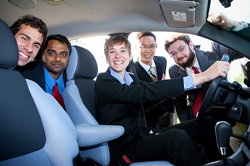 The winning team tests the hydrogen fuel cell car. From left: Matthew Tibalbi, Boppanahalli Appuraiah Venugopal, Caitlin Howe, Simon Wong and Nicholas Bell.
What types of customers are most likely to be interested in this new technology? Are there geographic regions where hydrogen fuel cells have a clear advantage over alternatives based on climate, sociodemographic make-up, infrastructure for fuel availability and government and public support?
What are the product features that consumers want and need? How should you differentiate this product from the competition? How should the product be branded and how will you communicate that brand to the consumer?
These were a few of the high-level questions tackled by the entire first-year MBA class last spring as part of a semester-long project for their marketing management course led by Professor Arun Jain. The group was divided into 20 teams, and each team independently developed a strategy for the U.S. commercial launch of GM's new hydrogen fuel cell car.
Throughout the semester, students were immersed in a number of activities, including a presentation by Fisher-Price to learn about new product marketing; a guest lecturer from Kimberly-Clark who discussed strategies to strengthen a brand; a site visit to Gelia, the largest advertising agency in Western New York, to learn how to develop communication strategy to reach customers; and a presentation by executives from Perry's Ice Cream who talked with students about marketing strategies essential to make their product accessible to customers.
In addition, the School of Management hosted two visits by GM executives who gave presentations about their new vehicles. GM brought the hydrogen fuel cell-equipped Equinox and other new models to campus so that the MBA students could test-drive the cars.
At the end of the semester, three teams of finalists presented their strategic proposals to a distinguished panel of judges, including Robert Denning, president and CEO, Perry's Ice Cream; Steve Finch, plant manager, GM Powertrain Tonawanda Engine Plant; Daniel O'Connell, director, fuel cell commercialization, General Motors; Duane Paddock, president, CEO and chair, Dealer Council of GM, Paddock Chevrolet; Daniel P. Penberthy, chief financial officer and executive vice president, Rand Capital Corporation; and Jamey Phipps, president and CEO, Gelia.
Members of the winning team, Nicholas Bell, Caitlin Howe, Matthew Tibaldi, Boppanahalli Appuraiah Venugopal and Simon Wong, each received $100. Second-place and third-place teams also received cash prizes.
"My objective was to give students a real-life learning experience and make them 'job ready,'" says Jain. "When they enter the corporate world, they'll be able to make an immediate impact on the competitiveness and profitability of their employers. This is not the kind of information you can get from a textbook."