NewsBites
Several influential media featured the accomplishments of the School of Management and the expertise of its faculty over the past year. Below is a summary of some of the school's citations in prominent national and regional media. These media "hits" enhance the school's national reputation and help to brand it as one of the nation's top business schools.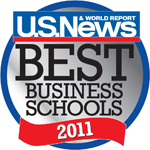 U.S. News "Best Business Schools"
The School of Management has been ranked a 'best business school' by U.S. News and World Report in its annual ranking of MBA programs. The School of Management debuted at No. 70, out of 426 MBA programs surveyed. The MBA ranking is part of U.S. News and World Report's ranking of "America's Best Graduate Schools."
The ranking is based on three major areas: quality assessment, placement success and student selectivity. The quality assessment is worth 40 percent of the survey and includes a recruiter assessment by the companies that hire the school's graduates and a peer evaluation by other B-school deans and directors. Placement success, worth 35 percent of the ranking, is based on the graduates' mean starting salary and the employment rate at graduation and three months afterward. The final 25 percent of the ranking is based on how selective schools are in their admission criteria, including GMAT scores, undergraduate GPA and acceptance rate.
In addition to the ranking of full-time MBA programs, U.S. News ranked the school's Professional MBA program No. 70 in a specialty ranking of part-time MBA programs.
The School of Management is the only business school in the Buffalo-Niagara region included in the U.S. News business school rankings.

Businessweek
Bloomberg Businessweek named the School of Management as a Top Undergraduate Business Program in its annual ranking of schools. To identify the top programs, the magazine used nine measures across three different areas: student satisfaction, postgraduation outcomes and academic quality.

Wall St. Journal and Newsweek
Research by Kenneth Kim, associate professor of finance and managerial economics, was cited in The Wall Street Journal and Newsweek. In a study of 700 celebrity appointments to corporate boards from 1985 through 2006, Kim's research showed that naming a celebrity director had an immediate effect of increasing the company's stock price. Kim and his fellow researchers believe this could be because of the increased prominence and status associated with the celebrity director, in addition to the increased visibility the director brings.

Christian Science Monitor
Lawrence Southwick Jr., associate professor emeritus of management science, was quoted in The Christian Science Monitor about the effect of the recession on Western New York. "This area doesn't leap up as much in good times and doesn't fall as badly in bad times," Southwick said. "We've become less subject to the national economy." One reason Southwick cites for this is Buffalo's population decline. "People who would otherwise be unemployed have moved out. That's one way to keep the unemployment rate down."

MSNBC.com
Ronald J. Huefner, SUNY Distinguished Teaching Professor in the Department of Accounting and Law, was recognized on the MSNBC website for receiving the Distinguished Service Award from the New York State Society of Certified Public Accountants (NYSSCPA) for his outstanding contributions to the profession through publications, public service and other activities (see related story ).

Buffalo News
Charles Lindsey, assistant professor of marketing, and Debabrata Talukdar, associate professor of marketing, were quoted in a Buffalo News story on a local store selling only goods that are made in the U.S. "[Some] consumers are very focused on purchasing 'home country' products and are willing to take a significant hit in terms of quality or price to purchase such products," Lindsey said. Talukdar said the store should have a built-in core group of patriotic customers. "It is appealing to those who like an overt way of demonstrating a sense of patriotism and national pride," he said.
Jerry Newman, SUNY Distinguished Teaching Professor and chair of the Department of Organization and Human Resources, was quoted about still-growing executive compensation at local companies. "Declines are really very rare," he said. "What you tend to see instead is terminations and the hiring of a CEO at higher wages." However, there is a rising practice of tying pay to company performance. "Companies are showing clear signs that the free lunch is over," he said.
Harold Star, assistant professor of operations management and strategy, was quoted in an article on succession issues at family-owned businesses. "Because you have inherited the business, the employees tend to think of you as somehow second-rate, and it becomes a burden at least until the first generation exits the business completely," he said. "They will always be suspect in every dimension-intellect, judgment, 'Would the old man have done it this way.' It's a very heavy burden."
Thomas Ulbrich, executive director of the school's Center for Entrepreneurial Leadership (CEL), was quoted in a feature story about the CEL's programs and their effect on the local economy. "We've had some 800 businesses through our programs," he said. "It's a pretty powerful group of people, representing maybe a couple of billion dollars in annual economic activity."