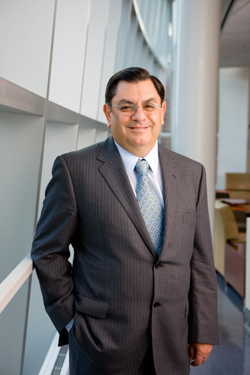 A Man with a Mission
By Jacqueline Ghosen
Arjang Assad was named dean of the School of Management in August 2008, joining us from the University of Maryland's Smith School of Business, where he had been a faculty member since 1978. Recently, we had the opportunity to talk with Dean Assad about his vision for the school.
Buffalo Business: Now that you've had a few months to get settled in, what are some of your immediate plans for the School of Management?
Arjang Assad: I'm focusing on our core programs first. We have an excellent MBA program and I believe it's ready to move to the next level. At the same time, I want to be certain that we stay focused on the importance of our undergraduate program and the thousands of students who are enrolled in it. In addition, I am working to provide more research support to our faculty. Finally, I am re-examining our portfolio of international programs. We have a lot going on all over the world and it pays to take a close look.
BB: What are some of your longer-term objectives for the school?
AA: In the long term, I would like to improve the resources of the school. Our intellectual resources can be improved by adding more faculty, pursuing new recruits of the highest caliber. But to improve our intellectual resources, we need more financial resources; we need both to improve our capabilities. This also means growing our endowment significantly. Doing so will give us more elbow room to do the things we need to do, like expanding our research and developing new programs.
BB: What do you see as the School of Management's greatest strengths?
AA: We have a lot going for us as a business school. Our faculty are committed to our students and to our mission as creators and disseminators of knowledge. We also have an exceptionally devoted staff. Their dedication is almost a "hidden strength" because it's not something you see in our brochures, yet they accomplish so much, even in these times of tight resources. Our surrounding community is another source of strength. Our dedicated alumni and our strong corporate and community partners are very supportive of UB and our mission in the School of Management. This genuine support will fuel our success on our path of ascent. Finally, I believe that our international posture is a great strength. We have some excellent offshore programs and we are looking at opportunities for growing them and developing new programs.
BB: What do you think the school needs to do better?
AA: We're putting more effort into managing our reputation. I'd like us to build a better brand than anything we've done to date by making our existing strengths more visible. We also need to increase our resources so that we can accomplish our goals. Finally, I would like for the school to take a more forward-looking view of its programs. We do a great job of developing core competencies in our students, and I would like us to always have our eyes on the horizon to identify emerging strengths and new directions that will allow us to continue to be relevant and innovative in an ever-changing world.
BB: What are some opportunities that you'd like the school to take advantage of?
AA: As I mentioned earlier, we have an incredibly loyal base of alumni, community and corporate partners. If we can align our partners with the right initiatives, we can have a significant impact, not only on our education and research missions, but also on the community as a whole. We have some highly committed partners and I would very much like to take them to the next level of engagement.
BB: How do you see the school fitting into the university's strategic plan, UB 2020?
AA: UB 2020 is the university's prescription for excellence and, as I see it, this includes having an excellent School of Management. More specifically, we have a number of initiatives that fit into UB's strategic strengths. We're working on some innovative research in global service and supply management as well as extreme events research. Our teaching and service initiatives also contribute to UB's excellence, and the work of our faculty in information security continues to be an important part of UB's success.
BB: How do you think the state, SUNY and UB fiscal challenges will impact our plans?
AA: Well, it's important to remember that this is a common challenge for many universities and business schools right now. I think the key is to find the path that is right for us. We are going to have to choose our priorities carefully. We won't be able to achieve our goals as quickly as we'd like, or on as many fronts, but we will still have significant impact. This is where our corporate partners will come in as well. By increasing their engagement and support, we can create opportunities where the very richness of our partnerships will be the distinctive feature.
Arjang Assad: Up Close and Personal

Born

London, England. Has lived in the Middle East, Europe and mostly the U.S.

Marital status

Single

Education

PhD in Management Science, MS in Chemical Engineering, MS in Operations Research and BS in Mathematics all from Massachusetts Institute of Technology

Favorite places to visit

London and Paris

Hobbies

Collecting books and foreign movies

What are you reading right now?

The Numerati by Stephen Baker

Favorite movie

The Grand Illusion (1937)

Favorite cuisine

Italian (Southern)

Favorite snack

Marzipan-filled dark chocolate