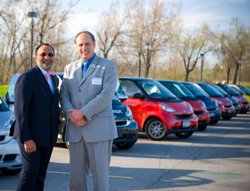 From left: Professor Arun Jain and smart USA President and CEO David Schembri (Photo: Douglas Levere)
Smart Cars Go To School
By Jacqueline Ghosen
David Schembri, president and CEO of smart USA, joined about 20 smart car owners at UB in April to hear some creative strategies from UB MBA students for marketing the smart car.
Several other executives from smart USA, faculty, staff and MBA students also were at the event, which was hosted by the School of Management and smart USA as the culmination of a semester-long project for the school's MBA marketing management course.
At the beginning of the semester, Arun Jain, Samuel P. Capen Professor of Marketing Research, charged 18 five-member teams of first-year MBAs with developing a hypothetical marketing plan for the U.S. launch of the smart car.
To prepare them for their research, Jain hosted a smart car visit in January where students test-drove the smart car on the North Campus and learned about its creative customization options, outstanding safety ratings and other features that differentiate it from other vehicles.
Smart car representatives were impressed with the initiative, and Schembri offered to visit at the end of the semester, combining the MBA event with a dinner for smart car owners.

Photo: David Frasier
The evening's activities began with a rally in a UB parking lot where smart car owners parked their micro-compact vehicles in a row and joined MBA students and smart car executives in creating a "smart art" poster with painted handprints to honor the collaboration with a "lend a hand" theme.
After a buffet dinner, two of the MBA teams presented their marketing proposals. Both teams conducted an in-depth analysis of the microcar market and customer base to develop their strategies for how they would launch the smart car in the U.S.
One team, MBAs Britt Bird, Erica Schmidt, Daphne Shtarker, Bill Yavalar and Brian Zai, focused on making the smart car a "member of the family." Present at vacations, parties and milestone events, the smart car was as ubiquitous as a beloved pet.
Another team's strategy emphasized how the smart car could adapt to any personality. MBAs Mike Edmonds, Sara Hilliard, Shayna Hutchins, Ryan Kelly and Shree Kulkarni displayed attractive photographs of the cars with their owners, accompanied by catchy phrases such as "Be smart, Be Sporty," "Be smart, Be Romantic" and "Be smart, Be Sleek." The team highlighted the vehicle's customizable features and even suggested a few that haven't been invented yet.
The proposals were well received by the audience, getting favorable reviews from smart car owners and executives alike.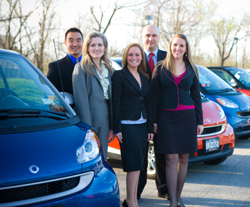 From left: Brian Zai, Britt Bird, Erica Schmidt, Bill Yavalar and Daphne Shtarker. (Photo: Douglas Levere)
"I was impressed with the caliber of students and their presentations," said smart car owner Alice Spies.
"They were just amazing," added Brooke Arber, brand manager of smart Center Buffalo, who was instrumental in making the smart car collaboration with the School of Management a success.
The highlight of the evening was a talk by Schembri, who shared with the audience how smart car came to the U.S. and why it has been so wildly successful. He also lauded the student presentations, saying that smart car came to many of the same conclusions in the company's plan.
"Your analysis was well thought out, well presented and you really captured the essence of our brand," Schembri told the student teams. "And your recommendations were 'spot on.'"
He also said the teams had a few ideas that smart car might use down the road. "Don't worry, though; we'll be sure to work with you if we do," he assured them.
David Frasier, assistant dean and director of the MBA program, said that ultra-low emissions, high fuel efficiency and the high priority that smart car gives environmental friendliness gave this event a nice tie-in with UB's green mission.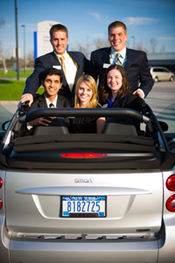 Clockwise from top left: MBAs Mike Edmonds, Ryan Kelly, Sara Hilliard, Shayna Hutchins and Shree Kulkarni. (Photo: Douglas Levere)
"And our MBA students gained an understanding of the sustainability issues that managers face today," said Frasier.
Jain teaches marketing theory by grounding it with real-world practices. Ninety MBA students were immersed in a number of activities, which, in addition to the smart car project, included a visit to Fisher-Price in February, hosted by Clare Rosinski, director of marketing research, to learn about new product marketing and a trip in April to Gelia, Wells and Mohr advertising agency as the guest of the company's president, James Phipps '84, MBA '85.
A number of executives visited the class throughout the semester, including Margie McGlynn, MBA '83, president, Merck vaccines and infectious diseases, Merck & Co.; Erin O'Brien, MBA '00, business development executive, IBM Americas open infrastructure offering, IBM; Andrew Meurer, vice president, North American brands feminine/adult/senior care, Kimberly-Clark; and from Perry's Ice Cream, Diane Austin, vice president of marketing, products and new business development; and Tim Cooley, director of sales.
"Real-world contact with these high-profile companies and executives gives students exposure to the depth and breadth of what it takes to create a comprehensive marketing strategy," Jain said. "This is not the kind of information you can get from a textbook."