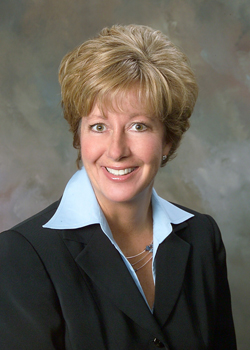 Coaching comes naturally
Close-Up: Roberta Bemiller, MBA '89
By Cathy Wilde
Roberta Bemiller is passionate about her work, and loves working with clients who are passionate, too.
Bemiller, MBA '89, heads her own business, RLB Coaching and Career Consulting, where she helps people tap into their strengths so they can take their personal and professional lives to the next level. It's a business that suits her talents and experience.
"Coaching is something that comes naturally to me," she says. "If coaching is done with people who are truly interested in making positive changes, it has the potential to make a huge impact on their lives."
Bemiller launched her business in early 2008, after a significant career in human resources in Western New York, including 14 years with M&T Bank, and after completing a six-month training program to become a certified life and career coach.
"The common denominator with my clients is that they are really passionate about their personal and professional development," she says. "That's why I love what I do.
"My typical clients are small business owners who are looking for a trusted advisor, someone they can use as a sounding board," she says. "I help them to get clear about what it is they want to achieve, put together a strategic plan for getting there, and then offer support and accountability along the way."
Bemiller also works with married couples, some of whom are in business together, while others are simply seeking ways to reach their personal goals. "I think this type of coaching could become a real niche for me," she says.
The flexibility that comes with owning her own business is something that Bemiller appreciates, as family life with two teenage daughters keeps her busy. "I'm not stuck with the typical working hours and often do coaching at night, which is really nice," she says.
Since receiving her MBA 20 years ago, Bemiller has maintained strong ties to the School of Management. "The MBA program taught me a lot about perseverance, building solid working relationships, dealing with difficult people, understanding my strengths and weaknesses and learning to capitalize on my strengths. The professors were pretty passionate about what they were teaching and made learning fun," she says, describing Professors Frank Krzystofiak, Jerry Newman, Brian Becker and the late James Meindl as "fabulous."
While at M&T, Bemiller recruited many School of Management students into the bank's executive associate and fellowship programs. "The UB students really fit in with the culture at M&T," she says, "They are hardworking, down-to-earth people who aren't afraid to roll up their sleeves and get the job done."
In addition, Bemiller serves as a mentor to UB students and has assisted with MBA Advantage, the professional development program for School of Management MBA students, by presenting the WorkPlace Big Five Profile.
Bemiller also uses the WorkPlace Big Five in her business, along with other coaching and assessment tools, as she assists her clients in achieving their goals. "What I like most about having my own business is that the type of work I'm doing really changes peoples' lives," she says, "and I love helping people be more successful at whatever it is they want to achieve."
For more information, visit www.RLBCoaching.com.