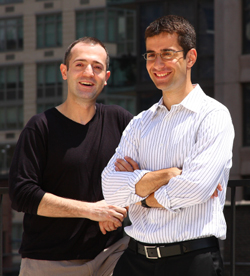 Alex (left) and Mikhail Chapnik (Photo: Tom Wolf)
Brothers in Arms
Close-Up: Chapnik Brothers
By Jacqueline Ghosen
Meet the Chapnik brothers, young, sharp and already highly successful in marketing careers—Alex, MBA '98, a senior manager with Bayer Healthcare and Mikhail, MBA '03, a senior associate brand manager for Kraft Foods.
That they both obtained their MBAs from the UB School of Management might not seem out of the ordinary. But consider that they both came all the way from St. Petersburg, Russia, to do so, and the story becomes more interesting.
Alex moved to the U.S. in 1995 at the age of 23 with undergraduate degrees in business and engineering. He stayed with his aunt initially, working days at Tops Markets and nights at Pizza Hut. "Never having formally studied English before, it took me a bit to be comfortable communicating," he says. Within a year, however, he was in the UB MBA program. While in school, Alex was a marketing intern at Moog Airspace, and in the years following graduation, he held positions at Colgate-Palmolive and PepsiCo before joining Bayer.
Alex says his MBA has helped with his career on many levels. "My marketing courses prepared me for a career in research, and all the group projects prepared me for working with people of different backgrounds, ages and mentalities," he says. "But the heavy workload at school combined with my all-year internship really prepared me for my current workload with continuously shifting priorities and the need to manage multiple projects."
Mikhail was 20 when he came to the U.S. in 1999 and had completed three years of undergraduate work in business at the University of St. Petersburg. "When the Russian economy collapsed in 1998, my career prospects seemed quite bleak, so I decided to follow my brother to America and try my luck here," he says. "My aunt and her family were in Buffalo and although Alex had graduated by then, I knew I could rely on his experience and advice as I made my way in my new country and school."
With many of his undergraduate credits transferring to UB, Mikhail enrolled in the joint BS/MBA program. "My courses gave me a foundation that I could build upon, but it is the total MBA experience that served me so well," says Mikhail. "You learn marketing by taking risks and learning from experience. The MBA program gave me confidence in my ability to succeed. It also helped me improve my interpersonal skills, which are critical to a successful marketing career."
Mikhail was a marketing intern at Fisher-Price and since graduation has worked for several companies, each with increasing levels of responsibility, including Mentholatum, Prestige Brands and Cadbury Schweppes.
Both brothers credit Professor Arun Jain and his marketing courses with helping them to prepare for the rigors of the real world. "Completing his classes gave me a sense of accomplishment and belief in myself," says Mikhail.
In addition, Mikhail says the job search and interviewing skills he gained from the Career Resource Center really positioned him for success. And though they're out of the classroom, both brothers are still learning. "No amount of schooling prepares you for interoffice politics, conflicting directions and budget cuts," says Alex.
Mikhail says that while he always considered the school's rankings to be solid, he thought graduates of the "top 10" programs were somehow smarter, more polished and more professional. "Having worked with many of those graduates, I see now that there is no real difference," he says.
Both Alex and Mikhail work near New York City—Alex in Tarrytown, N.Y., and Mikhail in East Hanover, N.J., but they visit Buffalo often to see their parents, who moved here from Russia in 2001 to be closer to their sons.
When asked if they had any wisdom for current students, the brothers have similar advice. "With all the pressures and demands, you need to find a way to enjoy it," says Alex.
"Have fun!" says Mikhail. "There are so many interesting people to get to know and so many exciting activities to get involved in. The friendships and relationships you make in business school will last a lifetime. You are also investing in a professional network that you can rely on in the future."