Stepping Up...

Celebrating those who make a difference to the School of Management
Internships offer best of both worlds to students and employers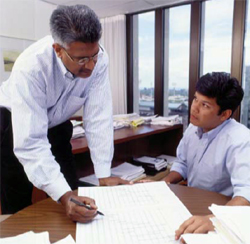 What do you call a program that matches business needs with sharp, eager, enthusiastic interns?
A resounding success.
Or, at the UB School of Management, we call it the Credit-Bearing Internship Program (CBIP). The program brings students out of the classroom and into the real world of business, as they earn credits toward their graduation requirements.
In turn, organizations benefit from the knowledge and skills our interns bring, including accounting, marketing, financial analysis and database management.
Colleen Caruza, director of public affairs at Roswell Park Cancer Institute, practically bubbles over with praise for her marketing intern, Mary Blake '08. "I can't say enough good things about her. Bright, inquisitive, tons of enthusiasm," Caruza says. "We don't often get interns of her quality."
Students also speak highly of their experiences. Andrew Lui '09, who interned at Citi Smith Barney in the global wealth management area, knows the experience was invaluable. "I learned a lot and it made me much more confident that I'll be able to do what's required in the financial world," he says.
A credit-bearing internship is required for each full-time MBA student at the School of Management, although the requirement can be waived if the student has significant work experience.
"Although not a formal requirement for undergraduate students, internships give students a considerable advantage in the job market," says Carrie Gardner, CBIP's administrative director.
Janet Joy '09, who interned at ITT Heat Transfer, says what she enjoyed most was the hands-on experience she was able to gain that can't necessarily be obtained in the classroom. "I was able to enhance my communication abilities through interactions with vendors as well as employees," she says, "and this is a critical skill for any business-related career."
Until this fall, undergraduate internships were limited to seniors, and students typically completed them in the summer between their junior and senior years. But the program has now expanded to include juniors, and allows up to two internships to be applied to graduation credits. For each internship, students must work a minimum of 150 hours, write progress reports and receive positive evaluations from their supervisors to receive credit.
Gardner works closely with students and employers to find the right internship match. More than 100 different organizations work with the Credit-Bearing Internship Program, including private companies, nonprofit organizations and public entities.
"We are seeing an increase in nonprofit organizations," Gardner says. "They are catching on to the idea that business students can be very valuable to them."
The Buffalo Religious Arts Center, a not-for-profit museum dedicated to preserving Buffalo's religious art and church artifacts, has greatly benefited from School of Management interns. "We are an all-volunteer group," says Brian Castner, the center's executive director, "so sometimes it is difficult to find someone who has the specialized skills we need."
Gardner was able to find interns who met Castner's needs. In fall 2008, accounting major Heesoo Yeo was an intern at the center. "He set up our books from scratch," Castner says. "We were able to use the information to file our tax reports."
The following spring, Castner sought marketing help. Nicole Crapez, majoring in the joint MArchitecture/MBA program, came on board, revamping the center's Web site and preparing a professional marketing analysis for a proposed art studio to be affiliated with the center.
Gardner works to ensure that all interns are placed in positions that have real responsibility. "Busywork" is not on the agenda.
At Kaleida Health, the billion-dollar health care organization serving Western New York, that is definitely the case. Dr. Margaret Paroski, Kaleida's executive vice president and chief medical officer, has had a number of MD/MBA student interns who have researched issues affecting the health care system such as physician retention, emergency medicine reimbursement, physician on-call pay and primary/specialty care outreach. In many cases, they presented their findings to leadership committees who then acted on their recommendations. "The work the interns did was of real benefit to Kaleida," Paroski says.
Once organizations see the quality of the interns that the School of Management can offer, they are eager to repeat the experience.
Mike Mineo, assistant vice president, IT security, at Roswell Park Cancer Institute, has had at least eight interns from the school's Management Science and Systems Department. Students have worked on a variety of projects, including research on new products and technologies, incident response/forensic research and new system-security reviews.
"I have been very pleased with the quality of the interns," Mineo says. "They come with strong knowledge, admit to what they don't know, and are always willing to dig deeper until they get an answer. They are not afraid to speak up, but also know how to listen."
Internships not only benefit students and their employers, but also have a positive impact on the School of Management. "The Credit-Bearing Internship Program helps build relationships with employers that have long-term benefits to the school," Gardner says. "Students who have had a positive internship experience serve as ambassadors for that company on campus, helping it to be more visible at recruitment time."
For more information, contact the Credit-Bearing Internship Program Office at 716-645-3233 or mgt-cbip@buffalo.edu.
Prosperity Scholarships encourage internships

An exciting new development is helping encourage School of Management students to participate in the Credit-Bearing Internship Program (CBIP).

The Prentice Family Foundation has established the Western New York Prosperity Scholarship Program to encourage young, talented professionals to stay in the region. Scholarship recipients are required to take part in the Credit-Bearing Internship Program, with internships limited to the Western New York area.

The Prosperity Scholarships offer a maximum award of $25,000 per student to cover students' unmet costs to attend UB during the academic year and fund summer internships at leading companies and industries throughout the region. They are available to juniors, seniors and graduate students in the UB schools of Medicine and Biomedical Sciences, Engineering and Applied Sciences, and Management.

Of the 18 Prosperity Scholarships granted to UB for the 2009-10 school year, 12 were awarded to School of Management students.