Start-Ups
Shore promoted

Shore
In April, Dean Arjang Assad announced that Cynthia Shore has been promoted to senior assistant dean and director of external relations for the School of Management.
As assistant dean of corporate and community relations for the past three years, Shore has played a key role in initiating and supporting high-visibility outreach activities, making the School of Management a leader in UB's mission of civic engagement.
In her new position, Shore will take on a significantly broader and more integrative role, working collaboratively and strategically with School of Management faculty and staff. She will be charged with maximizing the positive impact of external relationships on the School of Management's reputation, resources and academic programming through strategic, innovative and coordinated interaction with external constituents.
Additionally, she will serve as liaison to UB's external relations initiatives in order to achieve synergies that will best serve the mutual interests of the School of Management and UB.
Previously, Shore served for three years as director of graduate student recruitment services for UB, and for six years prior to that she was assistant dean and director of the School of Management's Career Resource Center. She also has worked in product management, investment services and human resources at Bank of America and Goldome.
Shore holds a bachelor's degree in business and an MBA from the School of Management and is a graduate of Leadership Buffalo's Class of 2008. She is a long-term board member and past president of the School of Management Alumni Association, and chair of the financial education committee of Creating Assets Savings and Hope (CASH) Buffalo, an initiative of the United Way of Buffalo and Erie County. She was recently named to the Diocese of Buffalo Catholic Education Advisory Council. In addition, she has served as a board member and president of the MBA Career Services Council, an international professional association.
"Cynthia's significant corporate experience combined with her community involvement and her extensive background at UB make her uniquely qualified to help us achieve our objectives in this critical arena," said Assad.
54 Graduate from Master's Program in India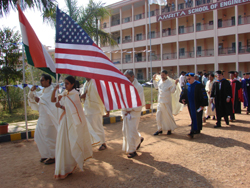 Representatives from the University at Buffalo and Amrita University march together in procession for the MITES commencement ceremony.
The University at Buffalo School of Management, in conjunction with Amrita University, graduated 54 students in India from the inaugural Master of Science in Information Technology Enabled Services (MITES) program.
UB President John Simpson and Provost Satish Tripathi joined School of Management Dean Arjang Assad and other UB officials and faculty in India for the commencement ceremony on February 7 at the Bangalore campus of Amrita University.
The graduates will help fill the emerging need for highly trained managers in information technology services. This rapidly growing sector of India's economy includes services such as claims processing, medical transcription, accounting and data processing.
The 31-credit MITES program is a specialized degree that is unique among Indian educational offerings. While several universities in India offer general management degrees, no other degree program is specifically focused on the management of IT services firms.
"In addition to content related to IT services management, students receive solid grounding in key functional areas of management, such as finance and accounting," Assad said. "Plus, they develop skills in leadership, communication and strategic thinking." Classes are taught on weekends by UB School of Management faculty in collaboration with the Amrita faculty.
Beginning with the second class, the program has been re-designated as the Master of Science in Information Technology Services (MITS) to better reflect the scope and purpose of the program. The second MITS class began in August 2008, and the third in August 2009.
Free tax service brings $640,000 back to Western New York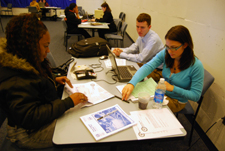 In the first half of 2009, 126 IRS-certified accounting students from the School of Management brought nearly $640,000 in tax refunds back into the Buffalo community through the Volunteer Income Tax Assistance (VITA) program.
UB's chapter of Beta Alpha Psi, the national honor society for accounting and finance students, led the initiative that provided more than 2,000 hours of tax service, preparing 676 tax returns for individuals and families with annual incomes below $42,000.
"We're especially pleased that more than $120,400 of the total was a result of the Earned Income Credit, which targets low-income families in need of additional financial support," said Adam Osteryoung, MBA '09, who was co-chair of Beta Alpha Psi's VITA committee. "It means that we helped a number of families who needed it most."
To increase community accessibility, volunteers offered the free service on UB's South Campus, in addition to the North Campus, resulting in a 72 percent increase over last year in the number of returns prepared.
"We could not be more proud of our students and the impact they have made on the community with this initiative," said Arjang Assad, dean of the School of Management. "Despite their class loads and other responsibilities, these students worked virtually every weekend from January to April to make this program the outstanding success it has been."
Entrepreneurship competition awards $35,000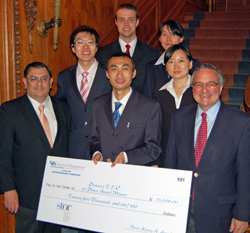 Panasci TEC winners are pictured with Dean Arjang Assad and STOR Vice Provost Robert Genco. Clockwise from left: Assad, Lei Shi, Benjamin Smith, Beili Han, Chen Chen, Genco and Weibo Si. (Photo: Clare O'Leary)
Two teams won more than $35,000 in seed funding in the University at Buffalo's Henry A. Panasci Jr. Technology Entrepreneurship Competition (Panasci TEC) for their innovative ideas in online English tutoring and chemical detection systems.
Panasci TEC awards seed money and business services to the teams that present the best plan for launch of a viable new business. Nine local ventures have been launched with first-place prize money since the UB competition began, and most are still in business.
Chen Chen of Amherst, Beili Han of Amherst, Benjamin Smith of Syracuse, Lei Shi of North Tonawanda and Weibo Si of Williamsville won the $25,000 first prize for their proposed business, Welanguage, an online service in which native Chinese speakers can learn spoken English. While written English is often learned at an early age in China, Welanguage will focus on the more difficult task of assisting clients with spoken English through online video conferencing.
The second-place prize of $10,000 in start-up funding went to Matthew Bell of Buffalo, Andrew Ryan of Manorville and Raju Somani of Buffalo for TeraSpecter, their proposal to manufacture and market portable chemical detection systems for security and screening applications for use in airports, border crossings and government buildings.
Panasci TEC was created by the School of Management and the UB Office of Science, Technology Transfer and Economic Outreach, and is funded with a $1 million endowment from the late Henry A. Panasci Jr., UB alumnus and former CEO of Fay's Inc., to facilitate and promote the commercialization of UB-generated technologies.
The competition is designed to bring students from science and technology disciplines together with students or recent graduates from the School of Management to create viable businesses in Western New York.
Financially savvy teens tout skills in 'money bee'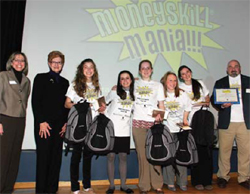 From left: Cynthia Shore, senior assistant dean and director of external relations at the School of Management, and Terry Kazmierczak, vice president of corporate and community events at M&T Bank, are pictured with MoneySKILL Mania winners from Sacred Heart Academy, Tina Douglas, Danielle Arthur, Mary Stottle, Kelly Mroz and Emily Rodgers, and their teacher, Kenneth McKinnon. (Photo: Joe Eberle)
Teams from Sacred Heart Academy, Clarence High School and Erie 1 BOCES Legal Academy placed first, second and third, respectively, in "MoneySKILL® Mania," a financial literacy competition for high school students sponsored by the School of Management and M&T Bank.
Mitchell Wlodarczyk of Clarence High School was the highest-scoring individual student and was awarded a notebook computer. Members of the first-place team, Mary Stottle, Kelly Mroz and Christina Douglas of Sacred Heart Academy, each received a $250 college savings fund.
Teachers Kenneth McKinnon of Sacred Heart Academy, Heather Hartmann of Clarence High School and Wendy Fischer of Erie 1 BOCES Legal Academy coached the winning teams.
Nineteen high schools registered for MoneySKILL Mania and more than 90 students participated. The event was designed to increase awareness of MoneySKILL, a free, interactive Internet curriculum designed to educate students to make informed financial decisions on a variety of personal finance issues, including income, money management, spending, credit, saving and investing.
For nearly three years, the School of Management and M&T Bank have partnered to reach out to area high schools and help them integrate MoneySKILL into their curriculum.
Cybersecurity focus of workshops for high school students

The School of Management and Time Warner Cable in February announced a new partnership to expand the Western New York Cybersecurity Workshop Outreach program that educates students on careers in cybersecurity.
Approximately 1,500 Western New York middle and high school students are expected to take part in the program, which features live demonstrations of cybersecurity equipment, hands-on activities and basic lessons on a range of topics, including data encryption, wireless security, digital forensics, firewalls, anti-virus tools and intrusion detection systems.
The workshops are designed to teach students about the growing field of information assurance, with emphasis on how they might pursue it as a field of study and a career path, as well as highlighting the importance of cybersecurity to corporate and homeland security.
Cyber threats are on the rise, creating an urgent need for professionals with the technical and managerial skills to protect national and business interests, according to the organizers of the program, H.R. Rao, professor, and David Murray, associate professor, both in the School of Management's Department of Management Science and Systems.
Rao and Murray hope to help meet this escalating demand by encouraging bright, young students, including women and minorities, to pursue degrees and careers in information assurance and related fields.
"Time Warner Cable is dedicated to increasing awareness and education on how to achieve cybersecurity," said Robin Wolfgang, vice president of public and government affairs at Time Warner Cable. "As a provider of Road Runner High-Speed Internet, our company develops state-of-the-art tools for blocking, reporting and identifying dangerous entities on the Web. Working with the UB School of Management ensures these workshops will be providing the best information with top-tier instructors. We look forward to growing the program."
The workshops draw upon the expertise in the School of Management's MBA option in information assurance, its Sleiman Information Assurance Laboratory and the UB Center of Excellence in Information Systems Assurance Research and Education, which is recognized as a national center of excellence by the National Security Agency.
The partnership with Time Warner Cable will run through 2012 and will help expand the program throughout local, city and suburban schools.