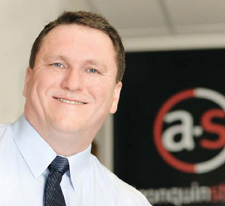 Photo: Tom Wolf
Close-Up: Steve Kiernan
Analysis of an Advocate
For more than two decades, Stephen Kiernan '84, MBA '86, has been a steadfast supporter of UB and the School of Management. He's an active recruiter of the school's graduates, a regular guest speaker in the MBA program's entrepreneurship classes and, most recently, he and his team of professionals have been helping the school with the development of a new Web site.
Kiernan is CEO and chair of Algonquin Studios, a Buffalo-based firm providing software development, customized IT services, and business consulting since 1998. The firm employs 30 professionals and has developed systems and solutions for multinational corporations, local companies, not-for-profit organizations and governments. In addition to Algonquin, Kiernan owns three other Buffalo-based companies that employ another 60 people: SWRemote, Big Bear LLC and Intuitek.
When asked about his experience at the School of Management, Kiernan gives his alma mater high marks. "The School of Management gave me the technical skills to understand how to operate a business," Kiernan says. "I received an exceptional education, and while I was there I met some fabulous people-students and faculty."
Kiernan began his professional career as a financial information systems consultant on the management consulting services staff of Ernst & Whinney (now Ernst & Young). Later he served as senior vice president and chief information officer of North American Health Plans, and president of Consulting Associates of Western New York. Today he spends all of his time on business development, acquisitions and financial management for his various companies.
To what does Kiernan attribute his success? "It's the human equation that is so vital to the growth of a healthy and successful company," he says. "I enjoy mentoring the young people who work for me. It's rewarding to watch them grow as individuals and to see them develop their professional skill sets."
Kiernan spends most of his free time driving his daughter to soccer events and remodeling his home. "The Home Depot loves me," he says. He considers himself "an enormous Yankees fan" and enjoys golf, weight lifting and going to movies.
His advocacy is not limited to the School of Management; Kiernan is a strong supporter of the greater Buffalo-Niagara region. He and his company have provided philanthropic support to more than 60 local not-forprofit organizations over the past six years, in addition to the in-kind work and volunteer time that employees of Algonquin Studios give back to the community. In fact, Kiernan recently formed Algonquin Sports for Kids, a not-for-profit dedicated to providing sports programs for children in Buffalo.
What is it, however, that motivates someone to forge these types of connections with his city and his school? "I stay involved because I care about my community," says Kiernan. "And UB is a significant part of that framework. It's a treasure in our own backyard and I will continue to work with the university as long as it can tolerate me."
- Jacqueline Ghosen