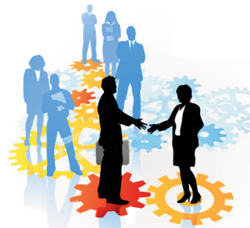 Stepping Up Celebrating those who make a difference to the School of Management
The Center for Entrepreneurial Leadership: Advancing the Talents of Business Owners for 20 Years
Back in 1987, the state of the art personal computer had awhopping 20 megabytes of memory, hardly anyone had heard of a cell phone, and the Center for Entrepreneurial Leadership (CEL) opened its doors to a half-dozen individuals who wanted help in making their companies grow.
Fast-forward 20 years.the internet is buzzing, your cell phone is your personal computer, and the CEL has grown into a thriving entity that is an umbrella for a variety of programs that promote entrepreneurship, in addition to being a vital resource for the School of Management.
"The CEL began with a small group of individuals who were passionate about entrepreneurship and believed that knowledge from the School of Management could take them to the next level," says Courtney Walsh, assistant dean for executive education.From those humble beginnings, the CEL's 10-month Core program has grown to where there are more applicants than openings, according to Althea Luehrsen, executive director of the CEL. This year, there were 62 applicants for 40 slots.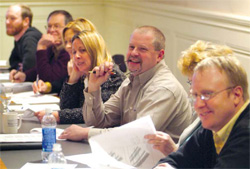 Members of the 2006 CEL Core program enjoy a presentation. From left: Jeff Kohlhas, Jerry Lewandowski, Michelle Alberts, Denise Davison, William Sherman, Marion Kopin (hidden) and Stephen Sanders.
Photo: Douglas Levere
"The Core program has many layers, including chalk talk instruction, clinics to present your business and its challenges, the year-long support and assistance from voluntary mentors and reactors," says Caroline Newhouse, CEL '07, president of SuperUser Technologies. "When combined, they result in personal growth as a business leader and bottom-line success for your company."
Luehrsen estimates that CEL alumni employ more than 25,000 Western New Yorkers and are worth nearly $3 billion to the local economy.
This past year, MBA students in the "Consulting Practices" course taught by Nick Everest, assistant professor of organization and human resources, worked on projects for companies enrolled in the CEL's Advanced program.
"The students found it a very valuable experience-managing client relationships, designing and seeing a project through from start to finish, with the added benefit of it being a real piece of work of significance to the client." Everest says. "They were delighted with the positive feedback from the clients and their intentions to implement the recommendations."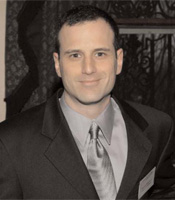 Michael Blumenson, MBA '98, was the 2004 Panasci TEC winner and is now enrolled in the CEL Core program.
Photo: Marty Kerker
Human resources students also worked with CEL participants this year, who presented tasks for them to complete as senior capstone projects, including job descriptions, employment analysis and performance evaluations.
Joseph Salamone, associate professor of organization and human resources, says, "The projects are like mini-internships. They give the students a taste of professionalism by having them do something that will or could work in a business."
The growth of the technology sector in the local economy was a catalyst for the Henry A. Panasci Jr. Technology Entrepreneurship Competition (Panasci TEC), which the CEL administers for the School of Management in partnership with the UB Office of Science, Technology Transfer and Economic Outreach (STOR). The competition awards start-up funding to the winner of a business plan competition and provides an opportunity for graduates and students from different UB schools to work across disciplines in creating plans for viable Western New York businesses.
In 2004, Michael Blumenson, MBA '98, won $25,000 in seed capital through the Panasci TEC and launched Digital Surveillance Systems (DSS), a security company. "I'm not sure DSS would exist today if I had not gone through the Panasci TEC competition," he says. "The structure and resources provided by the CEL gave me the framework to write a business plan that I could run with once the competition was over." To further his business goals, Blumenson is now enrolled in the CEL Core program.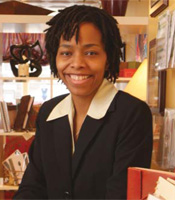 Alexa Wajed, president and owner of Emani Kemet Enterprises and Gallery 51 in Buffalo, was named the 2005 "Protégé of the Year" for the Allstate Minority and Women Emerging Entrepreneurs program.
Photo: Douglas Levere
The CEL also runs the Allstate Minority and Women Emerging Entrepreneurs program in collaboration with UB Center for Urban Studies. Now in its fifth year, the program matches participants with mentors, many of them CEL alumni, who advise them in ways to move their businesses to the next stage of development. Shawna Dosser, president of BWI Health Promotions, was a member of the 2007 MWEE class. "The mentorship component of the program has been an amazing boost for me," she says. "The two individuals helped guide me personally, answered questions, offered new insight and truly took an interest in my business."
"The program has provided a relationship to many governmental agencies within the local business community to the School of Management, in addition to the offices of Buffalo Mayor Byron Brown and New York State Assemblymember Crystal Peoples," Luehrsen says.
Many of the CEL's 700 alumni are members of the CEL's Alumni Association (CELAA), in order to stay connected to their classmates and further promote the CEL's goals. According to Gary Rogers, CEL '04, president of Hughes HiTech LLC and current CELAA president, the group plans to strengthen the bond between the small business community and the School of Management and develop community outreach activities that promote the interests of small businesses in Western New York. "Many large employers have left the area and are being replaced with smaller, entrepreneurial startups," says Paul Buckley, CEL '04, president of Applied Sciences Group. "This trend shows no sign of slowing down. Programs dedicated to the entrepreneurial business, then, can only help the community as it goes down this path."
In fact, the CEL's success is attracting attention from other schools. Walsh, Luerhsen and School of Management Dean John M. Thomas recently met with representatives from the University of Michigan-Flint who are interested in following the CEL model. "The Center for Entrepreneurial Leadership has served as a vital component not only in the School of Management's efforts to forge a closer relationship with the Western New York business community," Thomas says, "but also in helping strengthen the economy of the Buffalo Niagara region as a whole."
For more information about the Center for Entrepreneurial Leadership, visit mgt.buffalo.edu/ced/cel.