Start-Ups
School of Management moves up in WSJ Top 10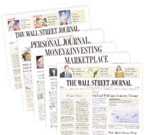 In September, the School of Management was ranked for the seventh consecutive year as one of the world's top business schools by The Wall Street Journal. The school was ranked No. 9 among schools with strong regional recruiting bases, up one spot from last year.
The ranking was based exclusively on feedback from more than 4,400 recruiters who assessed schools and students based on a variety of attributes. They rated communication and interpersonal skills; team skills; and personal ethics and integrity as the most important. Work ethic and analytical and problem-solving skills were also highly rated.
"These rankings are a reflection of the success of our efforts. by focusing our resources on the recruitment of high-caliber students and top faculty."

- John M. Thomas, Dean
Survey results were split into three separate rankings - national, regional and international. The national and regional rankings grouped schools based on where recruiters tend to recruit. Schools in the regional ranking category were more likely to draw recruiters from within their geographic area. To put this in perspective, nine of the Big Ten schools are in the regional category.
The international ranking was made up of schools whose recruiters placed graduates in positions outside of the U.S. or equally in and out of the U.S.
"These rankings are a reflection of the success of our efforts to enhance the quality of our academic programs and global reputation by focusing our resources on the recruitment of high-caliber students and top faculty," said Dean John M. Thomas.
In addition, BusinessWeek ranks the school as one of the country's top 5 business schools for the fastest return on MBA investment, and in August, Forbes again cited the school as one of the best business schools in the U.S. for the return on investment it provides MBA graduates.
Thomas to step down as dean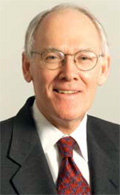 John M. Thomas announced in October that he will step down as dean of the School of Management, after five years in the post, to devote more time to the school's global business programs as a member of the faculty.
Thomas was named dean of the school in 2002 after helping to establish the school as a leader in international business education. During his tenure, the School of Management rose steadily in several key B-school rankings.
Thomas led the School of Management through a strategic planning process in conjunction with UB 2020, UB's comprehensive strategic plan, and guided the school to reaccreditation by AACSB International. He also created an office of corporate and community relations to strengthen the school's many corporate relationships and to focus the public-service and community-outreach efforts of the faculty, staff and students as they share their expertise throughout the region.
UB President John Simpson praised Thomas' leadership of the School of Management and said he was pleased Thomas will continue to work with the school's global business programs.
"Under John Thomas, the School of Management grew in prestige while remaining true to the vision of academic excellence and responsive to the needs of students and businesspeople," Simpson said. "John skillfully blended a focus on global business, while emphasizing bringing value to employers across our region. Though we will miss him as dean, and I will miss him personally as a valuable counselor and supporter of UB 2020, John is, and will continue to be, a most able and valued global ambassador for UB and for the School of Management."
"John has been a terrific dean and university citizen; I know the School of Management and our university will continue to benefit from his expertise, wisdom and genuine passion for educational and scholarly excellence."

- Satish Tripathi, Provost
Provost Satish Tripathi said the School of Management's rise in reputation regionally and nationally was a testament to Thomas' leadership and belief in recruiting and retaining excellent faculty and ensuring that students benefit from a rigorous and relevant education.
"Institutionally, our university has benefited tremendously from Dean Thomas' wise counsel and leadership," Tripathi added. "He has been such an integral force in helping to align our institutional perspective with our overarching goal of excellence throughout our tripartite mission. John has been a terrific dean and university citizen; I know the School of Management and our university will continue to benefit from his expertise, wisdom and genuine passion for educational and scholarly excellence."
Among his accomplishments as dean, Thomas strengthened the School of Management's entrepreneurial programs and support for the commercialization of local technologies. He launched the Henry A. Panasci Jr. Technology Entrepreneurship Competition, which awards start-up capital and services for creation of new technology-focused businesses. He strongly supported the growth and development of the school's innovative Center for Entrepreneurial Leadership, which provides educational programs and support for entrepreneurs and local businesses.
Thomas also championed the continued growth of School of Management programs abroad, particularly in Asia. Most recently, in June, he created a new master's degree program in IT-enabled services, in partnership with Amrita University and Hewlett-Packard in Bangalore, India.
Prior to becoming dean, Thomas served several years as the school's associate dean for international programs and significantly expanded the school's international programming.
In 1996, he established the school's first Asian Executive MBA in Singapore, followed by similar programs in China with Renmin University and Motorola. In the early 1990s, with the fall of the Berlin Wall, he also was instrumental in the development of the school's U.S. government-sponsored business programs in Latvia and Hungary.
Thomas has been a member of the UB faculty since 1968 and will continue to serve as dean of the school until a successor is hired. A national search for a new dean began in late fall.
New MBA concentration focuses on global supply chain and IT
Training managers to lead in the information- and supply-chain-based global economy is the goal of the School of Management's new MBA concentration in Global Services and Supply Management (GSSM).
Drawing on the school's international focus and academic strengths, the GSSM curriculum will address rapidly emerging service, supply and information technology issues that are the result of an increasingly worldwide business model.
"While many of our peer schools have initiated similar programs, ours is unique because it combines information systems with supply chain management within a global perspective," said Dean John M. Thomas.
In addition to the MBA core curriculum, students in the GSSM option will take classes in several interrelated areas, including management of globally distributed services, technology management and e-business, manufacturing planning and control, and supply chains and global operations.
Rajiv Kishore, associate professor of management science and systems, and Nallan Suresh, chair and professor of operations management and strategy, are co-directors of the GSSM option. They say that BusinessWeek has estimated that companies outsourced approximately $546 billion in 2005 in various functional areas, including IT-enabled manufacturing and service operations, such as logistics and procurement, human resources and customer care.
In recognition of this growing trend, the integrated and focused GSSM curriculum will help students develop leading-edge skills for managing globally dispersed ITenabled services and supply chains in an increasingly flattening world.
Students choosing the GSSM option will be prepared to take management positions in the rapidly growing international fields of worldwide IT services, business process outsourcing and manufacturing. For more information, visit mgt.buffalo.edu/mba.
CED leads M&T corporate training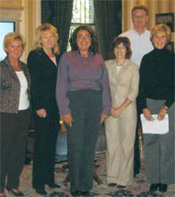 Professor Nick Everest is pictured with members of the M&T human resources team, (from left) Tina Cicero, Ann Marie Odrobina, Lynn Bommele, Michelle Gregor and Lisa Moyer.
Photo: Elaine Renouf
When the leadership at M&T Bank Corp. sought help for issues related to their human resources functions, they turned to the School of Management's Center for Executive Development (CED). The CED, in conjunction with faculty, crafted an intensive training program customized to M&T's needs.
"We wanted to provide our HR professionals with learning outside of and beyond the traditional perspective of M&T's methods that would deepen their level of knowledge and leadership skills, provide broader perspective, and also a way to work across boundaries," says David Chamberlain, senior vice president and manager, organizational development and corporate training and development, and member of the Dean's Advisory Council.
The private training program, which involved seven full days of meetings over a six-month period, was attended by 13 M&T senior human resource executives from Buffalo, Rochester and Baltimore.
Professors Brian Becker, Nick Everest and Jerry Newman, all from the Department of Organization and Human Resources, taught the classes, which focused on the areas of compensation, benefits and recruitment. "The professors at UB provided a balance of both academic and 'real world' business of HR learning, which our participants were able to practically apply," Chamberlain says.
The Center for Executive Development is currently planning similar, specialized training programs for other companies in the area.
"We are receiving more and more calls for customized corporate training," says Elaine Renouf, the CED's marketing and business development manager. "Local companies are realizing that our faculty can deliver exactly what they need."
'Accidental Investment Banker' speaks at UB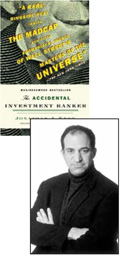 Jonathan Knee, author of The Accidental Investment Banker: Inside the Decade that Transformed Wall Street, spoke at UB's Center for the Arts on Octobter 25. "Is Investment Banking a Profession?" was the topic of Knee's talk. Sponsored by the University at Buffalo School of Management and the UB Law School, the lecture was followed by a question-and-answer session and a book signing.
Knee is a senior managing director at Evercore Partners. He teaches media mergers and acquisitions and co-teaches strategic management of media at the Columbia University Business School. His writing has appeared in The Wall Street Journal, The New York Times, The Washington Post and Los Angeles Times.
Knee's appearance was the third annual event in the Gerald S. Lippes Speaker Series, which focuses on current issues and topics related to business and finance. The series is part of a larger effort to foster an integrated understanding of the worlds of business and law, and to encourage a collaborative dialogue between business and legal professionals. Funding for the series is provided through the generous support of Gerald S. Lippes.
New scholarship honors parents of alumnus
An alumnus from Singapore and his family have established a new scholarship to assist School of Management undergraduate students in completing their education.
Moeez Nakhoda '91, along with his family, made the gift to create the Amena and Hatim Nakhoda and Family Endowed Scholarship. The gift is in honor of Nakhoda's parents and in appreciation of his UB education.
"My parents always believed in and supported anyone to pursue higher education," Nakhoda says. "I thought this was the best way possible for them to realize that ambition."
The scholarship will be available annually to support a junior or senior at the School of Management who has demonstrated academic success and financial need.
Nakhoda is a director with F.M. Noordin & Co. Pte. Ltd., a company that trades in spices, petrochemicals, food stuffs, educational books and wastepaper. "I am very proud to be an alumnus of the School of Management," Nakhoda says. "I believe my education has given me the confidence and skills to present myself professionally in front of my peers and clients. UB, having a student population from all nations and races, enabled me to communicate effectively and concisely in today's culturally mixed workforce."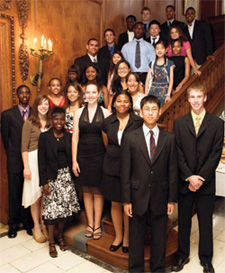 Photo: KC Kratt
Minority High School Students Explore Accounting Careers
For the second consecutive year, the School of Management and the Foundation for Accounting Education of the New York State Society of Certified Public Accountants (NYSSCPA) collaborated on the Career Opportunities in the Accounting Profession (COAP) program for minority high school students. Twenty-nine students took part in the five-day program held in June.
"The goal of the program is to increase awareness of the many opportunities that an accounting education and career can provide," says Ann Burstein Cohen, associate professor of accounting. "It is our hope that if minority students realize early on that the accounting profession has a variety of interesting opportunities, we can increase the number of candidates who enter the field."
The program featured breakout sessions designed to provide participants with insights into all the components of an accounting education and career; presentations by a number of area accounting firms; and company tours of Lumsden & McCormick, PricewaterhouseCoopers and Rich Products with the opportunity to speak with the firms' accounting representatives.
Also included were a wide variety of professional development opportunities, including a business lunch called "Putting Your Best Fork Forward," featuring etiquette tips for working meals; an "Accounting Jeopardy" game run by current students in the Beta Alpha Psi accounting fraternity; a "dress for success" session; a résumé-writing workshop; jobsearch strategies; interviewing sessions; public speaking; and ethics.
The program concluded with a banquet for the students and their parents, with UB Bulls Men's Basketball Coach Reggie Witherspoon serving as keynote speaker.